The California Subject Examinations for Teachers (CSET) are part of the state credential process for potential teachers who either have to or want to gain certification through the assessment. The CSET test is in multiple-choice and written-answer format. The complete assessment score will be in the 100-300 range.. The minimum passing score allowed for a CSET exam is 220. The CSET exams may be taken as many times as needed until a passing score is achieved. The CSET test subject areas covered are:
Basic Skills -Multiple Subjects test and the CSET: Writing Skills Test could meet the mandated needs for certification if a candidate successfully completes all three parts.
Knowledge of Subject Matter – Any candidate that has to acquire a successful score from the Multiple Subject Teaching Credential has to get a successful score for the CSET: Multiple Subjects exam. If the candidate is getting a Single Subject Teaching Credential or Education Specialist Instruction Credential, the CSET is one of the acceptable ways to meet the mandatory subject matter obligation.
No Child Left Behind (NCLB) Subject Matter – If the prospective teacher has to meet an NCLB obligation, he or she may take the CSET: Multiple Subjects and CSET: Single Subjects exams.
Educational Technology Subject Matter – The authorized test for this obligation is the CSET: Preliminary Educational Technology exam. This CSET test is designed for a prospective teacher trying to get either a Multiple Subject or Single Subject Teaching Credential.
English Learners Subject Matter – This qualification utilizes the CSET: Languages Other than English (LOTE) test, along with different assessments.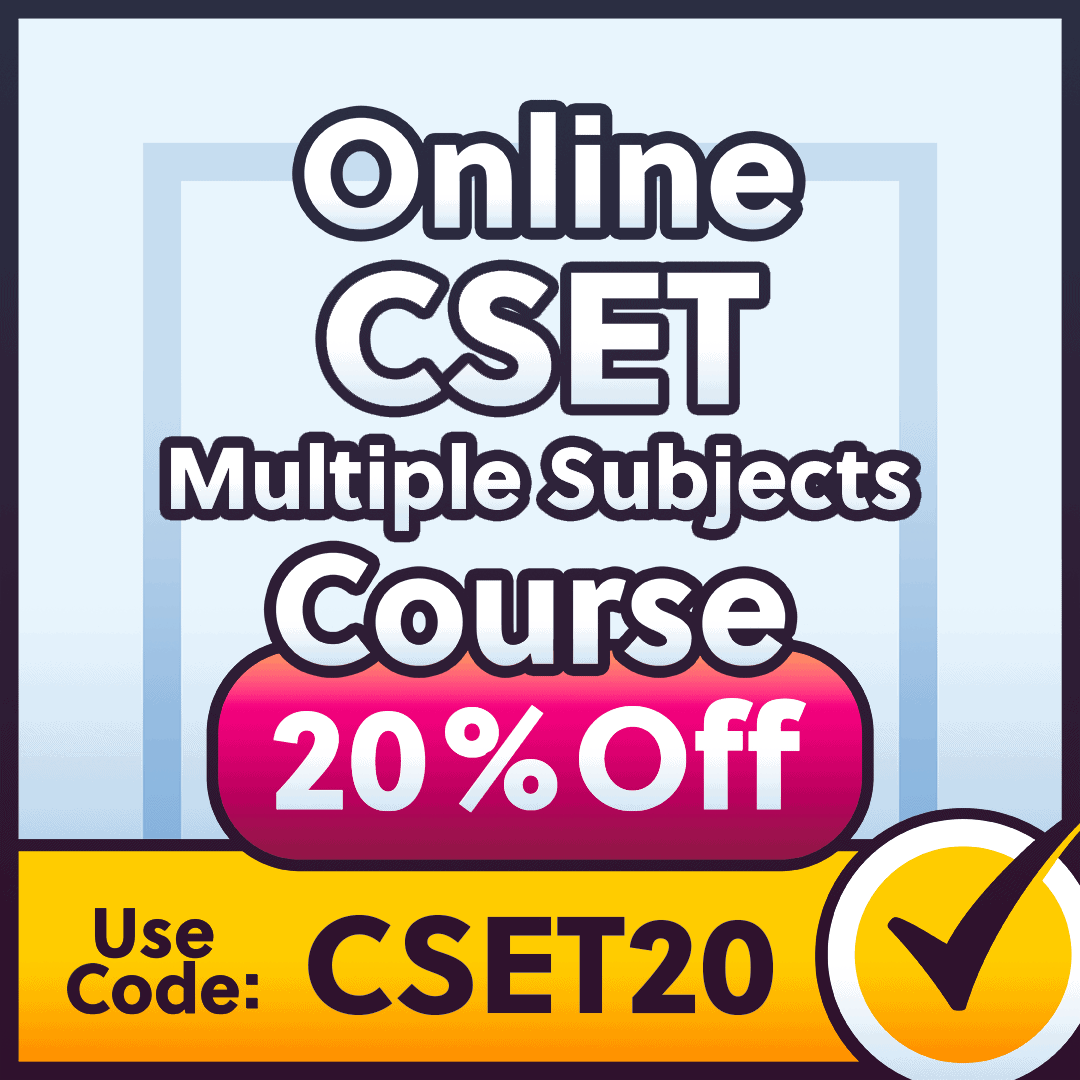 If you want to be fully prepared, Mometrix offers an online CSET Multiple Subjects Prep Course. The course is designed to provide you with any and every resource you might want while studying. The CSET Multiple Subjects Course includes:
Review Lessons Covering All the Topics
700+ CSET Multiple Subjects Practice Questions
More than 1400 Electronic Flashcards
Over 350 Instructional Videos
Money-back Guarantee
Free Mobile Access
and More!
The CSET Multiple Subjects Prep Course is designed to help any learner get everything they need to prepare for their CSET exam; click below to check it out.
CSET Test Resources
CSET Test
CSET Exam
This site has no affiliation with the CSET and is not endorsed by the CSET.