The WorkKeys exam is part of the ACT program geared towards making sure students are more prepared for postsecondary education and/or a career. The WorkKeys exam has eight assessments. However, many students only take three of them. These three, if taken and passed, will earn you a National Career Readiness Certificate or NCRC.
This certificate is valued by thousands of employers throughout the country, as well as many postsecondary institutions, and shows them that you have the skills, knowledge, and abilities that are foundational to most jobs.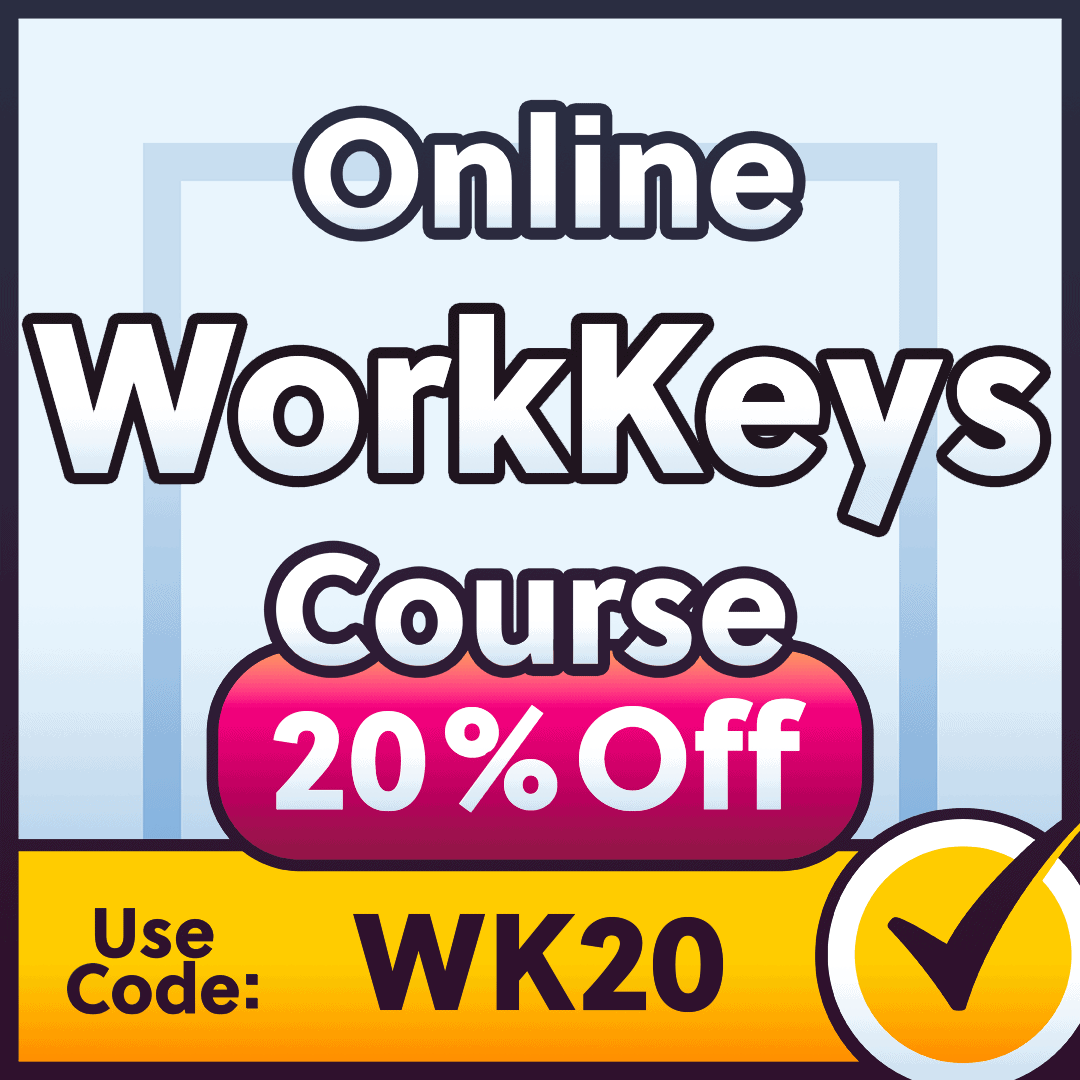 Who is Eligible?
ACT itself, only requires that you register for the WorkKeys assessments. This process will include an application you will need to fill out. Based on the information included in this, you will be contacted when you are approved for testing.
When and Where is it taken?
These assessments can be scheduled separately or together several times each month at hundreds of local testing sites throughout the U.S. Many of these are located on educational campuses or in regional job assistance buildings. Some tests may be on a computer, while others are pencil and paper versions.
During your application/registration process, you will be provided with a full list of dates, times, and locations. To make sure you get to sit when and where you prefer, register as early as possible.
What Should I Bring?
It is important to arrive on time for your assessment. If you show up late, you will not be allowed to test. Bring a current and valid form of identification such as a driver's license, state ID, Military ID or passport. This should include your photo, signature, and full legal name.
4-function, scientific, or graphing calculators are permitted for some assessments. This and other permitted items depend on the format of your exam. All other personal items should be left at home.
What Does it Cover?
The WorkKeys exam offers 8 assessments. Only three (Applied Math, Graphic Literacy, and Workplace Documents) are required for an NCRC certificate. For each assessment, there are five difficulty levels, each one building off the one before. Level 3 is the easiest, with level 7 being the most complex.
Below you will find a brief outline of each assessment, the number of questions included, and the length of time given for each.
Applied Math Assessment
34 questions/55 minutes
Level 3
Converting fractions and decimals, solve one operation problems, convert money and time, and add prices for a total and calculate change
Level 4
Solve two operation problems, calculate averages, simple ratios, proportions, and rates, add fractions, decimals, and percentages, and multiply mixed numbers
Level 5
Convert units between systems of measurement, solve problems with mixed units, perimeter and circumference, calculate percentages and use to solve problems, notice errors, find the best deal
Level 6
Area of basic shapes, volume of rectangular solids, identify the correct equation, calculate rates by time
Level 7
Convert fractions to ratios, rates or proportions to solve problem, volume of spheres, cylinders, and cones, weighted mean, measures of central tendency, measure of spread and tolerance, and use graphics to solve problems
Graphic Literacy
38 questions/55 minutes
Level 3
Locate and find information and identify next steps
Level 4
Locate and compare information using graphics, notice trends, patterns, and relationships, make decisions and inferences, identify correctly shown graphics
Level 5
Locate information in graphics based on other graphics, justify inferences, interpret trends, patterns, and relationships and compare them, and compare two or more trends, patterns, relationships
Level 6
Use graphics to make inferences, use evidence to justify a decision, and use information to justify decisions
Level 7
Identify and justify the most effective graphic and the one that correctly shows data, justify decisions based on evidence in graphic
Workplace Documents
35 questions/55 minutes
Level 3
Identify the main idea, choose when to perform a step in a series, identify details, and apply information to similar situations
Level 4
Use context to figure out word or phrase meanings and choose actions to make during changing conditions
Level 5
Infer word or phrase meanings, consider changing conditions and apply similar information to situations, apply technical terms and jargon to situations, make inferences to accomplish a goal, and identify appropriate meaning or jargon, technical term, or acronym
Level 6
Infer implied details, identify rationale, and apply inferred principles to other situations
Level 7
Same as level 6
Applied Technology
This assessment measures the basic skills and ideas in fluid dynamics, mechanics, thermodynamics, and electricity.
Business Writing
The skills evaluated in this assessment are those needed to write original responses to work-related situations.
Workplace Observation
Observing, understanding, following, and evaluating workplace processes, procedures and demonstrations are the important factors that this assessment measures.
Fit
This assessment is based on individual values and interests and seeks to match you with work environments that use those to succeed.
Talent
The talent assessment tries to gauge your work-related behavioral tendencies and attitudes to find the best employers and work situations for you.
How is it Scored?
Your score report will include both level and scale scores. Your level score for each assessment will tell you what level you are the most competent in. Your scale score is more directly related to your actual score and the number of questions correctly answered. This score is also more detailed than a level score.
The NCRC requires you to earn at least a level score of 3 on all three of the required WorkKeys assessments. There are two ways to get your certificate once you have passed:
Your assessment provider has paid for and will give your certificate to you.
Or
You have created a free online WorkKeys account that gives you access to your score transcripts and the details of your NCRC certificate.
How Can I Prepare for the WorkKeys Test?
That's a great question. We've broken down the answer into three parts.
Do yourself a favor and study. Do not walk in unprepared. We have recommended prep materials below, but that only helps if you actually try. Plus, studying is actually proven to be the best antidote to test anxiety.
Take care of yourself. Make sure you're eating well, exercising, and sleeping. All of these things are scientifically linked to brain performance. If you take care of your body, you'll be helping your grades.
Get a study guide, online course, or set of flashcards. Some people study better a certain way. Find your study strengths and make the most of them. We've tried to make it easy for you by tracking down the best study guide, online course, and flashcard set for your exam. Below you'll see links to all three!