While you prepare to sit for the Michigan Test for Teaching Certification (MTTC) Elementary Education (103) exam, we've put this article together with information that will help you prepare to reach your potential on the test. As you read, you'll find details on exam registration, testing fees, items to bring with you on the day of the exam, as well as questions you can expect to encounter on the test.
Exam Purpose and Background
The MTTC Elementary Education (103) exam is designed to assess your readiness to become an entry-level teacher in Michigan elementary schools. This test serves as a standardized method to ensure superior education across all parts of the state.
Registration
You can complete your test registration online at www.mttc.nesinc.com
Costs/Payment Options
The testing fee for this exam is $129. You can pay using a credit care, check card or debit card that carries either the VISA® or MasterCard® logo without needing to enter a PIN.
Times/Locations
You can review available testing centers and open times online at www.mttc.nesinc.com
Test Duration: You'll have three and a half hours to finish your exam.
What to Bring:
A valid government-issued ID showing your photo, signature and name. Examples include a driver's license, a passport, a state/province ID, national ID, military ID or Alien Registration Card, such as a green card or permanent visa). NOTE: Your name on your registration materials must be an exact match with your name on your ID.
What Not to Bring:
Electronics of any kind, including phones,
PDAs, handheld computers, and more
Bags, purses, wallets and personal items
Weapons
Oversized jewelry
Hats or other non-religious headwear
Pencils or pens
Notes, paper or books
Food or drink
What to Expect During Your Exam
Format/Number of Questions: You'll take this test using a computer and will answer a total of 150 multiple-choice questions.
Content Categories
The exam has six content categories. Here's an overview of each of these areas, along with the approximate percentage that each section represents as part of the overall test.
Category
1: English Language Arts and World Languages (24%)
This portion of the test assesses your knowledge in language learning to have the best chance for success in our global world. This section also reviews the founding principles of emerging literacy, including concepts such as phonemic and phonological awareness abilities. In addition, you can expect questions about word spelling, fluency and automatic recognition of words, as well as reading comprehension and vocabulary growth.
In this section, you'll also see content representing expository and narrative types of communication in oral, media, performance and written means. Plus, this area covers standard U.S. English usage, and the development and sharing of content through a variety of communications media.
Category
2: Social Studies (16%)
This area looks at historical contests related to the local area, as well as the state and nation. In addition, the test reviews geography elements, civics and government, economics and elements related to decision making, citizen involvement and public discussion of issues.
Category
3: Visual and Performing Arts (10%)
This portion reviews concepts involving artistic and creative endeavors, including principles, elements and styles of the arts. Also, you'll be assessed on your understanding of different types of communication related to the arts, including the types of educational approaches that are appropriate for various developmental stages.
Category
4: Mathematics (22%)
This section covers representation, reasoning, problem-solving, math history, number theory, systems, number sense, operations and numerical computation, indirect and direct measurement, Euclidean geometry, algebra and probability and data analysis.
Category
5: Science (18%)
This area looks at scientific inquiry and knowledge development, reflection and analysis, life science principles, earth/space science and physical science.
Category
6: Health Education and Physical Education (10%)
This section reviews health education approaches, as well as physical education strategies and methodologies.
Calculating Your Passing Score: To pass the exam, you'll need to score 220 or better. You can expect to receive your official exam score within six weeks of your testing date.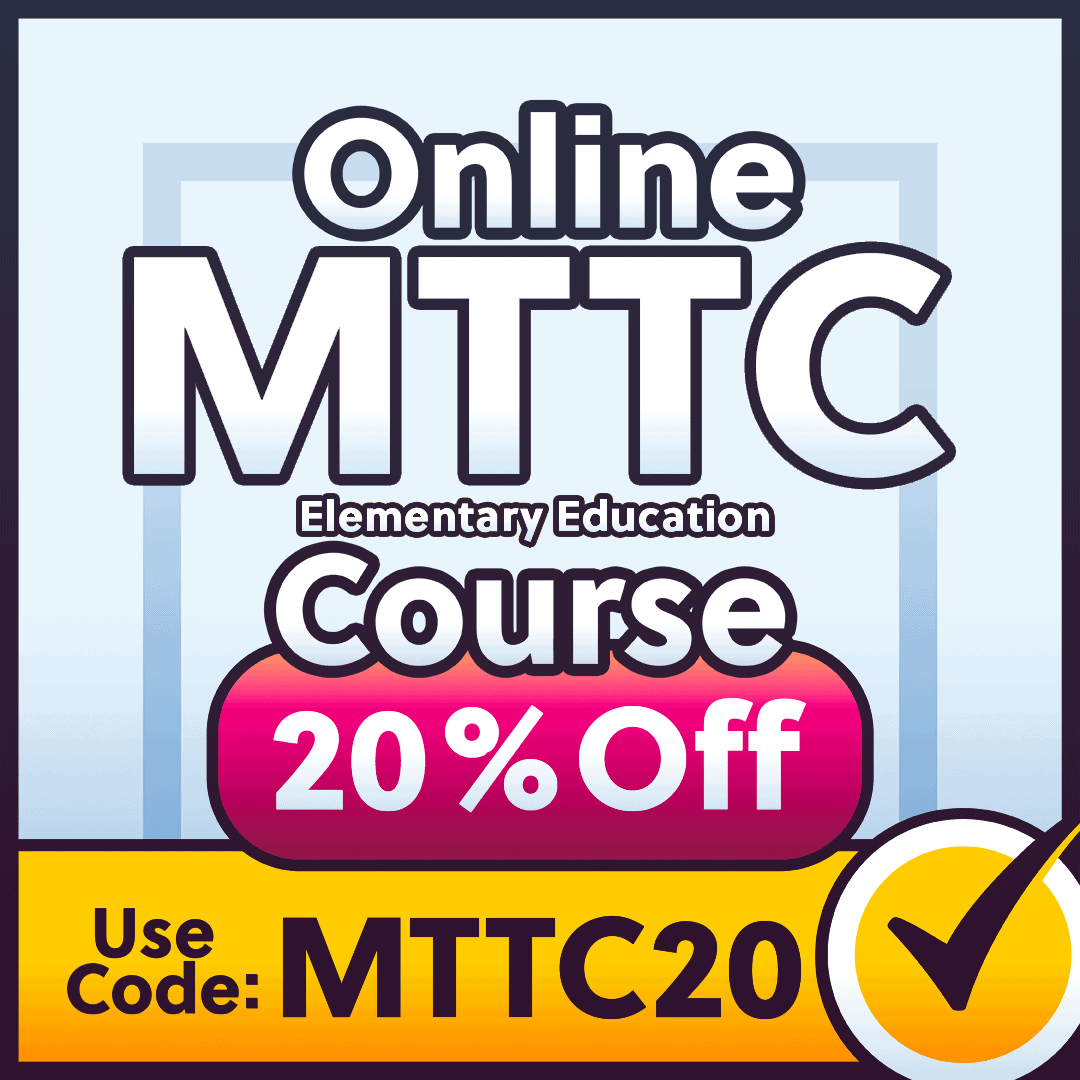 How Can I Prepare for the MTTC Elementary Education Exam?
That's a great question. We've broken down the answer into three parts.
Do yourself a favor and study. Do not walk in unprepared. We have recommended prep materials below, but that only helps if you actually try. Plus, studying is actually proven to be the best antidote to test anxiety.
Take care of yourself. Make sure you're eating well, exercising, and sleeping. All of these things are scientifically linked to brain performance. If you take care of your body, you'll be helping your grades.
Get a study guide or set of flashcards. Some people study better a certain way. Find your study strengths and make the most of them. We've tried to make it easy for you by tracking down the best study guide and flashcard set for your exam. Below you'll see links to both!