The Texas Examinations of Educator Standards or TExES program and its exams are taken by all those seeking certification and licensure as a certified teacher in the state of Texas. This particular exam is used to measure the knowledge, skills, and abilities in five core subjects needed for teaching Early Childhood to the 6th grade level.
Who is Eligible?
All those seeking to take this exam must:
Have approval from their Educator Preparation Program (EPP) or district
Have valid teaching credentials from Texas, another state, or country
Create an account through the TEA and/or TExES testing websites
There is a fee of $116 for the total exam and all five subjects. To take them separately, it is $58 per subject.
When and Where Can I Take it?
All TExES exams are computer administered by Pearson VUE year-round. You may schedule these at one of many locations throughout the state of Texas, as well as at any testing site nationwide. A complete list of available dates, times, and locations will be provided to you during the registrations process.
It is recommended that you register as early as possible, as seating and space may be limited at some locations. Space is filled on a first-come, first-served basis.
If you need to reschedule or cancel your exam, you may do so at any time up to the last 48 hours before your scheduled exam through your TExES account.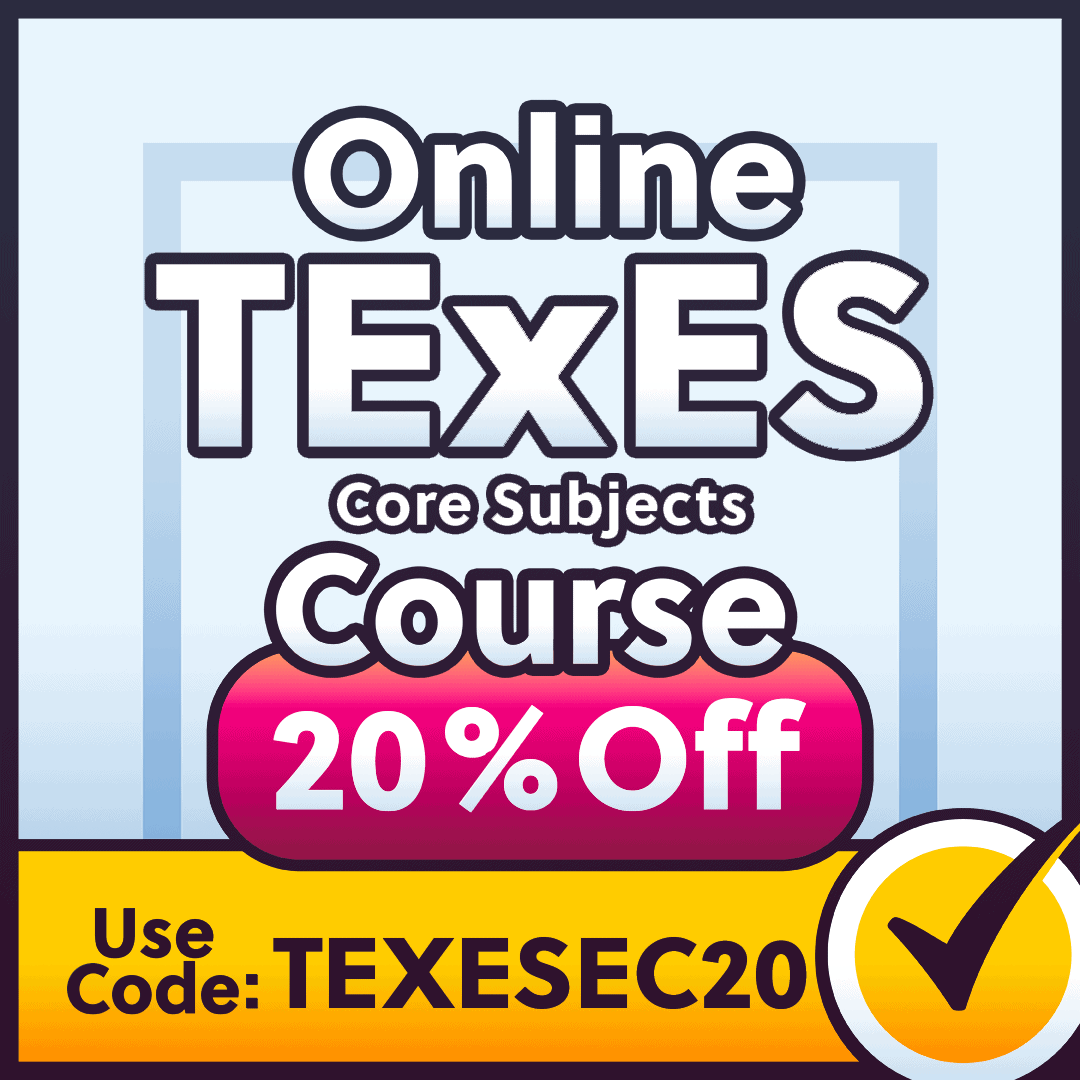 What Should I Bring?
Make sure to arrive at least 15 early for your scheduled exam. This will allow for a check-in process to be completed before the exam begins. If you are late, you will not be allowed to test that day and will have to reschedule, forfeiting all fees paid up to that point.
The check-in process at the testing center requires that you bring two current and valid forms of personal identification. These must include your full name as it appears on your application/registration and your signature. Your primary ID must also include a recent and recognizable photo. If your ID has incorrect or missing information, you will be asked for another ID.
Acceptable forms of primary/photo IDs are:
Driver's license
State ID card
Military ID
Passport
This exam is taken completely on a computer. This means that no personal items such as pencils, paper, books, or calculators are needed. These items as well as cell phones, watches, and food and drink are prohibited in the testing area and must be kept in a separate designated area during the exams.
Online TExES Core EC-6 (391) Prep Course
If you want to be fully prepared, Mometrix offers an online TExES Core EC-6 (391) Prep Course. The course is designed to provide you with any and every resource you might want while studying. The TExES Core EC-6 (391) Course includes:
Review Lessons Covering All the Topics
800+ TExES Core EC-6 (391) Practice Questions
More than 1,200 Electronic Flashcards
Over 390 Instructional Videos
Money-back Guarantee
Free Mobile Access
and More!
The TExES Core EC-6 (391) Prep Course is designed to help any learner get everything they need to prepare for their TExES Core EC-6 (391) exam; click below to check it out.
What Does the TExES Core Subject EC-6 Cover?
As previously mentioned this exam is made up of 267 multiple choice questions in five separate subject exams: English Language Arts and Reading & Science of Teaching Reading, Mathematics, Social Studies, Science, and Fine Arts, Health, and Physical Education.
You will be given a total time of five hours to complete all five subjects, which includes a brief tutorial at the beginning.
Below is a brief outline of each Subject Exam and the content it contains, as well as the number of questions and time given for each.
English Language Arts and Reading & Science of Teaching Reading (75 questions/1 hour and 45 minutes)
The first exam will evaluate your skills and knowledge of oral language, literacy development, word analysis and identification skills, reading comprehension and applications, vocabulary development, written communication, viewing and representing, and the assessment of developing literacy.
Mathematics (47 questions/1 hour)
This section is all about mathematics instruction, number concepts and operations, patterns and algebra, geometry and measurement, probability and statistics, and mathematical processes.
Social Studies (41 questions/35 minutes)
These questions will test your knowledge of social science instruction, history, geography and culture, economics, government and citizenship.
Science (52 questions/40 minutes)
In this section, you will be assessed on lab processes, equipment, and safety, the history, impact, and nature of science, students as learners and science instruction, science assessment, forces and motion, and the fundamental knowledge required for teaching physics, chemistry, biology, and earth science.
Fine Arts, Health, and Physical Education (52 questions/40 minutes)
This section asks about visual arts, music, health, physical education, and theatre.
Each section may contain some unidentified pretest questions. These are not scored and will affect your results.
How is it Scored?
Scores for these exams will be available at 10 pm central time on the score report date. This will happen within 7 days of testing. You will be notified during your registration or testing process as to when the earliest possible date is.
Your score will be reported to you as "passed" or "not passed". There is not an overall passing score for combined subject exams. However, to be considered passing, you must receive at least a score of 240 for each of the five subject exams separately.
If you do not pass one to four of the subject exams, you may schedule to take them again after 45 days of your initial attempt. Each testing session counts as a retake of the entire exam, no matter how many subjects are needed. You are allowed five attempts at the Core Subjects EC-6 exam.
Within 7-10 business days after you have received your results, your scores will be made available to TEA and your EPP (if applicable). You will not need to send them yourself.
How Can I Prepare for the TExES Core Subjects EC-6 Test?
We believe that different learning styles require different tools for success. We have compiled a list of the best study guides, set of flashcards, and online course that we've found on the market. Some of these guides have review videos, for you visual learners out there. Others have practice tests, which have been proven to increase student scores by a whole letter grade (in some cases more than that)!
Top Study Guides:
Best Online Course:
High-Quality Flashcards: