The Secondary School Admissions Test (SSAT) is a standardized test used by private middle and high schools worldwide. Student applicants in grades eight and above use the Upper-Level exam for admission to grades nine through post-graduate. The SSAT assesses your acquired knowledge (through education and life experience), measuring your verbal, quantitative, and reading skills. Emphasis on the exam is placed on your critical thinking and problem-solving skills, necessary for a successful academic experience.
Registration Information
The SSAT is administered on eight Saturdays throughout the academic year. The first test is in October, and the last test is in June for admission to the following school year. To register for the exam, your parent or guardian needs to create an account at the SSAT website. Through your SSAT account, you can register for the exam, manage registration and school inquiries, access your scores, and send applications. Your SSAT account never expires.
For testing locations in the U.S., Canada, American Samoa, Puerto Rico, Saipan, and the U.S. Virgin Islands, the test registration fee is $139.00. The testing fee is $269.00, all other locations.
SSAT Upper-Level exam design
The Upper-Level exam is a 167 multiple-choice, pencil-and-paper admissions test. Of the 167 questions, 150 are scored. The additional 17 questions are used to evaluate their potential in future exams. You have three hours and five minutes allotted for your exam. The testing appointment includes a five-minute break after the writing sample and a ten-minute break after the reading section.
The exam consists of five scored sections and one unscored writing section. The order of the sections are as follows: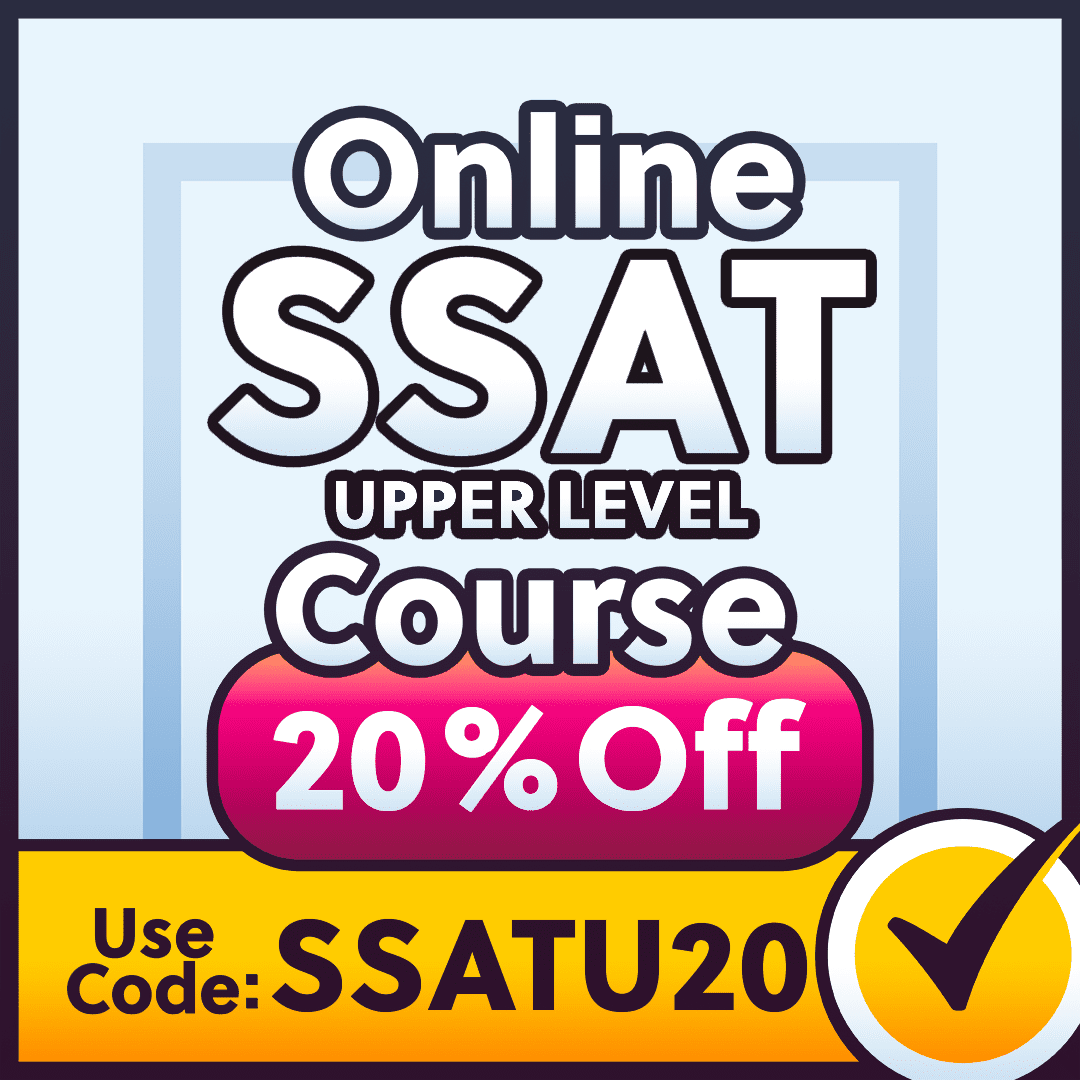 Writing sample
You have 25 minutes to answer either a creative prompt or a traditional essay prompt. The writing prompt allows you to show your ability to write and organize your thoughts and ideas. While not scored, your writing sample is included with your score report and can be reviewed by the school's admission team. Your writing sample is not included in your student score report unless it is purchased separately.
Section I – Quantitative
Divided into two 30-minute sections of 25 questions each, the Quantitative portion of the exam assesses your ability to solve problems involving arithmetic, elementary algebra, geometry, and other mathematical concepts. The second part of the Quantitative section is delivered after the Verbal section.
Section II – Reading Comprehension
The 40 questions in the reading comprehension section measure your ability to read and comprehend what you read. Topics are drawn from literary fiction, the Humanities, Science, and Social Studies, and are either presented in literary form (novel, poem, short story, or essay) or argument (presenting a definite point of view). Your ability to recognize the main idea, locate details, make inferences, derive meaning, and determine the author's purpose, attitude, and tone are examined in this section. You have 40 minutes to complete the section.
Section III – Verbal
The verbal section measures your verbal reasoning skills and your ability to relate ideas logically. This 30-minute section contains 30 synonym questions and 30 analogy questions.
Section IV – Quantitative
Section IV is the second part of Section I. A calculator is not permitted in either section.
Section V – Experimental
The 16 questions in this section are not scored and are used to determine their validity. There are six verbal, five reading, and five quantitative questions in this 15-minute section.
Test day
The admission ticket you received after you registered for the test contains the information you need for your exam. Print the ticket and follow the directions printed on it. Arrive at your testing site at least 30 minutes early, so you have time to check-in, and report to your testing room.
Bring three sharpened Number 2 pencils with attached erasers. You may take notes in your test booklet. All test materials are collected at the end of the exam.
Calculators, phones, recording devices, and other items are not allowed unless they are a pre-approved test aid.
The test and score
You are given one point for each correct answer, and you lose ¼ of a point for each incorrect response. Unanswered questions do not lose or gain points. Your score range is a score of 500 to 800 with an overall score range of 1500 to 2400. There is no established passing score. Your score report includes individual scores in each section and an overall score. Your national percentile rank is also included on your score report.
How Can I Prepare for the SSAT?
We believe that different learning styles require different tools for success. We have compiled a list of the best study guides, flashcards, and practice tests that we've found on the market. Some of these guides have review videos, for you visual learners out there. Others have practice tests, which have been proven to increase student scores by a whole letter grade (in some cases more than that)!
Top Study Guides:
High Quality Flashcards:
Best Online Course: