If you really want to get a head start on your college or career readiness, you will want to take at least one of these. Any student in grades 8-11 can take at least one of these to help prepare them for the SAT or to better understand what they may need to focus on in their educational endeavors to achieve their goals. Once you have a good handle on what improvements you need to make you can begin to make those changes and increase the probability of putting forth a better effort for your future.
Who, When, and Where are they Taken?
There is an $11-16 fee to take these exams. However, many schools cover all or part of this for their students. Ask your counselor for details.
Special accommodations are available for those with disabilities who may not be able to test under normal conditions. Speak to your counselor about these options if they are needed.
PSAT/NMSQT
10th and 11th-grade students
Most students take this exam at their school.
This exam is taken every fall on specific days. Your school will be able to tell you when they have scheduled it to be taken.
PSAT 10
10th-grade students
Most students take this exam at their school.
This exam is offered every spring. Your school will choose the date(s) you can take it.
PSAT 8/9
8th and 9th-grade students
Most students take this exam at their school.
This exam is offered every year between September and April. Your counselor should be able to tell you when it has been scheduled for your school.
What Should I Bring?
You will need to bring a valid school or government-issued photo ID if you are not testing at your own school or are a home-schooled student. If you do not have one of these, you may use a notarized College Board Student ID Form. If you are taking the PSAT 8/9 and are homeschooled, you will need to bring your pre-given code as well.
You will also need to bring two No. 2 pencils with erasers and an approved calculator. These can be graphing, scientific, or four-function calculators. You may not bring any that make noise, connect to the internet, or use paper/tape or pens.
You may not bring any of the following items:
Electrical devices, such as cell phones or
smartwatches
Paper or study material of any kind
Food and drinks
Any other writing materials, such as
highlighters or colored pencils
Protractors, compasses, or rulers
You will only be allowed to have your pencils, calculator, test booklet, and answer sheet on your desk for the duration of the exam. The calculator will only be allowed to be used during the math portions of the exam.
What is Covered?
Each of these exams is broken into three main sections and contain multiple choice questions.
Below is a brief description of each section.
Reading
This section will include the following types of reading passages:
Two science passages about basic concepts in
Earth science, chemistry, physics, or biology
One passage from a classic or contemporary work of U.S. or world literature
One passage or pair of passages from a U.S.
founding document or a text in the Great Global Conversation
And one passage about economics, sociology,
psychology, or another social science
You will be asked to use that context to find evidence, relationships, the author's style, and/or the meaning of certain words or phrases.
Writing and Language
In this section, you will be expected to read passages or single sentences, find any mistakes in them, and then fix them. Some questions will involve graphics that must be interpreted. Passages will range from nonfiction narratives to arguments and be about history, science, social studies, the humanities, and/or careers.
You will be asked to fix grammatical errors such as punctuation and sentence structure, improve word choice, improve passage organization to better make a point, and/or to analyze passages on history and science.
Prior knowledge of the topic being discussed is not required.
Math
Here you will focus on three main arithmetic areas:
Algebra – linear equations, inequalities, and systems
Problem-solving and data analysis – quantitative reasoning of ratios, rates, and proportional relationships and using a representation of problems.
Advanced math – the structure of expressions and being able to manipulate, rewrite, and analyze those.
Most math questions will be multiple choice, but some are known as "grid-in" questions.
these will require that you solve the problem and enter your answer in the
provided grid instead of filling in a circle.
How are they Scored?
When your scores are ready, you will receive an email with instructions on how to access them. These are calculated by converting your raw score (the number of correctly answered questions) to scaled scores based on their difficulty.
Your score report will also include your score range, the mean or average scores earned by other U.S candidates in your grade, your percentile rank in comparison to other students, and your college readiness benchmarks for each section of the exam.
There is no penalty for guessing. If you are running short on time, try not to leave any questions blank and give it your best shot.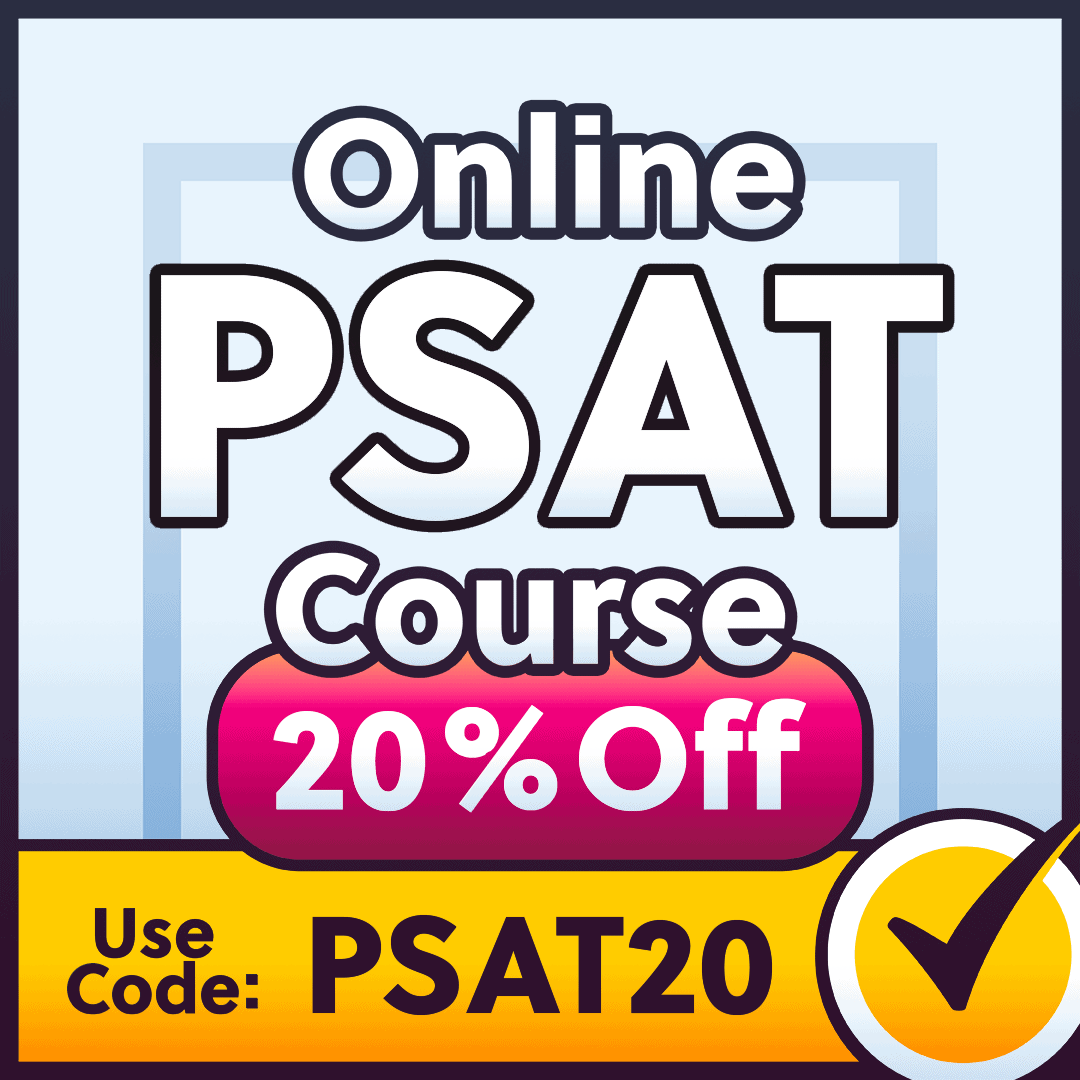 Scaled score range: 160-760
Your scores will be available December 10-12, depending on your state. Paper score reports can be provided by your school.
PSAT 8/9
Scaled score range: 120-720.
They will be available in December depending on when your school returns the answer sheets.
How Can I Prepare for the PSAT?
We believe that different learning styles require different tools for success. We have compiled a list of the best study guides, flashcards, and practice tests that we've found on the market. Some of these guides have review videos, for you visual learners out there. Others have practice tests, which have been proven to increase student scores by a whole letter grade (in some cases more than that)!
Top Study Guides:
High Quality Flashcards:
Best Online Course:
Other Helpful Resources: