The Praxis Core Academic Skills for Educators (Core) exam consists of three tests – reading, writing, and arithmetic – and is designed to measure a candidate's skills and knowledge in those three areas. The exam is often used by teacher preparation programs, and some states may have the assessment as a prerequisite for entry-level teacher candidates.
You may take each test individually or one after another in one testing appointment. Within the time limits for each test is a familiarization period. If you take all three exams in one appointment, you are allowed five hours. All tests are computer-delivered, multiple-choice exams with the writing exam adding an essay section consisting of two written response questions.
Praxis CASE Resources
The Reading exam consists of three content areas:
Key ideas and details – 35% of the exam
Craft, structure, and language skills – 30% of the exam
Integration of knowledge and ideas – 35% of the exam
The Core Academic Skills for Educators: Reading exam consists of 56 multiple-choice questions and measures your ability to understand, analyze, and evaluate a variety of texts with varying difficulty levels. The questions you encounter will be presented in the form of paired passages, long passages, short passages, or brief statements. The material may be drawn from print and media sources including newspapers, books, online sources, and journals, and may include tables, graphs, and diagrams. You will have 85 minutes to complete this exam.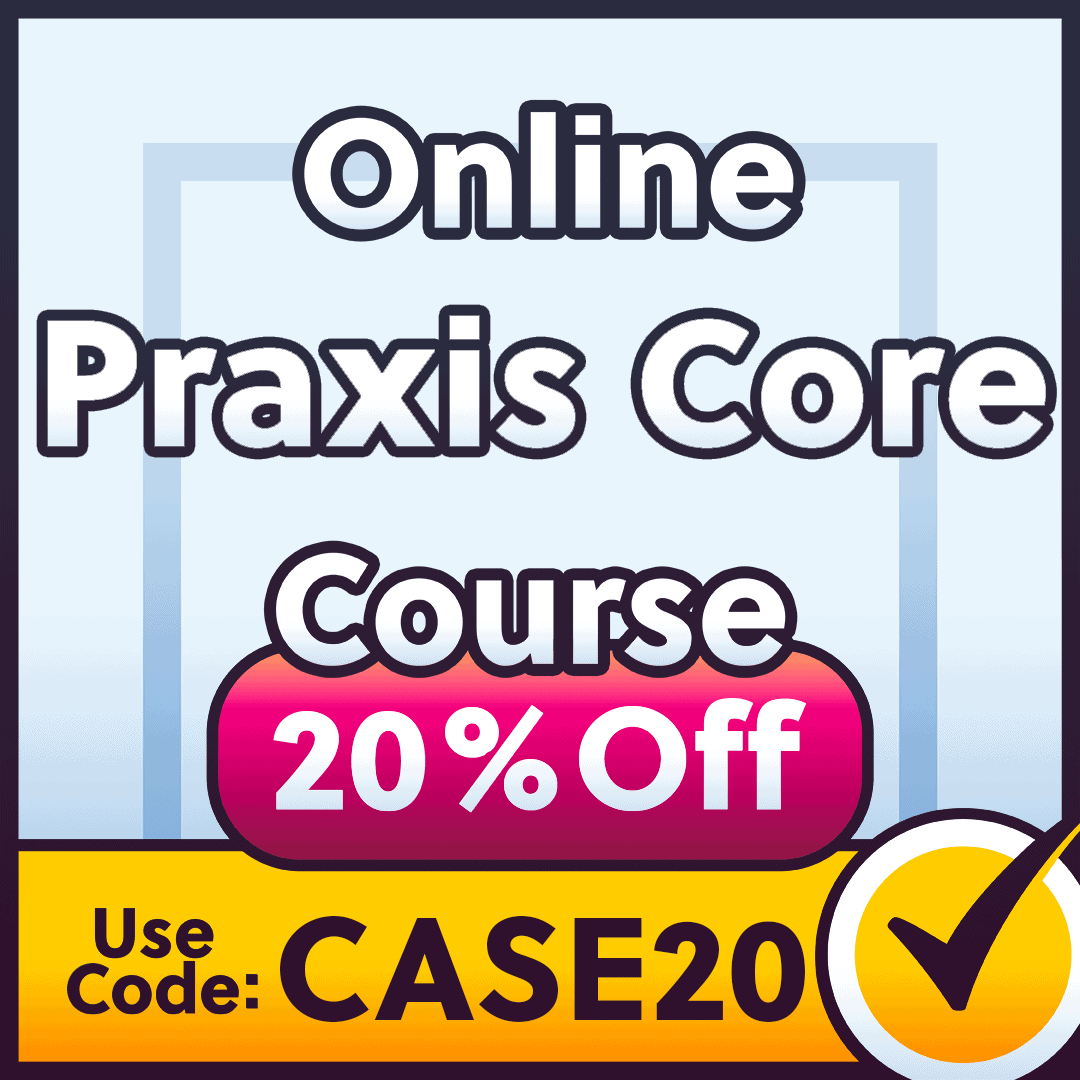 The Writing exam consists of two content areas:
Text types, purposes, and production – 60% of the exam
Language and research skills for writing – 40% of the exam
The Core Academic Skills for Educators: Writing exam consists of two written essay prompts and 40 multiple-choice questions. You are allowed 40 minutes for the multiple-choice prompts and 60 minutes for the essay prompts (30 minutes per essay question).
The selected-response portion of the Writing exam includes usage, sentence correction, revision in context, and research topics. The writing portion of the exam will assess your ability to write effectively using Argumentative and Informative/Explanatory conventions in a limited amount of time.
The Mathematics exam consists of four content areas:
Number and quantity – 36% of the exam
Data interpretation and representation, statistics, and probability – 32% of the exam
Algebra and geometry – 32% of the exam
The Core Academic Skills for Educators: Mathematics examines your ability to solve problems utilizing knowledge of mathematical theories and quantitative context. You will have 90 minutes to answer 56 multiple-choice questions. A computer-based calculator is provided for this exam.
Registration, cost, and location
You can register for the exam(s) online, by mail, or by phone. If you choose to register by phone, be aware that there is an additional $35.00 processing fee per exam. Individually, the exams are $90.00 each. If you schedule to sit for all three exams at one appointment time, the cost is $150.00.
Testing centers are located worldwide. Appointments are available Monday through Friday during regular business hours, and some centers offer appointments on Saturday. Veterans may be able to use their G.I. Bill or vocational rehabilitation educational benefits for the exam registration fee(s).
Test Day
On the day of your exam, report to your testing facility 30 minutes before your assigned time. Take your admission ticket that you received and the required forms of identification. When you sign in, your identification will be verified, and your photo and palm vein may be taken. You will either leave your personal belongings in your vehicle or the provided locker. Everything you need for the exam is provided; you are not allowed to bring in any personal items into the testing facility.
At your testing station, you are provided scratch paper, writing instruments, and any other required supplies for your exam(s). There is a short tutorial that guides you through the process of the computer-delivered exam. At the conclusion of the tutorial, your exam begins.
If you are taking all three exams, a ten-minute break is provided between the first and second tests. If you are only taking one exam, breaks are not included in your time. If you need to take a break, raise your hand to be escorted out of the testing center. Be aware that your time will not stop while you are on a break.
Exam scoring and results
You receive one point for each correct response. Incorrect or unanswered questions are not penalized. Your points are added together, and this becomes your raw score. Your raw score is then converted to a scaled score. Each exam is scored and reported individually. The passing score for each test is different for every state and changes every year.
Because the tests stand individually, you do not have to pass all three exams before passing the Core exam. Therefore, if you fail only one test, you have to retake only that test.
If you take all three exams at one appointment, your official scores are emailed to you 10 to 16 business days after you take the tests. If you take them individually, the Reading and Mathematics exams have an unofficial score report printed immediately upon conclusion. The Writing exam's score report is emailed 10 to 16 business days after you take the test. Notification of passing scores is sent to the agencies you identified when you registered.
How Can I Prepare for the Praxis Core Test?
We believe that different learning styles require different tools for success. We have compiled a list of the best study guides, flashcards, and practice tests that we've found on the market. Some of these guides have review videos, for you visual learners out there. Others have practice tests, which have been proven to increase student scores by a whole letter grade (in some cases more than that)!
Top Study Guides:
Best Online Course:
High-Quality Flashcards: