ParaPro Study Guide
Due to the regulations of the recently enacted No Child Left Behind Act, states are now required to test teacher's aides and assistants to assure that they're competent to work with and help teach school children. One of the common ways of certifying aides and assistants is requiring them to pass the ParaPro test.
The ParaPro test measures the abilities and aptitudes of people to assist in teaching reading, writing, and basic math. It lasts about two and a half hours, and there are 90 multiple choice questions. If you're disabled, or if English isn't your first language, special accommodations can be made giving you more time to complete the test. Scores range from 420 to 480. School districts set their own minimum passing score, which is usually in the neighborhood of 450-460.

One thing to remember is that there's no penalty for wrong answers, so if you're absolutely stumped by a particular question, it's better to guess than to leave it blank. If for some reason you don't achieve the minimum, you may retake the test, but there is a one or two month waiting period, depending on your score. The test is offered several times a month in many districts, and may be taken in either paper and pencil form, or over the internet. Passing the ParaPro test is a major stepping stone to a career in assisting teachers, so take the test seriously, and be prepared for it.
StudyGuideZone.com offers an exclusive free, downloadable ParaPro study guide to the Internet community for the ParaPro test. The guide is in PDF format, so you'll need Adobe's free Reader (already installed on most computers) to view it. Anyone is free to link to this page or the study guide on our server to let students know about this resource.
Click here to download StudyGuideZone.com's free ParaPro Study Guide
Free ParaPro Practice Test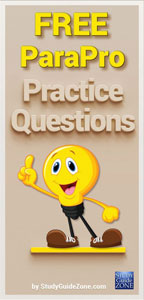 Parapro Writing Practice Test
Parapro Math Practice Test
Parapro Reading Practice Test