In order to be eligible to take the OCN Exam, you must have a license as a registered nurse, at least one-year experience as an RN within the last 3 years, 1,000 hours experience in adult oncology nursing in the last 2.5 years, and 10 hours of continuing education in nursing within the last 3 years.
This exam is 3 hours in length, and consists of 165 multiple-choice questions
If you require special testing accommodations for conditions that are covered under the Americans with Disabilities Act, you can make this request in writing.
Some available accommodations are wheelchair access, reader, extended testing time, a separate testing area, and zoom text font size.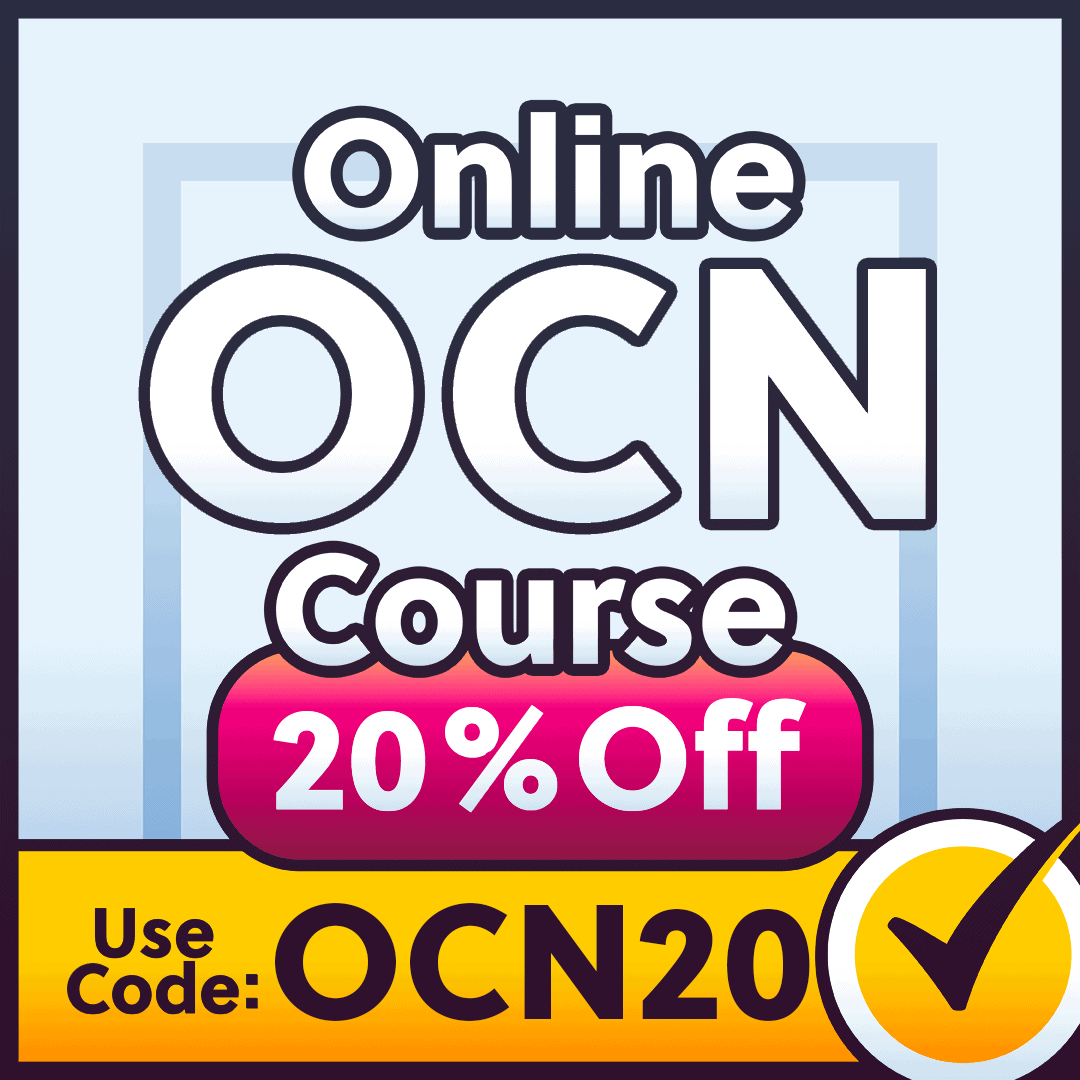 What topics and sub-topics are covered on this exam?
Health Promotion, Screening, and Early Detection – 6%
Scientific Basis for Practice – 9%
Treatment Modalities – 16%
Symptom Management – 22%
Psychosocial Dimensions of Care – 8%
Oncologic Emergencies – 12%
Survivorship – 8%
Palliative and End-of-Life Care – 11%
Professional Performance – 8%
Health Promotion, Screening, and Early Detection
Topics such as health promotion, epidemiology, prevention, and screening and early detection are covered under health promotion, screening, and early detection.
Scientific Basis for Practice
Topics such as carcinogenesis, immunology, genetic risk factors, clinical trials, and the pathophysiology, diagnostic measures, prognosis, classification and staging of different types of cancer are covered under scientific basis for practice.
Treatment Modalities
Topics such as surgery, blood and marrow transplant, radiation therapy, chemotherapy, and biotherapy are covered under treatment modalities.
Symptom Management
Topics such as toxicity and grading scales, anatomical and surgical alterations, complementary and integrative modalities, and alterations in hematologic, immune, gastrointestinal, integumentary, and respiratory functions are covered under symptom management.
Psychosocial Dimensions of Care
Topics such as cultural and spiritual diversity, financial concerns support groups, learning styles, social relationships and family dynamics, and coping mechanisms and skills are covered under psychosocial dimensions of care.
Oncologic Emergencies
Topics such as septic shock, tumor lysis syndrome, hypercalcemia, spinal cord compression, pneumonitis, disseminated intravascular coagulation, thrombotic thrombocytopenia purpura, and extravasations are covered under oncologic emergencies.
Survivorship
Topics such as rehabilitation, long-term follow-up, and early and late psychosocial, cognitive, and physical effects, and secondary malignancies are covered under survivorship.
Palliative and End-of-Life Care
Topics such as hospice care, grief, bereavement, caregiver support, interdisciplinary team, professional development, and pharmacologic and non-pharmacologic comfort measures are covered under palliative and end-of-life care.
Professional Performance
Topics such as the scope of oncology nursing practice, evidence-based practice, education process, legal and ethical issues, patient advocacy, quality improvement, accreditation standards, and multidisciplinary collaboration are covered under professional performance.
If drug names are used on any questions of the test, the generic names will be used, not brand names.
What is the most convenient way to register?
Apply and pay for your exam online. Once you've applied, you will receive an email with your Authorization to Test document. You will also be assigned a 90-day period in which you are allowed to take the exam.
What is the cost of taking this exam?
The cost of taking this exam in the United States and Canada depends on whether or not the examinee is a member of ONS/APHON.
If a member of ONS/APHON, the cost is $300. Non-members will pay $420.
What are the testing dates and locations?
Testing for this exam is offered on a continuous basis. There are many test centers and dates from which you can choose.
What should I do the day of the exam?
Get to the test center early. Arriving late could prevent you from being able to take the exam.
Bring a form of identification that includes your name, signature, and photo. Your ID must be valid, and not expired. A driver's license or passport are examples of forms of ID that are acceptable.
Personal items such as food/drink, hat, study materials, a purse, backpack, cell phone, and calculator are not allowed in the testing area.
If you bring any items to the test center that are not allowed to bring into the testing area, you must store those items in a locker. You are responsible for the security of any items placed in a locker.
Can I take a break during the exam?
Although there are no breaks scheduled during the exam, you are allowed to take a break for using the restroom or accessing your locker. Keep in mind that although you are allowed to take a break for these reasons, the exam clock time will not stop.
What happens after I take the exam?
You will receive your score report before leaving the testing center.
What is the minimum passing score on this exam?
55
What happens if I don't pass the exam?
You may take this exam twice, and if you require a third attempt, take it again after your 90-day testing window. If you still don't pass, you must wait a year before attempting again.
When preparing for the OCN Exam, be sure to have a plan in place that is guaranteed to help you pass. Don't spend a lot of unnecessary time studying, just invest in quality materials that will give you the outcome you seek, in less study time.
How Can I Prepare for the OCN Test?
That's a great question. We've broken down the answer into three parts.
Do yourself a favor and study. Do not walk in unprepared. We have recommended prep materials below, but that only helps if you actually try. Plus, studying is actually proven to be the best antidote to test anxiety.
Take care of yourself. Make sure you're eating well, exercising, and sleeping. All of these things are scientifically linked to brain performance. If you take care of your body, you'll be helping your grades.
Get a study guide, online course, or a set of flashcards. Some people study better a certain way. Find your study strengths and make the most of them. We've tried to make it easy for you by tracking down the best study guide, online course, and flashcard set for your exam. Below you'll see links to all three!