The National Counselor Examination for Licensure and Certification or NCE is used by the NBCC to certify professional counselors. This exam is internationally recognized as a standard to which all professionally licensed and certified counselors are held. While the passing of this exam does not mean automatic certification is given, it does go a long way in proving that you have the knowledge, skills, and abilities that are crucial for such a process.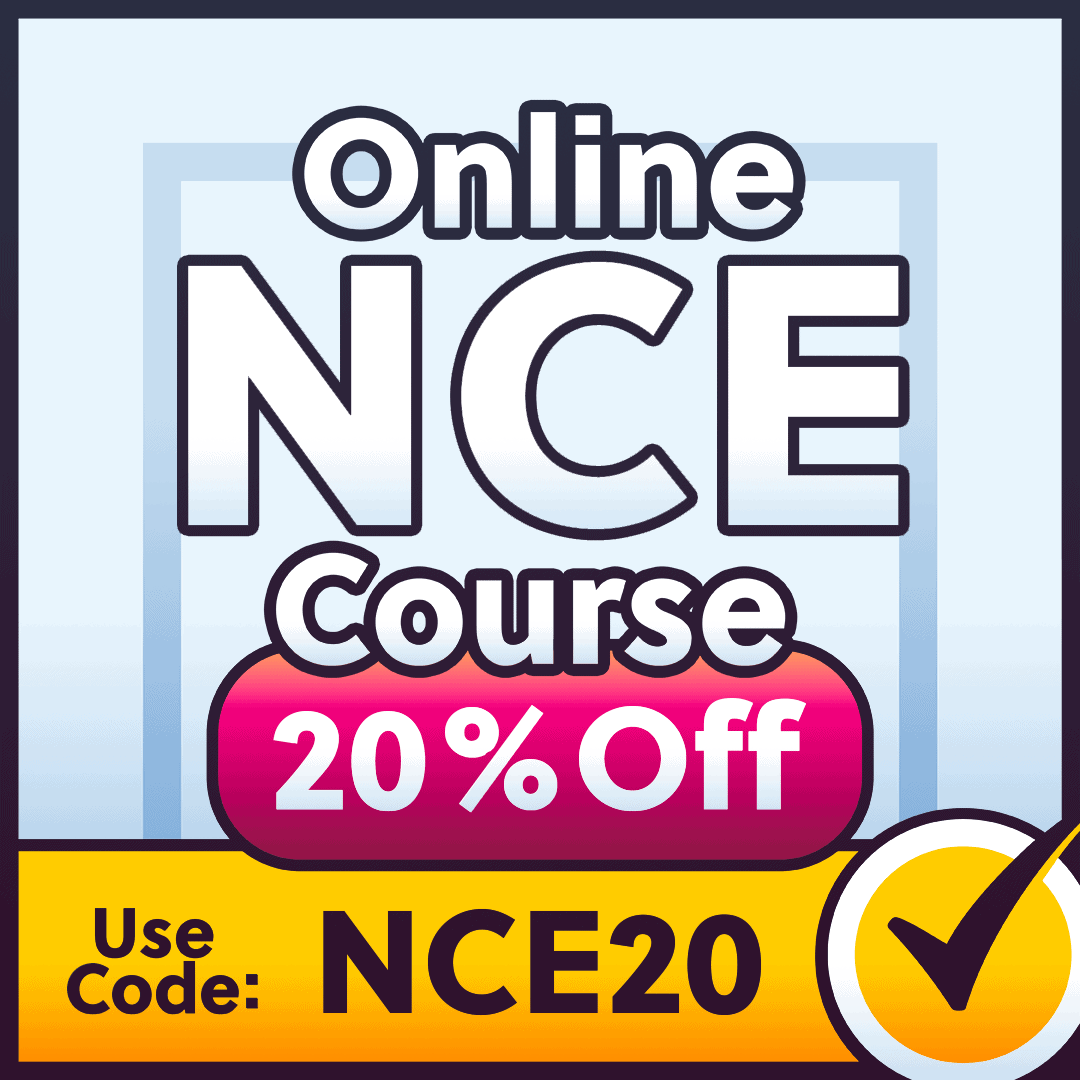 Who is Eligible?
Only candidates who have applied for counseling certification through the National Board for Certified Counselors or NBCC are eligible to take this exam.
There is a fee of $275 that is due at the time of registration. Payments can be made by credit card and are not refundable or transferable.
When and Where is it Taken?
The NCE is administered by Pearson Vue twice a year, in April and October, usually on the third Saturday of the month. However, Sabbath-observant candidates may request an exam date that falls on a different weekday.
The exam is given in a paper and pencil format at over 75 national Pearson VUE sites and 350 college campuses throughout the U.S. register early to ensure you get the location of your choice, as space may be limited.
Special accommodations are available for those with disabilities that may prevent them from taking the exam under the usual conditions. If you need these services, be sure to submit your special exam accommodation requests at least 45 days before your scheduled exam.
If for any reason, you should need to change your exam date, you may defer your exam until the next available date without penalty as long as you inform the NBCC more than 30 days from your scheduled exam. If you wait until there are less than 30 days until your exam or do not show you will be charged a $150 reregistration fee to take your exam during the next available date.
After you have scheduled your exam and about 10 days before you are to test, you will receive an exam admission letter. This will include information about exactly when and where your scheduled exam is and reminders about what to bring with you.
What Must I Bring?
It is imperative that you arrive early or on time for your scheduled exam. There is a check-in process that you will need to complete before you can sit for the NCE. If you are late for your exam you will not be allowed to enter the testing site and will need to reschedule your exam.
As part of the check-in process, you will need to present two forms of personal identification. One of these must include a recent and recognizable photo. Both forms must have your full legal name as it appears on your registration information, be valid and current, and contain your signature. If you can not present an acceptable form of ID, you will not be allowed to enter the testing site.
Example of acceptable forms of ID are as follows:
Primary/Photo ID
Driver's license
State ID card
Military ID card
Passport
You will also need to bring your exam admission letter. This contains your NBCC ID number, which will be needed to sign in.
To maintain exam fairness across the board, NBCC will provide any testing materials at the testing site. This includes writing materials to be turned back in with your completed exam. Therefore, no personal belongings are needed or allowed during the exam, including cell phones, calculators, and food and drink.
What Does the Exam Cover?
The NCE is made up of 200 multiple choice questions. 160 of these are used towards your score and are counted as one point per question, making the maximum possible score you can achieve a 160. The other 40 are unscored and used as pre-test questions.
This exam is not broken in to separate sections, however, it includes six domains that are based on the CACREP (Council for Accreditation of Counseling and Related Educational Programs) content areas as well as the five work behaviors determined by NBCC's national job analysis. Below is a brief outline of the six domains the exam will encompass.
Eight Content Areas
Professional Practice and Ethics - 12%
Intake, Assessment, and Diagnosis - 12%
Areas of Clinical Focus - 29%
Treatment Planning - 9%
Counseling Skills and Interventions - 30%
Core Counseling Attributes - 8%
You will have three hours and 45 minutes to complete the exam. Breaks are allowed; however, this is included in your testing time and you will not be given any extra time for them.
How is it Scored?
About a month after your exam, you will receive notification that your score report is available online at your ProCounselor account. This is not your official score report but will include your pass/fail status and your cut score, the number of correctly answered questions. Your official score verification can be ordered and sent to third parties through the ProCounselor online store after NBCC has received and verified the official transcript of your graduate degree.
Each exam administration is slightly different, therefore, the passing score needed for each sitting of the exam may be slightly different based on the difficulty levels included in the questions answered.
If you have failed your NCE, you may retake it during the next available administration. Your original application allows for three attempts to succeed. However, you will need to reregister and pay a re-registration fee.
How Can I Prepare for the NCE Test?
We believe that different learning styles require different tools for success. We have compiled a list of the best study guides, online courses, flashcards, and practice tests that we've found on the market. Some of these guides have review videos, for you visual learners out there. Others have practice tests, which have been proven to increase student scores by a whole letter grade (in some cases more than that)!
Top Study Guides:
Best Online Course:
High-Quality Flashcards: