The National Board for Certification in Occupational Therapy, Inc. (NBCOT) offers the Certified Occupational Therapy Assistant (NBCOT-COTA) examination for certification purposes.
[bookwidgets]Before a candidate can take this test, he or she must have successfully completed an accredited academic program for occupational therapy, finished the necessary experience obligations, turned in an application and gotten the go-ahead from NBCOT for the test, provided documentation from a school registrar regarding the candidate's eligibility and signed the code of conduct.
The criterion-referenced test is computer-based. At the beginning of the test, the candidate will have 15 minutes to finish a tutorial about taking this examination. This time is not counted towards the total time of 4 hours for the whole test. The exam has 200 multiple-choice questions in all. Of these, 30 questions are pre-trial questions and will be used on future exams. The rest of the questions will be totaled for the raw score. Candidates can flag questions as they go and return later to any questions for review or alteration. Candidates can go back and change answers as many times as they want, as long as time remains. If a candidate leaves a question unanswered, it will not count towards the score.
The test content is broken down as follows:
Assess persons or people to find out what is required in terms of occupation-based intervention – 12%
Build up intervention strategies that speak to the occupational requirements of a person or people – 22%
Put into practice occupationally significant interventions with a person or people that support participation in pertinent environments – 50%
Provide occupational therapy services that speak to the occupational performance requirements of groups of people – 9%
Run, sort out and endorse occupational therapy services – 7%
The candidate's raw score will be converted to a final scaled score which will be in the 300-600 range. The minimum passing score is 450. If the candidate passes, he or she will get the score, a certificate and a wallet card. If unsuccessful, the candidate must wait 45 days before taking the test again.
NBCOT Test Video Review
How to pass the NBCOT-COTA Exam
NBCOT-COTA Exam on YouTube | NBCOT-COTA Study Guide and Practice Questions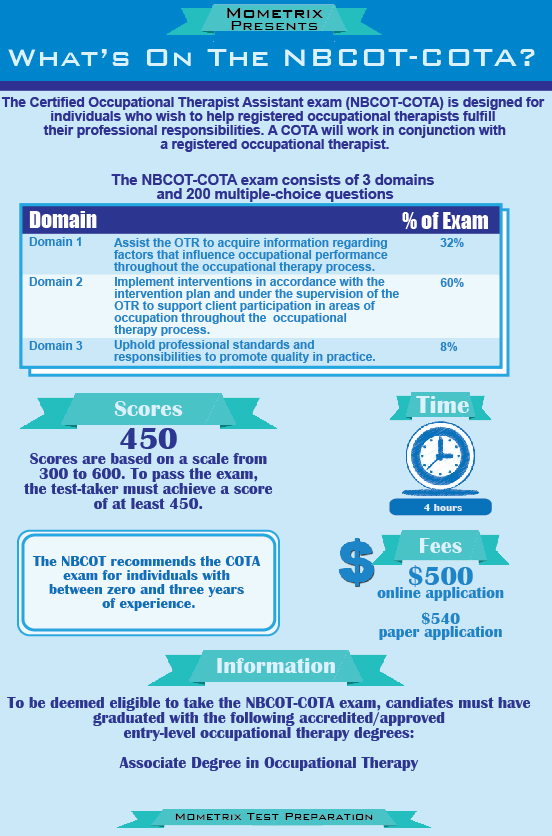 * NBCOT® is a registered trademark of the National Board for Certification in Occupational Therapy, who does not endorse, nor is affiliated in any way with the owner or any content of this web site.