HSPT® Study Guide & Practice Test
Many private high schools in this country, especially Catholic ones, use the High School Placement Test (HSPT) as a means of screening and classifying incoming students. Since many of these schools accept students from a wide variety of backgrounds, and from many different schools with widely differing academic standards, it's necessary to use some sort of standardized test to find out how far along their prospective students are in various subjects. The HSPT test has a good track record of being very reliable when it comes to measuring these things. It's a multiple choice test, and will usually be taken at the private high school that requires it, and normally is given only once a year. You'll want to inquire of the school for the exact date and time. The HSPT lasts about two and a half hours.

There are five sections on the HSPT: Verbal Skills consists of 60 questions, and lasts 16 minutes. Quantitative Skills consists of 52 questions and lasts 30 minutes. There are 62 questions in the Reading portion, and it lasts 25 minutes. Mathematics lasts for 45 minutes and is comprised of 64 questions. Language consists of 60 questions and lasts 25 minutes.
It's important to know that test takers aren't penalized for wrong answers, so it's much better to guess than to leave a question blank. Scores on the HSPT range from 200 to 800. The minimum acceptable score is determined by the school itself. It's possible to have scores sent to more than one school if you're considering several. Because of the desirability of a private school education and the competitive nature of the admissions process, in many cities there are far more applicants for private high schools than there are available slots.
Click here to download StudyGuideZone.com's free HSPT® Study Guide
HSPT Practice Test Questions
Verbal Skills

1. Aptitude most nearly means
talent
test
height
disposition
2. Which word does not belong with the others?
guitar
drummer
saxophone
piano
3. Approximate means the opposite of
inexact
precise
attempt
estimate
Reading Comprehension

Passage One: PARENTING STYLES
When a newborn cries throughout the night, parents can feel at a loss. If they turn to expert advice, they find that even experts disagree on the best solution. The two most popular techniques could not be more contradictory: One encourages parents to let the infant cry himself to sleep. The other encourages "co-sleeping," or letting the infant sleep in the parents' bed.
In the first technique, popularized by Dr. Richard Ferber, parents are encouraged to stick to a strict schedule and teach the infant to adapt. The infant sleeps in a separate room; if he cries, the parents should wait five minutes to check on him. The next time he cries, the parents wait ten minutes. The next time, they wait fifteen. Gradually, the theory goes, the child learns to get back to sleep on his own. This is often called the "cry it out" solution.
At the other end of the spectrum is "attachment parenting." This technique was developed by Dr. William Sears, who argues that the parents should be available to care for the infant if he cries. This technique helps the infant feel that he can rely on his parents to take care of him.
Both sides have their critics. Ferber's technique seems callous and uncaring to some, and Sears's technique seems unsympathetic to sleep-deprived parents. In the end, parents must rely on the only tried and true technique: trial and error.
4. The main purpose of this passage is:
To inform readers of two options available to parents of newborns.
To convince readers that the "cry it out" method is best.
To convince readers that "attachment parenting" is best.
To criticize both methods.
5. The meaning nearest to the word co-sleeping is:
"cry it out"
"attachment parenting"
To sleep together
To take turns sleeping
HSPT Video Review
Great HSPT Test Prep Tips!
HSPT Exam Review on YouTube | HSPT Test Study Guide
Reading Vocabulary Practice Questions

6. to skulk quietly
sniff
plan
sneak
talk
7. the smoldering warehouse
reeking
smoking
empty
enormous
8. the mulish employee
stubborn
predictable
unshaven
impractical
Usage, Punctuation, and Grammar Practice Test

Select the sentence with an error in usage, punctuation, or grammar. If no errors are found, choose choice d.

9.
Wind always blows from areas of higher to lower atmospheric pressure.
Tillie, the German shepherd was always the first one to know when Dad got home.
Throughout his testimonial, the witness cleaned his glasses with his tie.
No mistake.
10.
Though I had only met him recently, I felt as though I had long known Jon.
There were very few people left on the streets after sundown.
There are over 600 species of bacteria living in the human mouth at any time.
No mistake.
Select the sentence with an error in spelling. If there are no errors, select answer choice "d".
11.
The yellow flowers are daffodils, and the orange ones are tiger lilies.
The bus arrived earlier then scheduled.
After lightning struck the house, the television looked blurry.
No mistake.
12.
The black cat had one white side where it rubbed against the wet paint in the garrage.
Mike shined his flashlight into the crawl space, and a centipede crawled out.
The farmer had to go into the fields during the rain to shut off the irrigation system.
No mistake.
13. Where should the following sentence be placed in the paragraph below?
Examples of these problematic beliefs are statements such as, "Everyone should love me" and "I must never be wrong."
1] Albert Ellis created Rational Emotive Behavioral Therapy in the 1950s. 2] His primary aim was to help people overcome the problematic beliefs that cause them unhappiness. 3] Ellis observed that most negative emotions are due to beliefs that come in the form of commands containing words like "should," "ought," or "must." 4] For instance, someone who is upset because a coworker complained about him to his boss could analyze his response and find that the source of the unpleasant emotion is the belief that "everyone must approve of me."
After sentence 1
After sentence 2
After sentence 3
After sentence 4
14. Where should the following sentence be placed in the paragraph below?
Supporters of HFCS, however, point to research that shows no connection to obesity at all.
1] High fructose corn syrup (HFCS) is a sweetener used in many foods and soft drinks. 2] HFCS is created by grinding corn into corn starch, processing the starch to turn it into corn syrup, and then treating it with enzymes to turn it into fructose. 3] The result is a cheap, very sweet syrup that shows up in many of the food and drinks we consume every day, particularly soft drinks. 4] Critics of HFCS cite research that seems to prove that it increases obesity. 5] Another controversy concerns the use of the phrase "natural ingredients" on products containing HFCS. 6]Supporters say that it can be called natural because it comes from corn, but critics argue that after all the processing it is put through, it is no longer appropriate to call it "natural."
After sentence 1
After sentence 2
After sentence 3
After sentence 4
Quantitative Skills

15. What number is six more than 1/3 of 90?
30
36
42
46
16. Which numeral comes next in the series: 116, 113, 107, 98, …?
86
89
91
92
Mathematics

17. Which of the following numbers is equal to 0.20?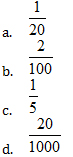 18. Which of the following numbers can be divided by 6 without a remainder?
34
18
22
93
Answers
1. A: Aptitude means talent.
2. B: Drummer is the only word in the list that refers to a human being. The rest refer to musical instruments.
3. B: Approximate means estimated, the opposite of precise.
4. A: Since the passage does not promote one view over the other, Answers B and C are incorrect. Whereas the passage does criticize both methods, it also explores their strengths, so Answer D is incorrect. Answer A is the best choice.
5. C: This term should be easy enough to define based on knowledge of the prefix and root; if not, scanning the text will reveal the answer. Answer B may be a deceptive choice since co-sleeping is associated with attachment parenting, but Answer C is the strongest response.
6. C: Skulk means to move about in a stealthy manner or sneak.
7. B: Smoldering means to burn without flames or smoke heavily.
8. A: Mulish is the adjectival form of the noun "mule," and means stubborn.
9. B: Comma. The comma in front of the phrase "the German shepherd" sets it off, and it must be followed by a comma as well.
10. D: None of the sentences contains an error.
11. B: The word "then" is incorrect in this context. It should be "than."
12. A: The word "garrage" should be spelled "garage."
13. B: The sentence fits best after sentence 2 because it explicitly refers back to the terms used in sentence 2. The phrase "problematic beliefs" shows up in both sentences.
14. D: The sentence fits best after sentence 4 because it contains a statement that directly contrasts with the statement made in sentence 4.
15. B:

, and 30 + 6 = 36.
16. A: Each element of the series is a multiple of 3 less than the previous element. Starting with 116, the next element is 1 × 3 less, or 116 – (1 × 3) = 113. The next element is 2 × 3 less, or 113 – (2 × 3) = 107. The next element is 3 × 3 less, or 107 – (3 × 3) = 98. So the next element will be 4 × 3 less, or 98 – (4 × 3) = 86.
17. C: The decimal expression 0.20 is equal to

, which is equivalent to

, as can be seen by dividing both numerator and denominator by 20.
18. B: Since 18 = 6 × 3, choice B is correct. All of the other choices leave a remainder when divided by 6.