The American Nurses Credentialing Center (ANCC) offers the Family Nurse Practitioner Certification Examination for certification purposes. This computer-based assessment is for licensed RNs with completed graduate work in an accredited family nurse practitioner program who have earned a master's, post-master's or doctorate degree. Candidates must have taken graduate classes in advanced health assessment, advanced pharmacology, advanced pathophysiology, health promotion and disease prevention and differential diagnosis and disease management. Candidates also need to have completed at least 500 clinical hours in an accredited academic program, and have met specific requirements before taking this test. This test is taken as part of the Family Nurse Practitioner – Board Certified (FNP-BC) credential.
The Family Nurse Practitioner Exam or FNP is taken by all those seeking board certification as a family nurse practitioner. This entry-level, competency-based exam assesses your clinical knowledge of families and individuals across the life span. It is maintained and designed by the American Nurses Credentialing Center or ANCC.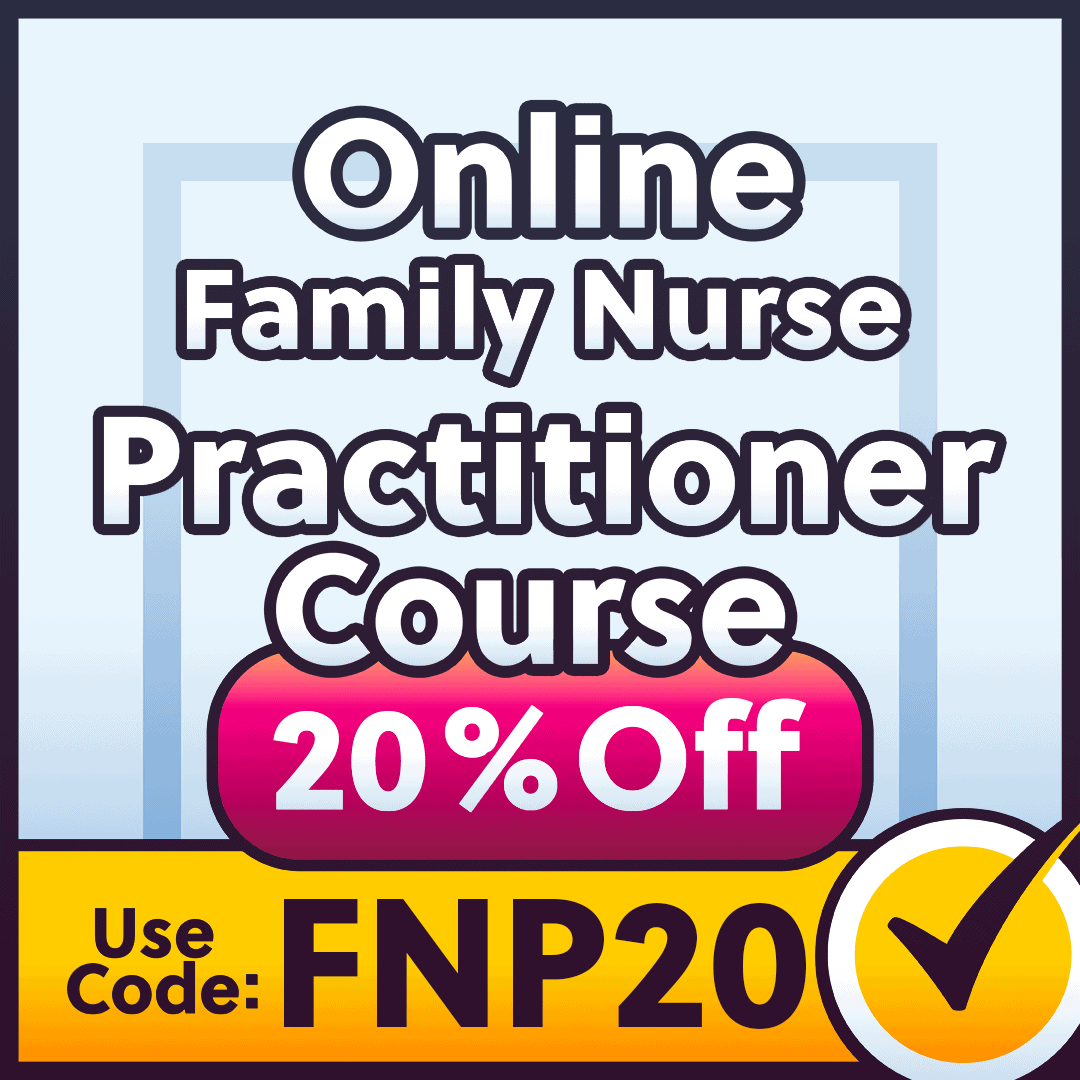 Who is Eligible?
Qualified FNP candidates must have:
An active and unrestricted Registered Nurse (RN) license in a state or territory of the U.S.
Or a legally recognized equivalent from another county
An advanced degree (master's, postgraduate certificate, or doctoral) from an Accreditation Commission of Education in Nursing (ACEN) or Commission on Collegiate Nursing Education (CCNE) accredited family nurse practitioner program
Your degree must include at least 500 hours of faculty-supervised clinical practice
Your degree must include courses in advanced physiology, advanced health assessment, and advanced pharmacology
The ANCC FNP exam costs $395 for non-members and $340 for ANCC members.
Exam retakes are $270, and recertification exams are available for ANCC member for $280, while non-members will pay $350.
When and Where is it Taken?
After your application has been approved, you will receive an Authorization to Test or ATT notice. This will include information to schedule and register for your exam. You will have 90 days from the time you receive your ATT to make your exam appointment.
The ANCC uses Prometric to administer all of their tests, the FNP included. Prometric offers this computer-based exam year-round at various locations throughout the U.S and its territories, as well as a few international sites.
A complete list of available dates, times, and locations will be provided to you during your exam registration process. It is recommended to schedule as early as possible as space may be limited.
If you should need to reschedule or cancel your exam for any reason, you may do so any time prior to the last two days before your scheduled exam. Those who make changes within those two days will forfeit any fees paid up to that point.
What Should I Bring?
It is crucial that you arrive at least 15 minutes early for your exam, as there is a check-in process to be completed before testing can begin. Those who arrive late will not be allowed to test and will have to reschedule, forfeiting all fees.
This process will require that you submit at least one form of current and valid personal identification. This must include your signature, full names as it appears on your application, and a recent and recognizable photo. If any information is incorrect or missing, you will be asked to present another ID.
As this test is taken via computer, you will not need personal items such as calculators, pencils, paper, or study materials. These items as well as cell phones, food and drinks, and any other personal items are prohibited and not allowed in the testing area.
What Does it Cover?
The Family NP exam contains 200 questions broken into three main categories. Of these questions, 175 are scored, while the remaining 25 are used as unidentified pre-test questions and are not scored. The types of questions included on the exam are multiple choice, drag and drop, hot spot, and multiple response.
Below is a brief outline of the main categories and the topics they test, as well as the number of questions in each section.
Foundations for Advanced Practice (64 questions/37% of exam)
Advanced physiology/pathophysiology across the life span
Advanced pharmacology for treating patients across the life span
Advanced health/physical assessment across the life span
Clinical prevention and population health for improvement of outcomes
Research methodology
informatics
Professional Practice (30 questions/17% of exam)
Leadership, advocacy, and inter-professional collaboration
Quality improvement and safety
Healthcare economics, policy, and organizational practices
Scope and standards of practice
Independent Practice (81 questions/46% of exam)
Health promotion and maintenance across the life span
Illness and disease management
Care of diverse populations
Translational science/evidence-based practice
Advanced diagnostic reasoning/critical thinking
You will be given about four hours to complete the entire exam. There is no penalty for guessing and no way to go back to missed questions or answers you are unsure of.
How is it Scored?
You will receive your unofficial score report at the testing center immediately after your completion. This will give your preliminary pass/fail status. If you fail, you will also receive diagnostic information for each section of the exam.
Within two weeks of passing the exam, you will receive an informational score packet. This will include your official exam score, your wallet certification card, lapel pin, and the timeframe and dates of your certification validity, as well as the dates you will need to renew your credential.
Scores for the FNP are scaled on a range with a maximum of 500 points. You will need to get a scaled score of at least 350 and a raw score (number of correctly answered questions) of 105 to be considered passing.
For those who do not pass, you will need to complete at least 15 hours of continued education in advanced practices related to the nurse practitioner field. Retakes may be scheduled only three times per calendar year and at least 60 days after your last exam. A retake will require that you submit a new application and requisite fees.
How Can I Prepare for the Family Nurse Practitioner Test?
That's a great question. We've broken down the answer into three parts.
Do yourself a favor and study. Do not walk in unprepared. We have recommended prep materials below, but that only helps if you actually try. Plus, studying is actually proven to be the best antidote to test anxiety.
Take care of yourself. Make sure you're eating well, exercising, and sleeping. All of these things are scientifically linked to brain performance. If you take care of your body, you'll be helping your grades.
Get a study guide, an online course, or a good set of flashcards. Some people study better a certain way. Find your study strengths and make the most of them. We've tried to make it easy for you by tracking down the best study guide, online course, and flashcard set for your exam. Below you'll see links to all three!