The Construction Health and Safety Technician Exam is used by the Board of Certified Safety Professionals or BCSP to certify and license those who work in a construction health and safety environment and can demonstrate competency in that field. This certification can help to improve your chance of success and the acceleration of your professional growth.

Who is Eligible?
All those who sit for the CHST must first complete at least three years of work experience with safety, health, and environmental practices related to the construction industry as at least 35% of your job duties.
Once you have completed this job experience, you may apply to take the exam. This can be done by creating a profile online through the BCSP and selecting the CHST application. You will also need to submit a non-refundable and non-transferable application fee of $140 at that time.
The BCSP will contact you if there are questions about your application and when it has been approved of. You will have one year to pay for, schedule, take, and pass the exam before your application expires. The exam fee due upon scheduling is $300.
When and Where is it taken?
After you have met the application requirements you will be notified about scheduling. The CHST exam is administered year-round by Pearson VUE, at one of their many locations worldwide. A complete list of available dates, times, and locations will be provided during scheduling.
You will be sent a confirmation letter with the date, time, and place of your scheduled exam.
What Should I Bring?
Be sure to arrive early for the exam as there in a check-in process to complete. This process requires that you bring a current and valid photo ID. This must contain your full name as it appears on your application, signature, and a photo.
You are allowed to bring one or two calculators with you. These must be one of the following brands and models to be acceptable.
Texas Instruments models TI-30, -34, -35, or -36
Casio models FX-115, -250, -260, or -300
Hewlett Packard models HP 9, 10, 12, or 30
All other personal items are prohibited in the testing area. Writing materials will be provided during the exam.
What is Covered?
The CHST exam is computer based and made up of 200 multiple choice questions. About 10-15% of your exam will be unidentified and non-scored pretest questions. You will be given four hours to complete the CHST exam.
Below is a brief outline of the domains covered in the exam and their tasks.
Domain 1: Program Management 52% of the exam
Task 1 - Assess the scope of work with the construction project management team by reviewing contract documents to ensure the safety application is consistent with contract specifications and supports the development of the site-specific safety plan.
Task 2 - Participate in the development of a site-specific safety plan by detailing work activities, hazards, and corrective actions in order to ensure that foreseeable hazards are addressed and expectations for compliance are communicated.
Task 3 - Assist in the development and review of the processes (e.g., job safety analysis) that mitigate the risks and hazards identified in site-specific safety plan.
Task 4 - Provide technical guidance to jobsite personnel by maintaining comprehensive knowledge of current standards, codes, best practices, interpretation, and applicability for construction activities.
Task 5 - Identify and coordinate with management and jobsite personnel on unanticipated hazards as they develop to maintain a safe and healthful work environment.
Task 6 - Provide technical guidance when emergency response plan has been activated to protect jobsite personnel and to mitigate loss.
Task 7 - Participate in incident investigations using established procedures to recommend appropriate corrective actions.
Domain 2: Worksite Auditing 19% of the exam
Task 1 - Perform worksite assessments to identify hazards and non-compliance in the work environment
Task 2 - Recommend corrective actions for the existing and potential hazards identified in the worksite assessment
Domain 3: Training 21% of the exam
Task 1 - Determine training needs based on job safety analyses, regulatory requirements, trends, and/or observations made during worksite audits.
Task 2 - Develop and deliver training that addresses legal and performance requirements, site specific hazards, trends, and observations.
Task 3 - Facilitate jobsite safety meetings with all trades by discussing and demonstrating safe practices to inform jobsite personnel of potential risks.
Doman 4: Professional Responsibility 8% of the exam
Task 1 - Maintain accurate records in all aspects of the safety program in accordance with established protocol to document changes, losses, and audit findings.
Task 2 - Maintain and expand competence in the safety profession to maintain certification
How is it Scored?
You will receive a copy of your test results before you leave the testing site. This will include your pass/fail status, your raw score (sum of correctly answered questions), and a brief breakdown of your performance in each domain.
The BCSP is continuously revising and updating the CHST exam, therefore, the minimum passing score also changes frequently based on the difficulty of items included. The current passing score required is at least a 108. Be sure to check for score changes often.
If you pass, you will be sent a wall certificate suitable for framing and a wallet certification card. Your wallet card will be available to print out through your BCSP profile online. This is your official certification document.
How Can I Prepare for the CHST Test?
We believe that different learning styles require different tools for success. We have compiled a list of the best study guides, flashcards, and practice tests that we've found on the market. Some of these guides have review videos, for you visual learners out there. Others have practice tests, which have been proven to increase student scores by a whole letter grade (in some cases more than that)!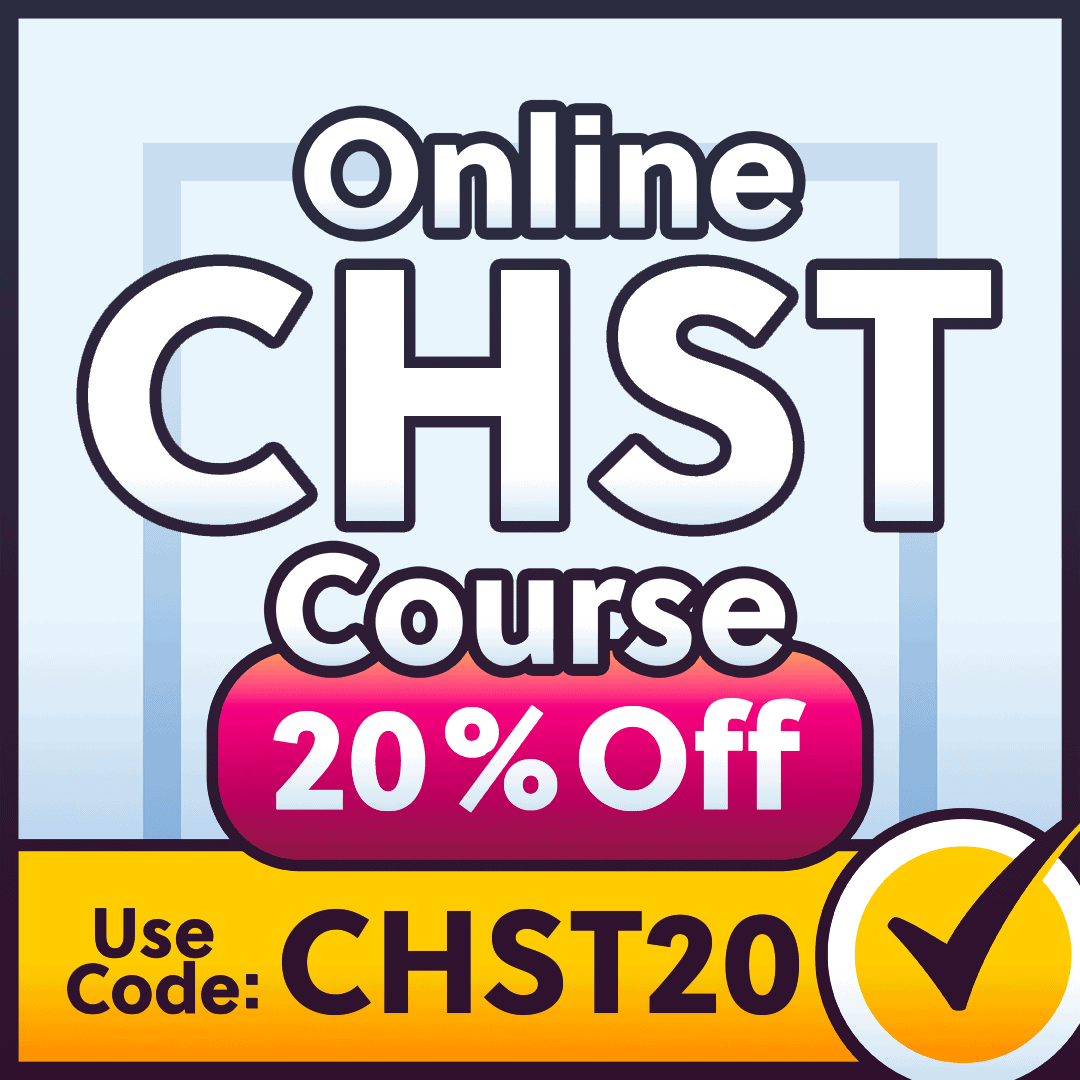 Top Study Guides:
Best Flashcards: