A Certified Nursing Assistant (CNA) provides direct care to either patients, residents, or clients,
depending on the facility they work in. On any given day, a CNA can expect to
assist patients with eating, dressing, and bathing. They will also need to take
vital signs and assist patients with their personal hygiene.
What is the Certified Nursing Assistant Examination?
The Certified Nursing Assistant Examination is given to determine whether a candidate has the necessary knowledge and skills needed to provide safe care within their scope of practice as a nursing assistant.
Am I eligible to take the CNA Exam?
In order to take the CNA Exam, a candidate must complete an approved CNA training program.
After completing your training, you may then submit your application. With the application you may need to submit proof of your completed training program.
You will also need to submit a fingerprint for a background check, along with the appropriate fees: application fee, fingerprint check fee, and examination fee.
How long is the CNA training program?
The CNA training program is anywhere between 4-12 weeks, after which you can start your career immediately after taking and passing the exam.
Before you can enroll in a training program, you will need to provide a few documents:
Proof of your age
Proof of immunizations, including TB test results
High school diploma or GED equivalent
CPR and First Aid certification
Valid state driver's license or ID
Physical examination
Background check (fingerprints)
How much can I expect to pay for training?
The cost of training programs varies, but essentially you can expect to pay about $1,200.
How much can I expect to pay for the exam?
The cost for the actual CNA Exam varies from state to state, but usually it costs about $100.
When is the exam given?
The exam is given year-round. You may schedule a date and time that works best for you. Your training instructor will assist you in picking a time and date.
How is the CNA Exam formatted?
The CNA Exam is broken down into two parts: written and clinical.
Written:
The written section of the exam consists of approximately 60 multiple choice questions. You will be given 90-minutes to answer each one.
You will be tested on approximately 18 topics:
Anatomy and Physiology
Mental Health
Medical Terminology
Roles and Responsibilities of the Nurse Aide
Safety
Infection Control
Body Mechanics
Range of Motion
Aging Process
Daily Living Activities
Personal Care
Vital Signs and Testing
Cultural and Spiritual Needs
Client Rights
Ethical and Legal Issues
Communication
Data Collection
Nutrition
Clinical:
The clinical section of the exam requires you to perform an assigned set of specific skills. Normally there are about five assigned skills, and you will also need to know appropriate handwashing techniques.
Improper handwashing techniques will lead to automatic failure. You must wash your hands the correct way for twenty seconds.
*Important: If you make a mistake during the clinical portion of the exam, be sure to admit it to the nurse proctor right away. Tell them what you should've done.
This portion of the exam does not require you to do every single task right, but you must be able to show that your competency matches a checklist used by nurse aide evaluators.
The tasks you may be chosen to complete include, but are not limited to:
Assisting a patient in using a bedpan
Dressing a patient with weak arms
Changing bed linens while patient is still occupying the bed
Measuring a patient's radial pulse
Feeding a patient sitting in a chair
You won't know ahead of time which tasks will be chosen for you to complete. That's why it's important to study and prepare yourself before the exam.
*Important: Be sure to talk your way through the skills as if you were working with a real patient.
How many times am I able to take the exam?
You will have three opportunities to pass both portions of the CNA exam. You will need to pass the exam within two years of completing your CNA training. If you do not pass it within two years, you will have to go through the training again.
What will test day be like?
On the day of your exam you will need to have at least two forms of ID with you, along with a copy of your test date confirmation. Personal items such as study material, cell phones, and bags are not permitted in the testing area.
*Important: One form of your ID should contain your photograph.
You will also want to arrive at least thirty minutes early. If you arrive late, you may not be allowed inside the testing center.
You may need to wear scrubs for the clinical portion of the exam.
What score should I aim for in order to pass the exam?
You will need to score at least a 70% on both the written and clinical portions of the exam in order to pass.
When will I receive my certificate?
Upon completing and passing the exam, you can expect your CNA certificate to arrive by mail within a couple of weeks.
How Can I Prepare for the CNA Test?
We believe that different learning styles require different tools for success. We have compiled a list of the best study guides, flashcards, and practice tests that we've found on the market. Some of these guides have review videos, for you visual learners out there. Others have practice tests, which have been proven to increase student scores by a whole letter grade (in some cases more than that)!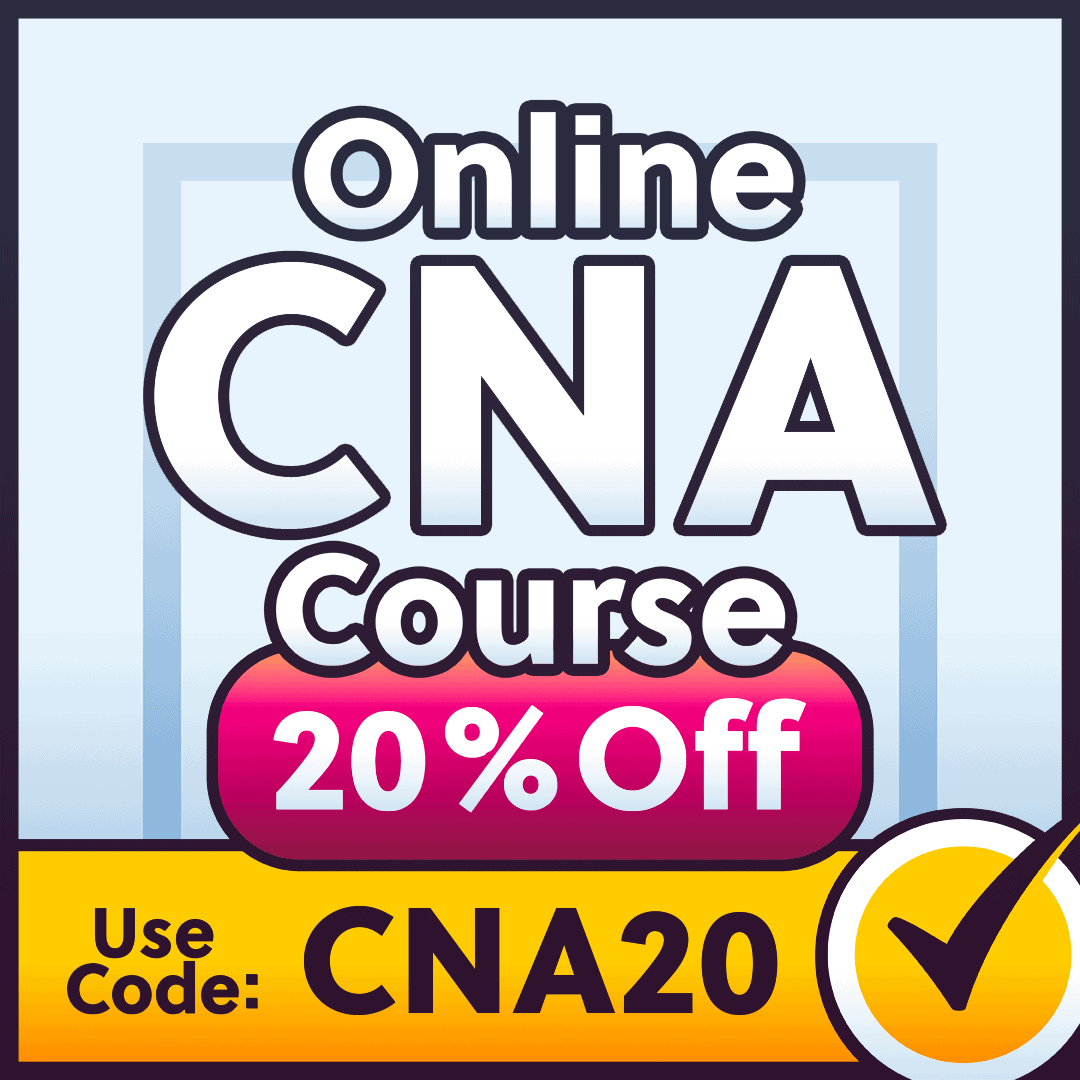 Top Study Guides:
High Quality Flashcards:
Best Online Course