The Board of Certification for Emergency Nursing (BCEN) offers board certification for emergency nurses to demonstrate expertise, knowledge, and ability in emergency nursing. The Certified Emergency Nurse certification (CEN) demonstrates your specialized knowledge and skills in emergency room nursing.
Eligibility
To be eligible for the CEN exam, an individual must hold a current, unrestricted Registered Nurse license in the United States or its territories. A nursing certificate that is the equivalent of a Registered Nurse license is also acceptable. Two years' experience is recommended but not required.
Military benefits
The CEN exam is approved through the Department of Veterans Affairs (VA) allowing for reimbursement of the certification fee through VA Vocational Rehabilitation or G.I. Bill educational programs. Additionally, military spouses who are eligible for the Military Spouse Career Advancement Account (MyCAA), may be eligible to have their certification fee reimbursed.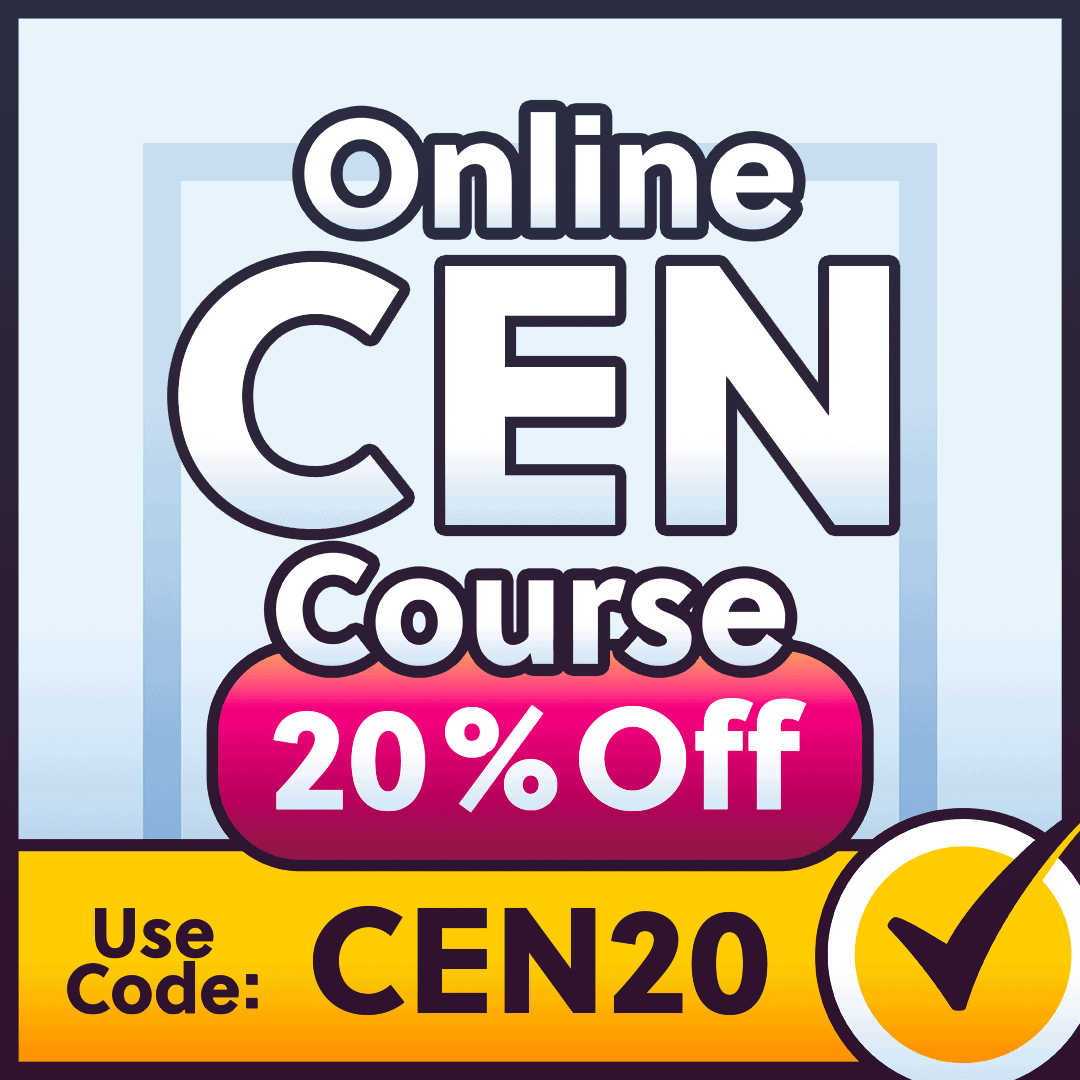 To register for the exam, you will submit your application online. Before you can schedule your exam, you must pay the fee for the certification. You may complete your online application by using a credit or debit card, or you can print your completed application and mail it to BCEN with a personal check. Paying online allows you to schedule your exam immediately while mailing requires a waiting period while your application and payment are processed.
If this is the first time you are registering for the CEN certification, the exam fee is $370.00. If you are recertifying, the exam fee is $350.00. Emergency Nurses Association (ENA) members' fee is $230.00 for the initial exam and $210.00 for recertification.
Test design
The CEN exam consists of 175 computer-delivered multiple-choice questions, of which 150 are scored, and 25 are used to validate the examination (unscored). The test covers eight content areas:
Cardiovascular Emergencies – 20 questions
Respiratory Emergencies – 16 questions
Neurological Emergencies – 16 questions
Gastrointestinal, Genitourinary, Gynecology, and Obstetrical Emergencies – 21 questions
Psychosocial and Medical Emergencies – 25 questions
Maxillofacial, Ocular, Orthopedic, and Wound Emergencies – 21 questions
Environment and Toxicology Emergencies, and Communicable Diseases – 15 questions
Professional Issues – 16 questions
Content areas one through seven consists of clinical questions in the nursing process including assessment, analysis, intervention, and evaluation. Content area eight includes cognitive questions including recall, application, and analysis.
Questions are situational in format, presenting causes and symptoms for diagnosis or action. You will have four answers to choose from, and you must select the most appropriate answer for the situation presented. Questions will vary in difficulty and will test your knowledge of recall, recognition, and identification of symptoms and issues presented.
The certification exam does not confer additional licensing privileges. However, attainment of the CEN credential identifies a registered nurse's dedication and drive to excel within their field.
Delivery method and location
The exam is a computer-based test and delivered at testing centers located nationwide and on military bases. Testing dates, times, and availabilities vary from location to location with most centers closed on weekends and holidays.
Test Day
The testing center will provide specific information after you register for the exam. Take care to follow the directions provided and leave valuables at home. Arrive 30 minutes before your exam to allow time to complete the required paperwork. You will present government-issued identification, have your picture and palm vein pattern taken and escorted to your testing station.
An erasable note board and dry erase pen are provided. You are not allowed to bring in any personal items to your testing station. Exceptions for medical needs must be made before your testing appointment.
You will have three hours to complete the exam, and your time begins when you are presented the examination rules and regulations on the computer screen. Breaks are not included in your exam time. Should you need to use the restroom, your time will continue.
You will be presented with one question at a time on the computer monitor. Take care to read the entire question and select the most appropriate answer. If you have time remaining, review your answers before you submit your test for scoring.
Scoring
Your score is based on the number of questions answered correctly. Unanswered questions are counted as incorrect so try not to leave any question unanswered, even if you have to guess. Of the 150 scored questions, you must answer 106 questions correctly.
Once you have submitted your answers, you will turn in all supplies provided to you to test center staff, and you will receive your printed score report. The score report will indicate your overall pass or fail status as well as a breakdown of the primary content areas and how you performed within them. You can request to have your score report emailed to you at the testing center.
Other than waiting 90 days between tests, there is no limit to how many times you may take the exam.
Preparing for the exam
You are dedicated to your profession, and you work hard to obtain and maintain the skills necessary to be a compassionate, effective emergency room nurse. Board certification is an essential step in the progression of your career, and the Certification for Emergency Nursing examination demonstrates your caregiving excellence.
How Can I Prepare for the CEN Test?
We believe that different learning styles require different tools for success. We have compiled a list of the best study guides, online courses, and flashcards that we've found on the market. Some of these guides have review videos, for you visual learners out there. Others have practice tests, which have been proven to increase student scores by a whole letter grade (in some cases more than that)!
Top Study Guides:
Best Online Course:
High-Quality Flashcards: