CDL Exam Review
If you're considering a career as a tractor trailer driver you'll need a Commercial Driver's License, or CDL. A CDL is also required for many jobs driving any big truck such as a sanitation or a dump truck, or a school bus. Commercial driver's licenses are a fairly recent innovation. Not long ago, every state had their own standards for truck drivers, and truckers would get their license from their home state.

Unfortunately, many truckers who lost their license for offenses such as speeding or driving while intoxicated would just go get a driver's license in another state and keep on trucking. Many had several licenses. This loophole allowed many irresponsible and dangerous drivers to keep driving, and the federal government finally cracked down, resulting in a national system which gave us the CDL.
Most people train for their CDL at truck driving schools, but many earn them on their own. It's a much tougher test to pass than the regular driver's license test, as you can imagine. In addition to the actual road test, which is taken in a big truck, the written portion is much more extensive, requiring a much deeper knowledge of traffic rules and regulations. And, unlike regular driver's tests, failing and retaking the CDL test can be quite expensive due to higher fees, and the fact that many people will have to rent a truck for the test. You should be as prepared as possible to ace the test the first time you attempt it. If you're taking the CDL test on your own, and even if you're attending school, it's a good idea to get a study guide in order to help you pass.
Click here to download StudyGuideZone.com's free CDL Study Guide
For additional information, we recommend you check out these free CDL resources: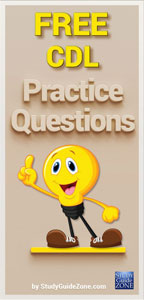 CDL Test Study Guide
CDL Test Information
CDL Practice Questions
Truck Driving Jobs