The Certified Dental Assisting or CDA Exam is designed and maintained by the Dental Assisting National Board or DANB to give certification to those seeking a professional dental assisting career. Many but not all states recognize this and other DANB exams as the standard for meeting state dental assisting requirements. This exam is made up of three subtests or component exams: the RHS, the ICE, and the GC.
Who is Eligible?
To be eligible to take the CDA and its component exams, you must fall into one of the following categories:
Graduated from a CODA-accredited dental assisting hygiene program and have a current CPR from a DANB-accepted provider, or
Have a high school diploma or equivalent and a minimum of 3500 hours of approved work experience and a current CPR from a DANB-accepted provider, or
Have a former DANB CDA status, graduated from a CODA-accredited DDS or DMD program, or graduated from a dental degree program outside the U.S. or Canada and have a current CPR from a DANB-accepted provider
There is a fee of $450 for the CDA exam.
It is important to note that each state makes their own set of standards and requirements for certification in this field. Some require this exam, while others do not. Most states require a combination of a certain degree or educational program to be completed and a certification or license to be obtained with experience.
Therefore, it is crucial that you check with your state to make sure you have met all other requirements besides this exam.
When and Where is it Taken?
All DANB exams are computer administered by Pearson VUE, a professional testing firm. These can be scheduled year-round at various locations throughout the country. A complete list will be provided to you during the registration process.
To ensure you get to sit for the exam at a time, date, and location of your choice, it is recommended that you register as early as possible. Seating and space may be limited and are filled on a first come, first served basis.
Special accommodations are available for those who may not be able to test under normal conditions. This request must be made during your application and registry completed early.
If you need to reschedule or cancel your exam appointment for any reason, you may do so up until the last 48 hours before your original exam. If changes are not made before then, you will be considered a no show and forfeit all fees.
Once you have registered for an exam appointment, Pearson will send you a confirmation email with the date, time, and location of your exam.
What Should I Bring?
It is important that you arrive at least 15 minutes early for your exam, as there is a check-in process to complete before testing can begin. Those who arrive late will not be allowed to test and will forfeit all fees.
The above-mentioned check-in process will require that you present a current and valid, government-issued photo ID. this must include your full name as it appears on your application, your signature, and a recent and recognizable photo. IDs with missing or incorrect information will not be accepted, and you will not be allowed entrance until you can be verified.
Computer testing such as this does not require any other personal belongings. This includes:
Pencils and paper
Calculators
Cell phones
Food and drink
Watches and jewelry
Bags and purses
These items will be kept in a designated locker for the duration of the exam.
What is Covered?
The first two exams included in the CDA are made up of 100 questions and broken into four main sections or domains. You are given 75 minutes to complete each exam. The third and last component exam has 120 questions and is given 90 minutes to complete. It also has 4 domains.
Below is a brief description of each of these and the domains they include as well as the amount of weight given to each domain.
Radiation Health and Safety (RHS)
Expose and Evaluate (26% of exam)
Quality Assurance and Radiology Regulations (21%)
Radiation Safety for Patients and Operators (31%)
Infection Control (22%)
Infection Control Exam (ICE)
Standard Precautions and the Prevention of Disease Transmission (20%)
Prevention of Cross-contaminations during Procedures (34%)
Instrument/Device Processing (26%)
Occupational Safety/Administrative Protocols (20%)
General Chairside Assisting (GC)
Patient Preparation and Documentation (17%)
Patient Management and Administrative Duties (17%)
Four-Handed Chairside Dentistry (50%)
Diagnostic/Laboratory Procedures and Dental Materials (16%)
How is it Scored?
This computer exam is adaptive, meaning that it adapts to your skill level as you progress. If you answer a question correctly, the next one will be slightly harder. If your answer is incorrect, the next question will be easier. This means that each exam is different for each candidate and so the passing grade for each exam is also different.
DANB bases your score on the difficulty of questions you were asked as well as the number of correct answers given. Your score report will be given to you at the end of your exam session and will include your pass/fail status for each component exam. These will also be available online through your DANB account for five years.
If you do not pass, DANB allows you to retake the exam or specific component exams. This can be done immediately by reapplying for it and submitting new fees and documentation.
You may request that your scores be sent to a state dental board or regulatory agency during your application.
How Can I Prepare for the CDA Test?
That's a great question. We've broken down the answer into three parts.
Do yourself a favor and study. Do not walk in unprepared. We have recommended prep materials below, but that only helps if you actually try. Plus, studying is actually proven to be the best antidote to test anxiety.
Take care of yourself. Make sure you're eating well, exercising, and sleeping. All of these things are scientifically linked to brain performance. If you take care of your body, you'll be helping your grades.
Get a study guide or set of flashcards. Some people study better a certain way. Find your study strengths and make the most of them. We've tried to make it easy for you by tracking down the best study guide and flashcard set for your exam. Below you'll see links to both!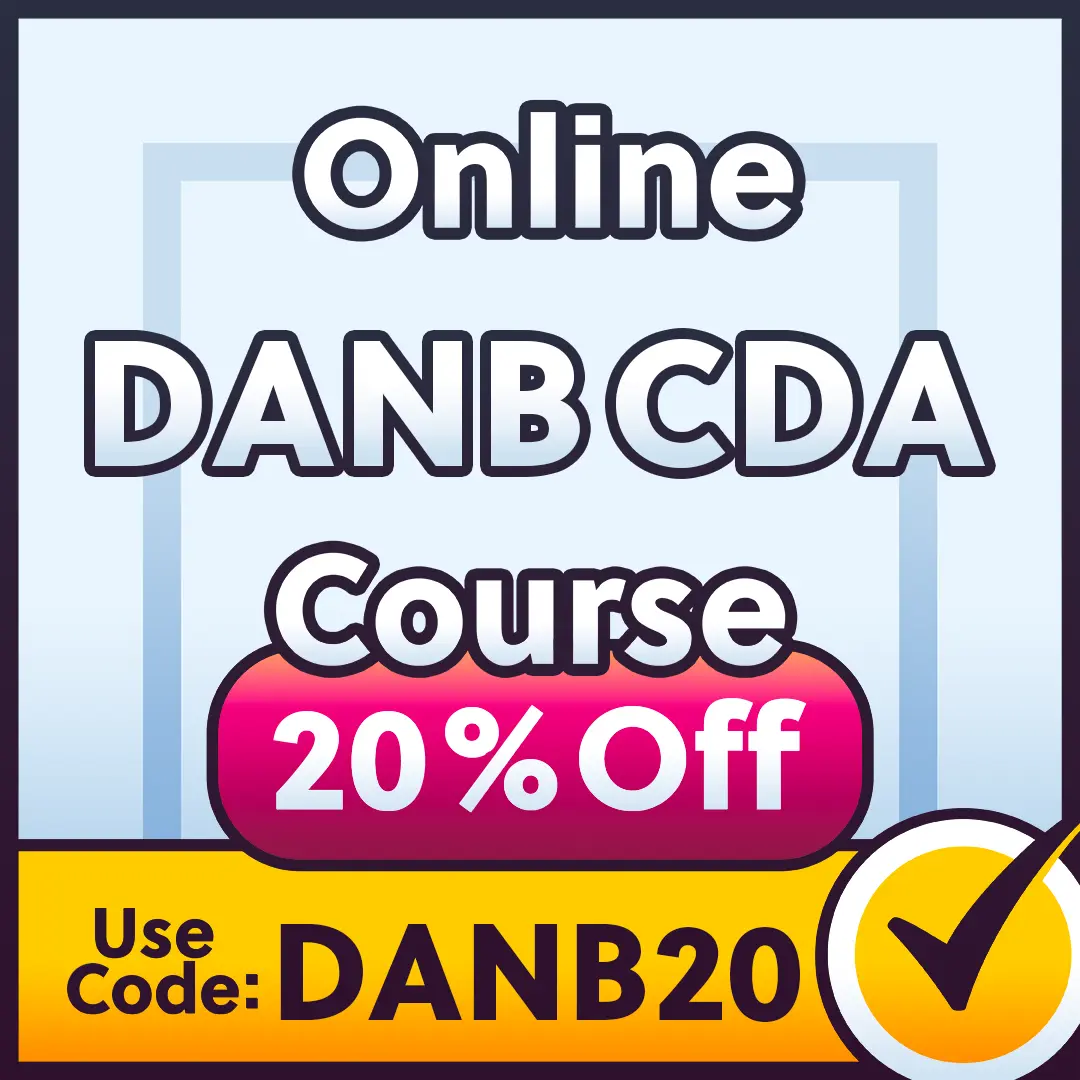 Study Guide