CBEST Test
Anyone aspiring to teach or work in the administration at a school in Oregon or California must first take and pass the California Basic Educational Skills Test, or CBEST. This also applies to those who desire only to be substitute teachers. To ensure that students receive a quality education, legislators mandated this test of future educators in order to see to it that all teachers possess a minimum level of knowledge in several areas.
The CBEST test was not designed to test how well a person is at teaching, or communicating material to students; its sole purpose is to make sure that the teachers have mastered the basics of subject material themselves. The test is given several times a year, and testing locations are situated all over both states. Those taking the test will receive their scores approximately one month after the test date.

The test is only given in English, and tests for basic proficiency in reading, writing, and math. Each of the three tests is scored from 20-80, with 41 being considered the minimum passing score, which means that a combined score of 123 is necessary to pass. If the test taker gets a combined 123, they are allowed to score as low as 37 on any individual test, but anything below 37 will mean failure, no matter how high the combined score. It's not necessary to take all three tests the same day, and if you fail, you may take the tests as many times as you like to attempt to pass. Calculators are not allowed, and you'll have four hours to complete all three tests, broken down as you see fit. So if you're better at reading and writing than at math, you could choose to finish the reading and writing tests in two hours, and then take two hours to devote entirely to math. This flexibility is considered very helpful by many CBEST test takers. You'll want to be as relaxed as is reasonably possible, since your teaching career hinges on passing the test. So study, come prepared, break up the time however you see fit, and do your best. Hopefully you'll be well on your way to a career doing what you love-teaching.
Click here to download StudyGuideZone.com's free CBEST Study Guide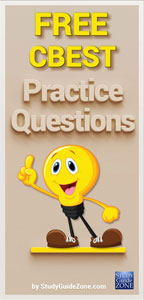 Free CBEST Practice Test
CBEST Math Practice Test
CBEST Reading Practice Test