The American Nurses Credentialing Center's Ambulatory Care examination evaluates your knowledge, skills, and abilities that are required of an entry-level registered nurse in ambulatory care. When you successfully pass the exam, you are awarded the Registered Nurse-Board Certified (RN-BC) credential. The certification is accredited by the National Commission for Certifying Agencies (NCCA) and the Accreditation Board for Specialty Nursing Certification.
Eligibility
You are eligible to sit for the Ambulatory Care Nursing exam if you hold a current, active Registered Nurse (RN) license in the United States, or the equivalent recognized license from another country. Additional requirements include two years practicing as a full-time nurse, 2000 hours of clinical practice in ambulatory care and/or telehealth nursing in the past three years, and 30 hours of continuing education in ambulatory care and/or telehealth nursing completed in the last three years.
Registration, cost, and location
Before you can register for the exam, you need to complete your application to test. The application is completed online at ANCC's website. The application fee includes the processing fee and exam registration fee. The fee is $270.00 for American Nurses Association (ANA) members, $295.00 for American Academy of Ambulatory Care Nursing members, and $395.00 for non-members.
ANCC accepts many forms of payment including credit/debit card, personal check, and company voucher.
When your eligibility is confirmed, ANCC will notify you via email. When you receive your authorization to test, you have a 90-day window to schedule your exam at a time and location convenient for you. If your application is rejected, your application fee is returned to you.
The exam is delivered via computer at Prometric testing centers located worldwide.
Test content and design
The exam is a computer-delivered, multiple-choice exam consisting of 150 scored questions and 25 pretest (not scored) questions. Your results are based on your answers to the scored questions; the pretest questions do not count in your results. You have three and a half hours to complete the test.
The test format is multiple-choice with questions presented in varying methods such as drag and drop, hot spot, and multiple responses. The questions are designed to evaluate your knowledge, skills, and abilities at an entry-level position within advanced practice registered nursing.
The examination consists of five domains of practice:
Clinical practice – 76 questions
This domain consists of questions testing your knowledge and skills in assessment, medication management, disease process/pathophysiology, protocols, algorithms, pathways, telehealth, care
management, plan of care, outcome evaluation, and technical and clinical skills.
Communication – 34 questions
The communication domain assesses your knowledge and skills in communication barriers, cultural competency, documentation, and utilization of technology.
The professional role – 9 questions
This domain only has nine questions but the skills and knowledge that the questions test are important to your career development. They include professional development and leadership, ethics and advocacy, the scope of practice, and scientific research.
Systems/legal and regulatory – 16 questions
Questions in this domain relate to the legal, compliance, standards of care, operations, quality management, and reimbursement of the nursing profession.
Ambulatory care nurses need to develop their teaching skills for patients, subordinates and community members/partners. The knowledge and skills assessed in this domain include teaching and learning principles, modes of educational delivery, consumer relations, health promotion, disease/injury prevention, and population care management.
Each question will evaluate your knowledge and skills in ambulatory care nursing as well as your ability to apply theoretical knowledge in real-life situations.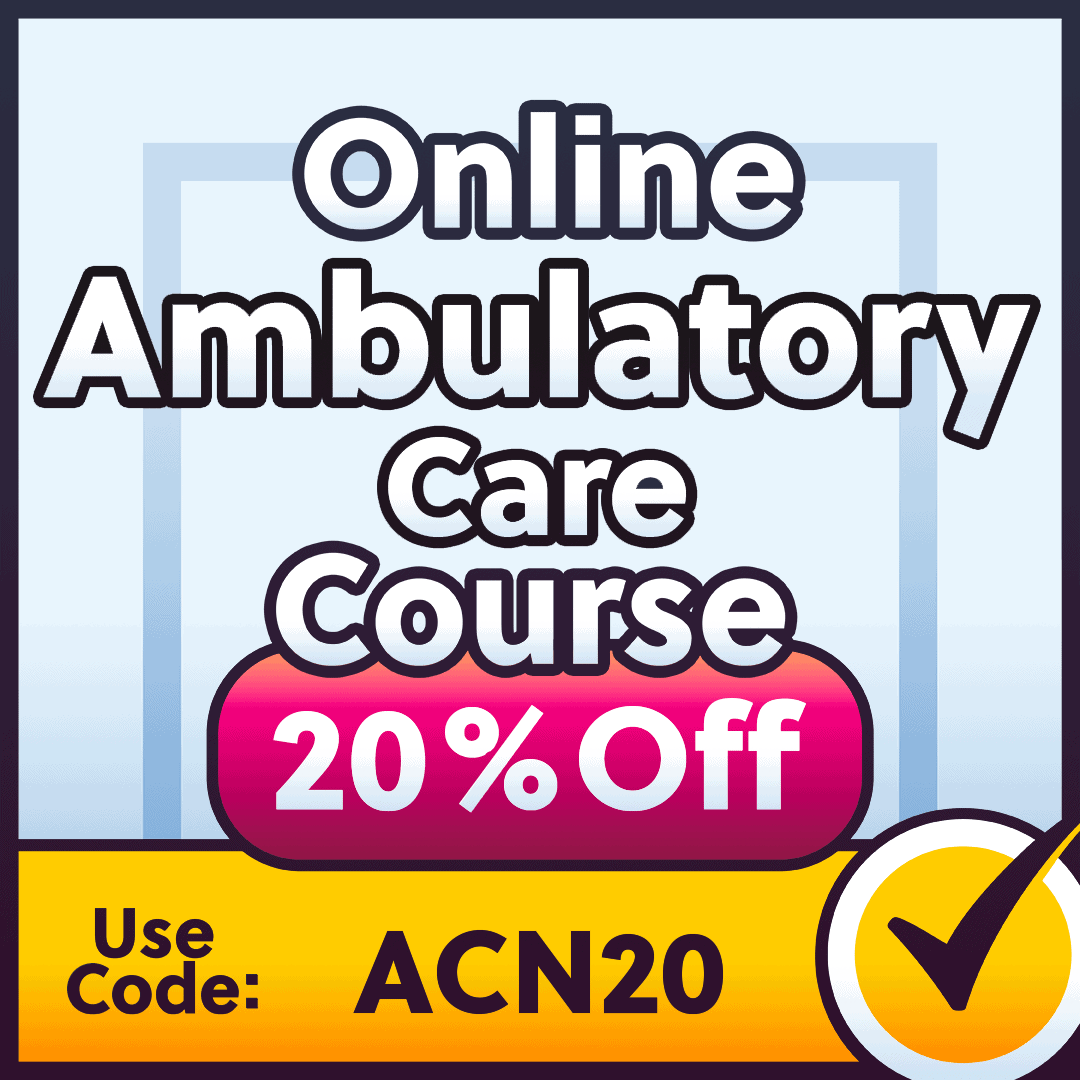 Test Day
While your exam time limit is three and a half hours, your appointment duration is scheduled for four hours. The extra time allows for you to complete the sign-in process and exam tutorial. Follow the instructions on your authorization to test notice provided by ANCC for required identification, and prohibited items.
At your testing station, you are provided with scratch paper and an opportunity to take a familiarization tutorial. Once the tutorial is complete, your test begins.
At the conclusion of your exam, and if time remains, review your answers before submitting them for scoring. You are not penalized for incorrect answers so make an educated guess if you need to.
Exam scoring and results
You are provided immediate results of your examination at the testing facility. When you pass the exam, you can start using the credential, RN-BC, immediately. Within four weeks, your official score report is sent to you via U.S. Mail.
The Ambulatory Care Nursing Examination is scored on a scale of 100 to 500; a passing score is 350 or higher. Your score report will include information on each content area if you do not receive a passing score. You may retake the exam 60 days after your test date, but no more than three times in one calendar year.
The certification is valid for five years.
How Can I Prepare for the Ambulatory Care Nursing Exam?
That's a great question. We've broken down the answer into three parts.
Do yourself a favor and study. Do not walk in unprepared. We have recommended prep materials below, but that only helps if you actually try. Plus, studying is actually proven to be the best antidote to test anxiety.
Take care of yourself. Make sure you're eating well, exercising, and sleeping. All of these things are scientifically linked to brain performance. If you take care of your body, you'll be helping your grades.
Get a study guide set of flashcards, or online course. Some people study better a certain way. Find your study strengths and make the most of them. We've tried to make it easy for you by tracking down the best study guide flashcard set, and online course for your exam. Below you'll see links to all three!