The Adult-Gerontology Acute Care Nurse Practitioner (AGACNP-BC) Exam assesses a registered nurse's skill and knowledge in delivering compassionate, qualified nursing services to acutely ill adult-gerontology patients. The AGACNP-BC certification is accepted in all states and territories in the U.S.
Eligibility
To sit for the AGACNP-BC exam, the following criteria must be met:
You must have a current U.S. RN or APRN license that is not the subject of formal discipline by any state board of nursing and that is not subject to limiting provisions or conditions.
You must also complete a graduate-level academic program at a college or university that offers an accredited master's or higher degree in nursing with a concentration for adult-gerontology ACNP.
Your coursework must include three separate graduate courses in advanced physiology, advanced health assessment, and advanced pharmacology.
You must also take content in health promotion/maintenance and differential diagnosis and disease management.
You must have 500+ hours of faculty-supervised clinical work.
Test design
The certification examination is a three-and-a-half hour computer-delivered test and consists of 200 multiple-choice questions. Of the 100 questions, 175 are scored, and 25 are used to gather data for future versions of the exam. The test taker will not know which questions are not scored.
The examination consists of four content areas:
APRN Core Competencies – 28 Questions (16%)
Clinical Practice – 80 Questions (46%)
Role-Professional Responsibility – 58 Questions (33%)
Health Care Systems – 9 Questions (5%)
Each multiple-choice question will have four possible answers, and only one correct answer. You will encounter situational, vocabulary and terminology, and formulary questions assessing your recognition, identification, application, and reasoning skills and abilities in a patient-centered nursing environment.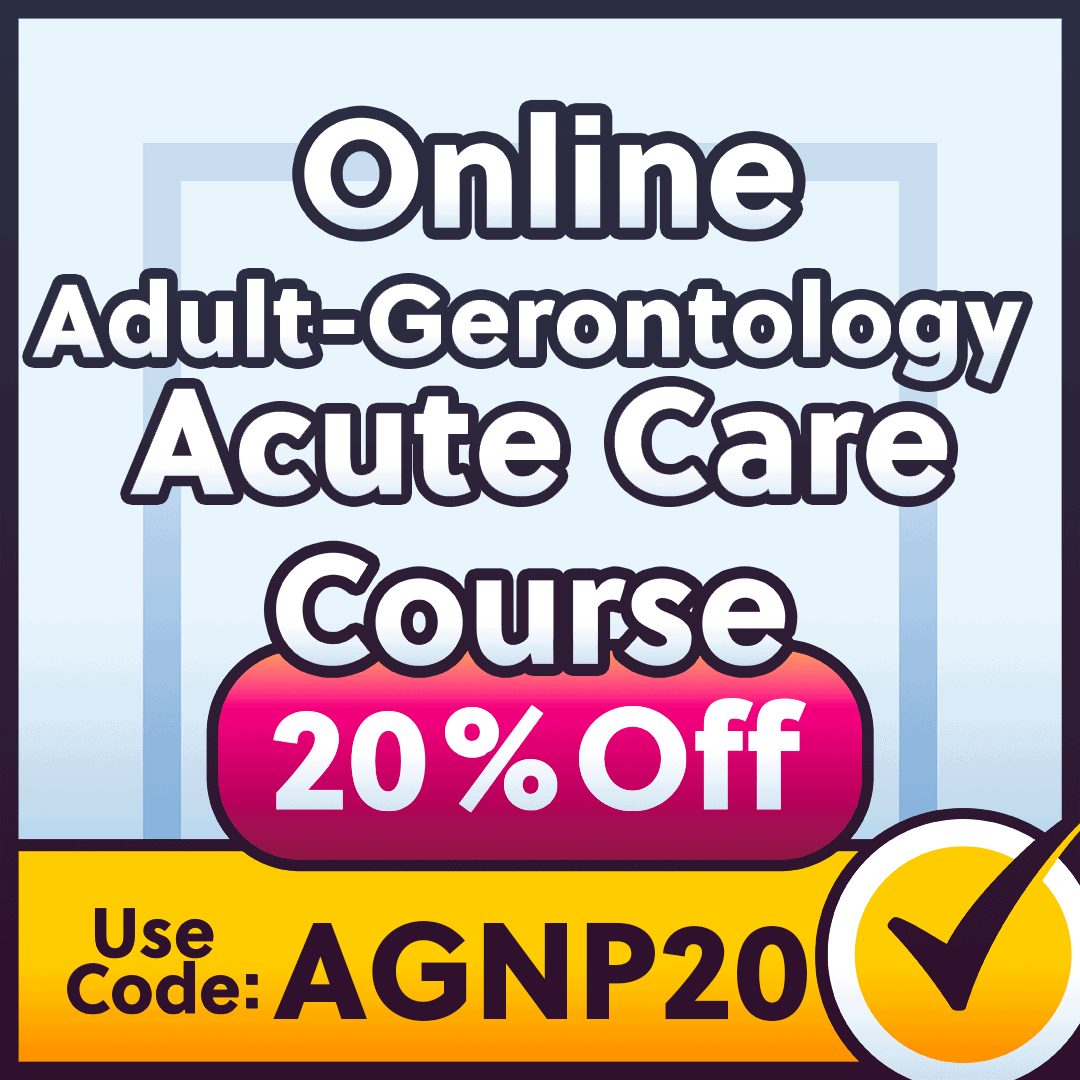 https://www.youtube.com/watch?v=MdkaB3BXjn4
Registration, cost, and location
Before you can register to sit for the AGACNP-BC certification exam, you will apply online or by mail. Your application will include your proof of eligibility and payment. ANA notifies each applicant of receipt of application and approval or disapproval to test. If you are disapproved, your registration fee will be returned to the original form of payment.
Once you receive notification of approval, you have a 90-day window to schedule and take the exam at one of the testing centers located nationwide. The registration fee for the AGACNP-BC exam is $295.00 for members of the American Nurses Association or $395.00 for non-members. There is a wide range of acceptable payment methods including credit/debit card and personal check.
Test Day
On the day of your exam, arrive early to allow for time to complete paperwork and have your identification verified. Personal belongings are not allowed in the testing center; leave all personal items at home. Test center staff will guide you to your testing station where you'll be provided scratch paper and pencil. You will have three-and-a-half hours to complete the computer-delivered examination.
You have the opportunity to take a practice exam before you start the test. The time spent on the practice exam does not count against your allowed time. However, any breaks you take during the exam are counted against your allotted time.
If time remains after you have answered all the questions, review your answers. If any questions remain that you do not know the answer to, guess. There is no penalty for guessing. Your score is a total of the number of correct responses.
Exam scoring and results
At the conclusion of your exam, an official score report is provided. The report will indicate your pass or fail status and the percentage of correct answers for each content area. A more detailed report is provided to your educational program so they can evaluate the effectiveness of their program.
Within three to four weeks, successful candidates receive a wall certificate. The AGACNP-BC certification is valid for five years.
You are awarded one point for each correct answer. The pass/fail score varies with the difficulty of the exam and pre-determined values for each question. This means that a passing score this year may not be enough to pass next year. You will need to confirm the minimum required score with your nursing program.
A candidate may retest up to three times in one 12-month period. The retest fee is $270.
How Can I Prepare for the Adult Gerontology Acute Care Nurse Practitioner Test?
That's a great question. We've broken down the answer into three parts.
Do yourself a favor and study. Do not walk in unprepared. We have recommended prep materials below, but that only helps if you actually try. Plus, studying is actually proven to be the best antidote to test anxiety.
Take care of yourself. Make sure you're eating well, exercising, and sleeping. All of these things are scientifically linked to brain performance. If you take care of your body, you'll be helping your grades.
Get a study guide, online course, or set of flashcards. Some people study better a certain way. Find your study strengths and make the most of them. We've tried to make it easy for you by tracking down the best study resources for your exam. Below you'll see links to them all!