SAT Test
Every year, over two million students take the SAT Reasoning Test, commonly called just the SAT. It's one of the two 800 pound gorillas among all college tests. Colleges and universities rely on it as an accurate predictor of how well a student will do at college level academics. Given seven times a year all over the country, the SAT test plays a huge part in helping to determine what college millions of people will attend, and what kind of future they'll have. If there were ever a test you need to do well on, it's the SAT test.

It takes nearly four hours to complete, and is broken up into three main sections-Critical Reading, Math, and Writing. The writing portion of the SAT test requires a written essay, and a few of the questions on the math portion are grid in types, but the rest of the test consists of multiple choice questions, offering five different possible answers for each question. The highest possible score in each part is 800; a perfect SAT test score is 2400. The SAT test critical reading section measures abilities in reading comprehension, sentence completion, and the ability to read critically. It last 70 minutes. The math section also last 70 minutes and measures abilities in geometry, algebra, statistics, probability, and data analysis. In the writing section you'll have 35 minutes to answer questions about grammar, vocabulary, and sentence structure, and then you'll have 25 minutes to demonstrate your writing skills by writing an essay on an assigned topic.
You do have the option of canceling your score if you feel your test didn't go well, but you must cancel all the test, not just parts of it. Scores are available online about two weeks after the test, they're mailed out about two weeks after that. There's a lot of pressure riding on the results of your SAT test, and it's hard to put that out of your mind during the test. Preparation and study are imperative before walking into the examination room.
Click here to download StudyGuideZone.com's free SAT Study Guide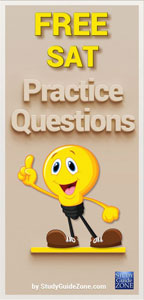 Free SAT Practice Test
SAT Writing Practice Test
SAT Reading Practice Test
SAT Math Practice Test
SAT Essay Help
SAT Test Taking Tips
Skill Building Exercises
English
Basic Grammar
Reading Comprehension
Sentence Completion
Vocabulary
Math
Algebra 1 Practice Questions
Algebra 2 Practice Questions
Basic Operations
Geometry
Measurements
SAT Test Review on YouTube | SAT Test Study Guide