PRAXIS I Test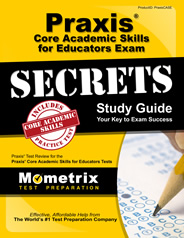 Ace the PRAXIS I test using our PRAXIS I exam study guide with practice questions.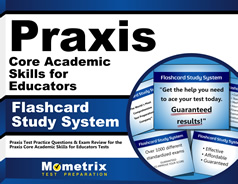 Quickly Solve Difficult PRAXIS I Test Questions with the PRAXIS I Flashcard Study System.
Are you thinking of pursuing a career as a teacher? If so, then there's a good chance you'll be required to take the Praxis I test. Colleges and universities that educate future schoolteachers use this test to measure your aptitude for earning a degree in the field. It's offered around the country, and your school can give you the information you need on how to sign up for it, and where and when it's held.
Although usually taken on a computer, you can choose to take the Praxis I test in pencil and paper format. You'll need to allow about four and a half hours to take the test, which is multiple choice plus a written essay. The three multiple choice sections are: Reading-75 minutes to answer 46 questions demonstrating your skills at reading comprehension and evaluation. Mathematics-75 minutes to answer 46 questions on basic math skills, and some advanced math. Writing-38 minutes to answer 44 questions testing for grammar, vocabulary, sentence structure, etc.
Each college or university (or state education board) will set their own standards as to what an acceptable score for applicants is. You'll receive your score about 6 weeks after taking the Praxis I. It's easy to underestimate the Praxis I test, but don't make that mistake. Make sure you're prepared for it the first time you take it, and you won't have to worry about being denied a teaching certificate because of a low score, or having to put your career off to retake the test.
Praxis Test Resources
Praxis I Skill Building Exercises
English
Math
Praxis I Exam Review on YouTube | Praxis I Test Study Guide
Praxis I Study Tip of the Day - Signup Below:
We have partnered with TestPrepReview.com to offer you Free Daily Praxis I Video Lessons. Delivered to your email, completely free...just enter your email address below:
Comments:
Last Updated: 10/27/2014