NCLEX RN Test
Everyone in America hoping to be certified as a Registered Nurse and find nursing jobs must first pass the National Council Licensure Examination-Registered Nurse (NCLEX RN) test. This NCLEX RN test is a comprehensive computer based test designed to measure your skills and knowledge in relation to the demands of the job. You should allow up to six hours to take the test, although it may not necessarily take that long.

The NCLEX RN test is given in computer adaptive format, which means that the next question you receive will depend on the answer you gave before. Correct answers will mean questions at a higher skill level, while wrong answers will mean going back to a lower level. Those doing well right off the bat will have to answer fewer question, as they've demonstrated by their answers a mastery of the basics. The software will keep providing new questions until satisfactory competency, or the lack of it, is demonstrated. So test takers will answer between 75 and 265 questions.
The subject matter is centered around nursing, and not general academic skills like math and literature. Subjects covered include Safe Effective Care Environment-coordinated care and safety and infection control; Health Promotion and Maintenance; Psychosocial Integrity; and Physiological Integrity-basic care and comfort, pharmacological therapies, reduction of risk potential, and physiological adaptation. The results of your NCLEX RN test are only reported as either pass or fail. It's a difficult and challenging test, but if you've obtained an RN degree, there's no reason that with solid preparation you can't pass the NCLEX RN exam.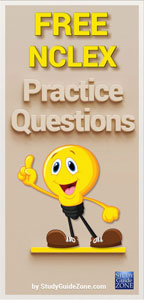 Click here to download StudyGuideZone.com's free NCLEX RN Study Guide
Free NCLEX RN Practice Test
NCLEX RN Practice Questions Set 1
NCLEX RN Practice Questions Set 2
NCLEX RN Practice Questions Set 3
NCLEX RN Practice Questions Set 4
NCLEX RN Practice Questions Set 5
NCLEX-RN Review Video
How to pass the NCLEX-RN Exam!
NCLEX-RN Exam on YouTube | NCLEX-RN Study Guide and Practice Questions
Registered Nurse Salary
If you are looking for a good-paying job with flexibility in scheduling and personal fulfillment, then the role of a registered nurse may be for you. The registered nurse treats patients, records medical histories and symptoms, and administers treatment and medications. He or she may perform diagnostic tests or operate medical machinery. The registered nurse develops a personal relationship with the patient by providing advice and emotional support, educating the patient about medical conditions, and assisting with rehabilitation and follow-up. A registered nurse may work in a variety of settings, which include outpatient and employment centers, nursing facilities, doctor's offices, hospitals, and government or home health care agencies.
One area of registered nursing that has changed over the years is the stereotype against males in the job. The bias and prejudices that once existed toward men is fast disappearing. Nowadays, there are more male nurses in every aspect of nursing, which reflects the diversity of the patient population they serve. Although the current percentage of male nurses is still substantially low as compared to all registered nurses nationwide, programs and policies are being put in place to encourage people from diverse backgrounds to go into the field.
Although the lingering negative stereotype of males in nursing is started to fade, many men do report obstacles or challenges they still face in school and in the workplace. Many men say that it is still hard for them to work in an OB/GYN environment. At school, many men report being excluded from groups and being subject to stares or comments about their chosen profession. Some people question their sexuality. These challenges seem especially difficult for African-American males. Patients too appear to have a tough time getting used to men as nurses. It appears that society is still used to the tradition of males and doctors and females and nurses. The stereotype of white female nurses is lessening as more males and minorities enter nursing programs, schools and jobs. All in all, these perceptions are changing, and male nurses are entering this role and are being accepted faster. The general public has started to realize that nursing is a respected profession for anyone who has the skill and talent.
The American Assembly for Men in Nursing (AAMN, http://aamn.org/) is an organization dedicated to providing a framework for men to meet and discuss issues they face in the profession. The AAMN is accessible at the state, local, and national levels. The AAMN awards scholarships to men entering the nursing profession as well as gives annual awards for Best Workplace and Best Nursing School or College. The AAMN conducts conferences and mentoring programs. There are networking opportunities, a newsletter, and job and employment resources. Additional resource links provide featured stories, surveys, and articles that may be of interest. In addition, the AAMN has started a "20 by 20" initiative that is aimed at having at least 20 percent male enrollment in nursing programs throughout the world by the year 2020. There is a task force in place to encourage enrollment, recruitment efforts, and media campaigns. Research efforts, reports, and recommendations are being made to change the face of the nursing profession. The AAMN is confident that it will be successful at increasing the number of men in nursing.
According to Minoritynurse.com, only 5.8 percent of the total nursing population is men. The average age of a registered nurse is 46 years old, and male nurses tend to be younger than female nurses. The average registered nurse salary is $57,000 a year; however, the average nurse salary with a graduate degree is $74,000 with a master's and $81,000 for a nurse with a doctorate.