ACT Test
The ACT is a test given to high school juniors who plan to attend college, in order to test their knowledge base. You'll make arrangements to take it through your high school guidance office, and you'll pay a small fee. It's given several times a year, all over the nation. Scores on the ACT test range from 1-36, and can have a huge impact on whether or not you're admitted to the college of your choice. In addition to an optional essay portion, there are four sections of the ACT exam: math, English, reading, and science.
It's a timed test, and there are 215 questions on the ACT test, usually getting more difficult as you progress through each section. It's best to not spend too much time on difficult questions, but answer all the ones you're sure of first, and then go back and attempt the harder ones again. You're not penalized for wrong answers, so if you're completely baffled, it's fine to guess. You'll receive your scores between 4-7 weeks after taking the test. You may view them online before that, by paying a small fee, but your college won't get your scores any sooner.
Because the test is so important, and can have such a huge impact on your future, it's important to do as well as possible on the test. And if you choose, you can retake the test in your senior year. If you score higher, you can have that score sent to colleges instead. If you score lower, you can use the results from the other ACT test. It's up to you which score to use, which means taking it again and getting a lower score can't hurt you, but only help you. So if you think you can do better, you should definitely give it a shot.
Click here to download StudyGuideZone.com's free ACT Study Guide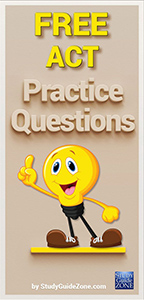 Free ACT Practice Test
ACT English Practice Test
ACT Reading Practice Test
ACT Math Practice Test
ACT Science Practice Test

Essay Help
Test Anxiety
Test Dates
What to expect on the ACT Test
Skill Building Exercises
English
Reading Comprehension
Basic Grammar
Punctuation and Capitalization
Math
Algebra 1 Practice Questions
Geometry
How to pass the ACT Test!
ACT Exam Review on YouTube | ACT Test Study Guide