USMLE – Step 3 Exam
Step 3 of the USMLE is the final test of the candidate's ability to practice medicine without supervision. This exam is broken into three parts. To begin with, the Integrated Clinical Encounter (ICE) assesses the candidate's skill in data gathering and documentation. The Communication and Interpersonal Skills (CIS) component of the exam evaluates questioning skills, information-sharing skills, and professional manner and rapport. Finally, the Spoken English Proficiency (SEP) component of the exam evaluates the candidate's clarity of spoken English within the context of the doctor-patient encounter.

The content of the USMLE Step 3 exam can be broken down by clinical encounter frame or by physician task. When broken down by clinical encounter frame, 20 to 30% of the exam covers initial care; 50 to 60% of the exam covers continued care; and 15 to 25% of the exam covers emergency care. When the exam is broken down by physician task, it looks like this: obtaining history and performing physical examination (8-12% of the exam); using laboratory and diagnostic studies (8-12%); formulating most likely diagnosis (8-12%); evaluating severity of patient's problems (8-12%); applying scientific concepts and mechanisms of disease (8-12%); and managing the patient, including health maintenance, clinical intervention, clinical therapeutics, and legal and ethical issues (45-55%). Individuals who pass the USMLE Step 3 are considered to be competent to practice medicine without supervision.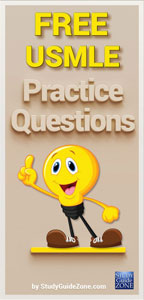 For additional information, we recommend you check out these free USMLE test resources:
USMLE Step 1
USMLE Step 2
USMLE Step 3
USMLE Prep Info
Physician Jobs
This site has no affiliation with the USMLE and is not endorsed by the USMLE.
USMLE – Step 3 Exam Practice Questions
1. This patient was found to have a 95% stenosis of the left carotid artery on cerebral angiography and underwent a successful endarterectomy. No evidence of prior stroke was found on brain MRI and her cardiac ultrasound confirmed mild left ventricular hypertrophy but no abnormalities of wall motion or possible sources of emboli.
Appropriate discharge medication(s) should include:
low molecular weight heparin
aspirin and clopidogrel
warfarin
aspirin alone
aspirin and a statin
2. A 25-year-old single man is seen for a routine preemployment physical. His medical history reveals an appendectomy at age 16 but no serious medical illness. He had a febrile illness with swollen glands, fatigue, and fever to 101° several months ago, but it resolved by itself and he did not see a doctor. Further questioning reveals that he is bisexual and has had sexual encounters with men and women but has a steady girlfriend at this time. He is vague about condom use. He denies sexually transmitted disease or intravenous drug use but occasionally snorts a little cocaine. Physical examination is essentially negative except for the appendectomy scar. No oropharyngeal abnormalities are noted and there is no evidence of lymphadenopathy or hepatosplenomegaly. A chest x-ray is negative. CBC, liver function tests, VDRL, and hepatitis panel are all negative. An HIV screening test is positive and confirmed by Western blot. A purified protein derivative (PPD) test is negative.
What is an appropriate next course of action with this patient?
Observation only with repeat examination and blood tests in 6 months
Observation only with HIV testing of his girlfriend
Begin highly active antiretroviral therapy (HAART)
Obtain a CD4 T-lymphocyte count
Obtain a CD4 T-lymphocyte count and a plasma HIV RNA determination
3. Results of this patient's follow-up testing are a CD4 T-cell count of 400/mL and a plasma HIV RNA value of 75,000. HIV screening of his girlfriend was negative but 1 male sexual contact was found to be positive. He was warned to practice safe sex with latex condoms and avoid homosexual contacts if possible. Follow-up testing in 6 months showed a CD4 T-cell decline to 340/mL and a rise in the viral load to 110,000. He remains asymptomatic.
How should he be treated now?
Continued observation and repeat testing
A nonnucleoside reverse transcriptase inhibitor (NNRTI) only
A protease inhibitor (PI) only
A protease inhibitor and a nucleoside reverse transcriptase inhibitor (NRTI)
An NNRTI and a PI
4. The young man begins treatment with a protease inhibitor and NRTI. Six months later his girlfriend is found to be HIV positive. They admit to having unprotected sex several times. She is also 5 weeks pregnant and referred by her obstetrician for possible treatment. She feels well except for some morning sickness and has an essentially clean medical history. Her CD4 T-cell level is 500/mL and the HIV RNA is 20,000 copies/mL.
What is the most prudent treatment option for her to prevent transmission to the fetus?
Zidovudine monotherapy
No therapy until her HIV RNA is above 50,000
Combination ART immediately
Combination ART after her first trimester is completed
Defer treatment until just before delivery
5. A 74-year-old white man is in for an annual physical examination. His major complaint is joint pain and stiffness, especially in the knees, for which he takes naproxen regularly and an occasional hydrocodone. He has a history of angina in his mid-60s and underwent an angioplasty. He is also taking atorvastatin, low-dose aspirin, and an angiotensin receptor blocker. He is not diabetic and has no history of gastrointestinal or genitourinary disorders. He denies chest pain or dyspnea as well as abdominal pain or changes in bowel habits. His weight has been stable at 170 lb. On exam his blood pressure is 140/85, regular pulse at 70. Head, neck, chest, and cardiac examination are negative. The abdomen is slightly tender but there is no rebound or guarding, palpable mass, or hepatosplenomegaly. The prostate is enlarged but benign. Rectal exam is otherwise negative. Typical osteoarthritic changes of the hands are noted. Fecal occult blood testing is positive. A CBC shows hypochromic anemia with a hemoglobin of 10 g/dL and serum iron of 10 mcg/mL and a ferritin level of 5 ng/mL. He denies hematemesis, obvious rectal bleeding, or maroon-colored feces.
What is the most likely cause of the occult blood loss in this patient?
Diverticular bleeding
Angiodysplasia
Colon cancer
Gastric ulceration
Hemorrhoids
USMLE – Step 3 Exam Answers and Explanations
1. E. All patients who have had a stroke or TIA should undergo secondary prophylaxis. Aspirin and other antiplatelet drugs may reduce the incidence of another stroke by 30%. The daily dose of aspirin has not been established with certainty. Clopidogrel may also be used at a 75 mg/day dosage but the combination of aspirin and clopidogrel is not found to be superior to aspirin alone, it costs considerably more, and probably increases the bleeding risk. All patients with cerebrovascular disease should be treated aggressively with statins, which have been found to reduce the stroke rate by 25%. Warfarin and low molecular weight heparin have not been found to be effective in stroke prevention and are quite inconvenient since one requires frequent laboratory testing and the other subcutaneous injection.
2. E. Since this patient is asymptomatic and free of obvious opportunistic infection, there is no rush to treat him based only on the positive HIV test. His history of a febrile illness with lymphadenopathy may or may not be related to the initial phase of HIV viremia. Decisions regarding treatment in an asymptomatic patient such as this are largely based on the CD4 count and the plasma viral load. Therefore, both values should be obtained for a decision regarding immediate treatment and as a baseline for follow-up. There is some controversy about the indications for treatment based on these values; some doctors begin therapy with CD4 T-cell levels as high as 500/mL. Standard guidelines to initiate treatment are if CD4 T-cell levels are below 200/mL; strongly consider if the count is between 200/mL and 350/mL. Many AIDS experts will treat if the count is over 350/mL and the viral load exceeds 100,000 copies. Therapy may be deferred if the count is greater than 350/mL and the viral load is less than 100,000, although some experts believe that viral counts above 55,000 should be treated regardless of the CD4 T-cell count. The girlfriend and any other named sexual contacts should be screened. There is some very recent evidence that sexual transmission of the virus to an HIV-negative partner may be blocked by early ART.
3. D. HAART therapy in a new HIV-positive patient should be initiated with combination drug therapy to discourage the emergence of resistant strains. There are numerous drugs on the market in each major category and several combinations of 2 and 3 drugs that make taking them easier. Lists of possible adverse effects from each drug must be gone over carefully with the patient before initiating therapy. Authorities recommend the combination of a PI and an NNRTI with a NRTI. Therefore, reasonable combinations might be atazanavir and ritonavir (PI) with zidovudine/lamivudine (NRTI) or efavirenz (NNRTI) with zidovudine/lamivudine. Three drug treatments appear as satisfactory as four in new patients. Treatment should reduce the HIV viral load 0.5 to 0.75 log by week 4 and 1 log at week 8. There should be no detection of the virus by 4 to 6 months. A rising CD4 T-cell level usually accompanies a diminution in the viral RNA.
4. D. Treatment of HIV-infected pregnant women has evolved over the past few years. Instead of zidovudine or nevirapine monotherapy, combination ART including zidovudine is recommended for those who have HIV RNA levels above 1,000 copies/mL. Women with levels lower than this have a small risk of transmission to the newborn. While most ART drugs are not teratogenic, many have not been studied adequately and some may contribute to the adverse effects of pregnancy. Waiting until the second trimester is probably safest.
5. D. All the answers are possible causes of occult gastrointestinal bleeding in this age group but an upper gastrointestinal source is 5 times more likely than a lower one. Gastric ulceration is common in patients taking NSAIDs and/or aspirin, often without abdominal pain. Hemorrhoidal bleeding may be the most common cause of lower gastrointestinal bleeding but most often the blood is fresh and mixed with stool. The negative rectal exam tends to make this source less likely. Angiodysplasia (telangiectasia), a small vascular malformation of the gut, sometimes multiple, is increasingly reported as a cause of gastrointestinal bleeding, frequently intermittent. Diverticular bleeding, often maroon in color, is another possibility. Finally, colon cancer is the cause of lower gastrointestinal bleeding in about 3% to 5% of cases and may be present without other symptoms, especially if it is in the ascending or transverse colon.