Free NCLEX PN Practice Test 2
1. Which type of evaluation occurs continuously throughout the teaching and learning process?
A. Formative.
B. Retrospective.
C. Summative.
D. Informative.
2. A client with chest pain arrives in the emergency room and receives nitroglycerin, morphine, oxygen, and aspirin. The client is diagnosed with acute coronary syndrome and suspected myocardial infarction. The client arrives on the unit, and his vital signs are stable and he has no complaints of pain. The nurse is reviewing the physician's orders. In addition to the medications given, which other medication does the nurse expect the physician to order?
A. A -blocker, such as carvedilol (Coreg®).
B. Digoxin (Lanoxin®).
C. Furosemide (Lasix®).
D. Nitroprusside.

3. The nurse is caring for a client after a lung lobectomy. The nurse notes fluctuating water levels in the water-seal chamber of the client's chest tube. What action should the nurse take?
A. Do nothing, but continue to monitor the client.
B. Call the physician immediately.
C. Check the chest tube for a loose connection.
D. Add more water to the water-seal chamber.
4. A hospice program director was examining various activities related to client care with the intent of improving quality. The director determined that many are clients were being admitted on service without an advanced directive. The director along with a team of individuals developed a plan including goals, objectives, and a timeline to address the issue. This is an example of which of the following approaches?
A. Risk management project.
B. Performance improvement project.
C. Client care initiative.
D. Palliative care project.
5. The nurse is making a teaching plan for a client with Parkinson's disease to help him understand the implications of beginning treatment with levodopa. Which of the following instructions should the nurse include?
A. Change positions slowly.
B. Increase intake of foods with vitamin B6.
C. Increase the dose if twitching worsens.
D. Call the physician if symptoms don't improve in 1 week.
6. The nurse is preparing to administer an I.M. injection in a client with a spinal cord injury that has resulted in paraplegia. Which of the following muscles is best site for the injection in this case?
A. Deltoid.
B. Dorsal gluteal.
C. Vastus lateralis.
D. Ventral gluteal.
7. The nurse is evaluating treatment effectiveness indicators for a client who is being discharged from the intensive outpatient drug and alcohol clinic. Which client behavior would the nurse evaluate as a positive treatment outcome?
A. The client is following a regular sleeping routine.
B. The client is participating in scheduled group meetings.
C. The client is planning to engage in social activities.
D. The client is applying the clinic rules to others.
8. The nurse is caring for a client with heart failure. Which of the following statements by the client suggests that the client has left-sided heart failure?
A. "I sleep on three pillows each night."
B. "My feet are bigger than normal."
C. "My pants don't fit around my waist."
D. "I have to get up three times during the night to urinate."
9. A client with type 2 diabetes has a hemoglobin A1C level of 8.8 after 6 months of oral therapy with metformin (Glucophage®). The client tells the nurse that she often forgets to take her medication and doesn't really follow her diet. Which of the following is the nurse's best first response?
A. "If you don't get control of your blood sugar, you'll need to take insulin."
B. "It can be hard to get used to having a disease like diabetes. What are some of the things you find challenging about it?"
C. "Uncontrolled diabetes can lead to eye problems and kidneys problems."
D. "Many people have diabetes."
10. The nurse is reviewing laboratory values of a client diagnosed with hyperlipidemia 6 months previously. Which results indicate that the client has been following his therapeutic regime?
A. Total cholesterol level increases from 250 mg/dL to 275 mg/dL.
B. Low-density lipoproteins (LDL) increase from 180 mg/dL to 190 mg/dL.
C. High-density lipoproteins (HDL) increase from 25 mg/dL to 40 mg/dL.
D. Triglycerides increase from 225 mg/dL to 250 mg/dL.
11. The nurse is assessing a client with aortic stenosis. Which of the following best describes the murmur associated with aortic stenosis?
A. High-pitched and blowing.
B. Loud and rough during systole.
C. Low-pitched, rumbling during diastole.
D. Low-pitched and blowing.
12. The nurse is preparing to discharge an adolescent with sickle cell disease. Which of the following should the nurse stress during teaching? Select all that apply.
A. Infection prevention and management.
B. Pain management.
C. Fluid restriction.
D. Effective emotional coping skills.
13. Which type of nursing intervention does the nurse perform when she administers oral care to a client?
A. Psychomotor.
B. Educational.
C. Maintenance.
D. Supervisory.
14. The nurse is caring for a client with pulmonary edema. Which of the following orders should the nurse clarify?
A. Dobutamine 5 mcg/kg/minute I.V.
B. 0.9% normal saline solution I.V. at 150 mL/hour.
C. Morphine I.V. 2 mg every 2 hours P.R.N. dyspnea.
D. Furosemide I.V. 40 mg every 6 hours.
15. The nurse is teaching a client newly diagnosed with type 1 diabetes how to self-administer subcutaneous insulin injections. How does the nurse best evaluate the effectiveness of her teaching?
A. Have the client repeat the steps back to the nurse.
B. Give the client a written test on self-administration of insulin.
C. Ask the client to write out the steps for self-administration of insulin injections.
D. Ask the client to give a return demonstration of self-administration of insulin.
16. The nurse is assessing a female client who reports infrequent, irregular menstrual periods. Which of the following signs and symptoms suggests to the nurse that the client may have polycystic ovarian syndrome (POS)?
A. Muscle wasting and nervousness.
B. Hypotension.
C. Poor appetite and weight loss.
D. Obesity and hirsutism with excessive facial hair.
17. A nurse is caring for a client returning from an x-ray. The nursing assistant is helping transfer the client back to bed. Which transfer technique by the nurse uses appropriate ergonomic principles?
A. Lowering the bed for transfer and then raising the bed before leaving the room, making sure to place the call light is within reach.
B. Maintaining a narrow base of support during transfer and encouraging the client to hold onto her if afraid during transfer.
C. Raising the bed for transfer, maintaining a wide base of support during transfer, and lowering the bed before leaving the room.
D. Explaining the procedure to the client and grabbing the client underneath the arms to pull her over to the bed.
18. The nurse in the Emergency Department is caring for a client who has acute heart failure. The physician is writing orders for pharmacological management, including diuretics. Which laboratory value is most important for the nurse to check before administering medications to treat heart failure?
A. Platelet count.
B. Potassium.
C. Calcium.
D. White blood cell count.
19. The nurse is writing the teaching plan for a client undergoing a radioactive iodine uptake test to study thyroid function. Which of the following instructions should the nurse include?
A. "You need to stay at least 4 feet (1.2 m) away from other people after the test because you'll be radioactive."
B. "You need to lie very still on a stretcher that is placed in a long tube for the scan"
C. "Don't take any iodine or thyroid medication before the test."
D. "Schedule the bone scans before your radioactive iodine uptake test."
20. The nurse is assessing a client hospitalized with type 2 diabetes mellitus. Which assessment finding leads the nurse to suspect hyperosmolar hyperglycemic nonketotic syndrome (HHNS) in this client?
A. Kussmaul's respirations.
B. Metabolic acidosis.
C. Serum glucose of 1,200 mg/dL.
D. Dependent edema.
Answer Key
1. Correct answer: A
Formative (or concurrent) evaluation occurs continuously throughout the teaching and learning process. It includes assessing needs, process, implementation and potential outcomes. One benefit is that the nurse can adjust teaching strategies as necessary to enhance learning. Retrospective or summative evaluation occurs at the conclusion of teaching and learning sessions and often evaluates how a group has done. It includes outcomes assessment, cost-effectiveness, and impact. Informative isn't a type of evaluation.
2. Correct answer: A
A patient who is admitted with suspected myocardial infarction should receive aspirin, nitroglycerin, morphine, and a -blocker, such as carvedilol. Digoxin in indicated for arrhythmia rather than acute coronary syndrome. Furosemide would be used if the client had signs of heart failure, such as peripheral or pulmonary edema, but this is not evident. Nitroprusside is used to increase blood pressure, but the client has stable vital signs and is not hypotensive.
3. Correct answer: A
Fluctuation in the water-seal chamber is a normal finding that occurs as the client breathes. No action is required except for continued monitoring of the client. The nurse doesn't need to notify the physician. Continuous bubbling in the water-seal chamber indicates an air leak in the chest tube system, such as from a loose connection in the chest tube tubing. The water-seal chamber should be filled initially to the 2 cm line, and no more water should be added.
4. Correct answer: B
Performance improvement projects are an approach to design, measure, assess, and improve organizational performance. Risk management differs in that it is a planned program of loss prevention and liability control. Although this is an initiative that involves client care, the span of the issue extends beyond direct care providers. Advanced directives are important in the context of palliative care, but assuring that all patients have them relates more closely to organizational performance.
5. Correct answer: A
Because levodopa can cause orthostatic hypotension, the client should be cautioned to change positions slowly to avoid dizziness, light-headedness, or fainting. The client should avoid foods high in vitamin B6 and vitamin B6 supplements because they can reverse the effects of levodopa. Increased twitching may be a sign of drug overdose and should be reported to the physician. Other signs of overdose include palpitations, eye spasms, arrhythmias, and hypertension. When a client is started on levodopa, it may take several weeks for symptoms to improve, so the client should not expect immediate improvement.
6. Correct answer: A
I.M. injections should be given in the deltoid muscle in the client with a spinal cord injury. Paraplegia involves paralysis and lack of sensation in the lower trunk and lower extremities. Clients with spinal cord injuries exhibit reduced use of and consequently reduced blood flow to muscles in the buttocks (dorsal gluteal and ventral gluteal) and legs (vastus lateralis). Decreased blood flow results in impaired drug absorption and increases the risk of local irritation and trauma, which could result in ulceration of the tissue.
7. Correct answer: B
A client with a drug and alcohol problem who is participating in the scheduled group sessions is making an effort to learn lifestyle changes, coping skills, and ways to maintain a clean and sober life. Although it is healthy to follow a regular sleep pattern, this behavior is not a specific indicator of drug and alcohol treatment effectiveness. Plans to engage in social activities may be repeating patterns of the people, places, and things that triggered drug use; therefore, this action could be a negative treatment outcome. Applying the clinic rules to others is a form of distraction that prevents the client from focusing on personal treatment goals.
8. Correct answer: A
Orthopnea is a classic sign of left-sided heart failure. The client often sleeps on several pillows at night to help facilitate breathing because of pulmonary edema. Peripheral edema is indicative or right-sided failure. Ascites is a late symptom of right-sided heart failure and can increase girth. Nocturia is common with right-sided failure as peripheral edema decreases when the feet are not dependent, increasing urinary output.
9. Correct answer: B
Acknowledging that the client is going through changes and allowing her to express her concerns will help the nurse assess her needs. Hemoglobin AIC shows the average blood glucose levels over a 3-month period. Diabetes should maintain the AIC <7%. Lecturing, threatening and comparing the clients to others belittles the client and discourages discussion, but the patient must be provided adequate information in order to make informed decisions about self-care.
10. Correct answer: C
HDL levels have an inverse relationship with coronary artery disease and should be greater than 35 mg/dL. The goal of treating hyperlipidemia is to decrease total cholesterol and LDL levels, while increasing HDL levels. Total cholesterol levels are recommended to be below 200 mg/dL. LDL levels should be less than 160 mg/dL. In clients with known coronary artery disease or diabetes, the LDL level should be less than 70 mg/dL. Triglyceride level has a direct relationship a LDL level and an inverse relationship with HDL level. Triglyceride levels should be between 100 and 200 mg/dL.
11. Correct answer: B
An aortic murmur is loud and rough and is heard over the aortic area during systole. Aortic insufficiency has a high-pitched and blowing murmur and is heard at the third or fourth intercostal space at the left sternal border. Mitral stenosis has a low-pitched rumbling murmur heard at the apex. Mitral insufficiency has a high-pitched, blowing murmur at the apex. There is no specific condition associated with a low-pitched, blowing murmur.
12. Correct answers: A, B, and D
The goals of sickle cell management include preventing crisis and managing pain and issues of self-esteem. This requires teaching the client how to avoid infection and follow protocols for antibiotics as infections can trigger crisis. Pain management may include analgesics as well as relaxation techniques and other comfort measures, such as heat application. Sickle cell disease, as with all chronic diseases, can affect an adolescent's feelings of self esteem, so coping skills include allowing the client as much independence in care as possible. Dehydration poses the risk of sickle cell crisis and blood clots, so the client must stay well hydrated.
13. Correct answer: C
Oral care is an example of a maintenance nursing intervention. Other examples of maintenance nursing interventions include skin care and hygiene. Psychomotor interventions include positioning the client. Educational nursing interventions include the nurse demonstrating and teaching a skill to the client. Supervisory nursing interventions occur when the nurse supervises other health care providers performing a task.
14. Correct answer: B
An I.V. rate of 150 mL/hour would further increase the fluid overload and worsen the pulmonary edema. Pulmonary edema is due to an increased blood volume in the lungs. This blood volume causes an increased hydrostatic pressure, which forces fluid from the pulmonary capillaries into the interstitial space and alveoli. The fluid in the alveoli blocks the air exchange, causing impaired gas exchange. The priority treatment for these patients is to improve their gas exchange and decrease volume overload. Dobutamine is a positive inotrope, which helps the heart pump more effectively, reducing the amount of blood pooling in the lungs. Morphine helps decrease venous pressure, which helps decrease the pressure in the lungs and the movement of fluid into the lungs, relieving dyspnea. Furosemide is a diuretic and helps remove some of the extra fluid from the lungs.
15. Correct answer: D
Asking the client to give a return demonstration of his injection technique is the best way to assess whether the client can perform the procedure. It also gives the nurse the opportunity to provide feedback. Asking the client to recite the steps, pass a written test, or write out the steps shows the nurse whether the client is able to recall the steps but doesn't show that he has the necessary motor skills or the ability to perform the procedure.
16. Correct answer: D
Polycystic ovarian syndrome (POS) is a constellation of symptoms including amenorrhea, hirsutism on the face, chest and limbs but thinning hair on the scalp, and obesity. Additionally, clients often exhibit insulin resistance (Type 2 diabetes mellitus). Muscle wasting and nervousness are not characteristic of POS, but depression is common. Hypertension may occur in some women. Increased appetite leads to weight gain.
17. Correct answer: C
Raising the bed during transfer and maintaining a wide base of support reduces the risk of back injury, and the bed should always be left in the low position to reduce danger from falls. Transferring the patient with the bed in low position strains the lower back. The client should not grab or hold onto staff members during transfers as this can interfere with the transfer and cause the nurse injury. The nurse should not grab the client under the arms, as this can cause the client shoulder injury or nerve damage. In addition, pulling a client during transfers places the client at risk for skin shear injuries.
18. Correct answer: B
Diuretics, such as furosemide (Lasix®) are commonly used to treat acute heart failure. Most diuretics increase the renal excretion of potassium. The nurse should check the potassium level before administering diuretics and obtain an order to replace potassium if the level is low. Other medications commonly used to treat heart failure include angiotensin converting enzymes, digoxin, and -adrenergic blockers. While checking the platelet count, calcium level, and white blood cell count is important, these results would not affect the administration of medications to treat acute heart failure.
19. Correct answer: C
Medications such as iodine, contrast media, and antithyroid and thyroid drugs can affect the test results and should be withheld by the client for a week or longer, as directed by the physician. During a radioactive iodine uptake test, the client receives radioactive iodine by mouth or I.V. in small doses and doesn't require isolation. During magnetic resonance imaging–not radioactive iodine uptake testing–a client needs to lie still inside a long tube. Any test, such as a bone scan, that requires iodine contrast media should be scheduled after the radioactive iodine uptake test because the iodinated contrast medium can decrease uptake.
20. Correct answer: C
Serum glucose levels in HHNS are greater than 800 mg/dL and may be as high as 2,000 mg/dL. By comparison, serum glucose levels in diabetic ketoacidosis are 300 to 800 mg/dL. In HHNS the body produces enough insulin to prevent diabetic ketoacidosis but not enough to prevent hyperglycemia, diuresis, and dehydration. Metabolic acidosis and Kussmaul's respirations (deep, rapid breathing) occur with diabetic ketoacidosis. In the client with HHNS, respirations may be normal or rapid and shallow, without any fruity odor. The osmotic diuresis that occurs in HHNS leads to profound dehydration, so dependent edema doesn't occur.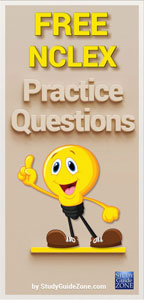 For additional information, we recommend you check out these free NCLEX PN test resources:
NCLEX PN Test Study Guide
NCLEX PN Practice Questions Set 1
NCLEX PN Practice Questions Set 2
NCLEX PN Practice Questions Set 3
NCLEX PN Practice Questions Set 4
NCLEX PN Practice Questions Set 5