GMAT Verbal Practice
Read the passage and answer the questions that follow. The "Twentieth" school was built of logs hewn on two sides. The cracks were chinked and filled with plaster, which had a curious habit of falling out during the summer months, no one knew how; but somehow the holes always appeared on the boys' side, and being there, were found to be most useful, for as looking out of the window was forbidden, through these holes the boys could catch glimpses of the outer world–glimpses worth catching, too, for all around stood the great forest, the playground of boys and girls during noon-hour and recesses; an enchanted land, peopled, not by fairies, elves, and other shadowy beings of fancy, but with living things, squirrels, and chipmunks, and weasels, chattering ground- hogs, thumping rabbits, and stealthy foxes, not to speak of a host of flying things, from the little gray-bird that twittered its happy nonsense all day, to the big-eyed owl that hooted solemnly when the moon came out. A wonderful place this forest, for children to live in, to know, and to love, and in after days to long for.

1. This description was most likely written by:
a historian
an ad executive
a former student of the 'Twentieth' school
a third-grader
2. Why did the plaster continue to fall out of the logs?
It wasn't very sticky.
The girls pushed it out.
The teacher pushed it out.
The boys pushed it out.
3. Which is the most likely year for this passage to be set?
1600
1950
2007
1850
4. What is the author's attitude to make-believe creatures?
He believes they are fascinating.
He believes they really exist.
He believes that real animals are more interesting.
He believes they are evil.
5. What is the author's attitude to the Twentieth school?
skeptical
nostalgic
apathetic
gregarious
Answer Key
1. C.  The author clearly has some familiarity and fondness for the school.
2. D.  The author leads you to believe that the boys were responsible for creating the holes in the plaster.
3. D.  1850 would be a likely year for children to be attending a school built out of logs.
4. C.  The declares that the wildlife surrounding the school is far more interesting that fanciful creatures.
5. B.  The author speaks of the school in fond remembrance.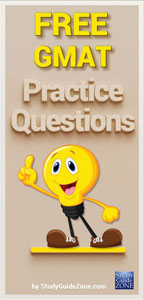 For additional information, we recommend you check out these free GMAT resources:
GMAT Study Guide
GMAT Verbal Practice
GMAT Critical Reasoning Practice
GMAT Quantitative Practice
GMAT Practice Questions