Free FCAT Writing Practice Test
The letter below was written by a student to the local newspaper. Read it and then answer the questions that follow.
Dear Sir or Madam:
(1) I am writing to tell you about a great new program that has started at Brooks Middle School. (2) Every day after school, a collection of students and teachers get together to learn and play chess. Some of the teachers are really good players and are doing their best to show the students how to play the game and have fun. (3) According to the founder of the group, Mr. Sanchez, chess is a great way to learn logical thinking and strategy. Mr. Sanchez says that students who study chess will see improvement in all of their schoolwork. The group usually meets until about five o'clock, when parents can come and pick the students up.
The reason I am writing to the newspaper is to announce that the Brooks Chess Club will be having a tournament on Saturday, April 7 at 10 am. (4) This tournament will be open to the public, though it will cost $5 to enter. This money will help us buy new chess equipment and refreshments for our meetings, we hope that everyone who has any interest in chess will join us at the tournament. (5)
Sincerely,
John Hudson
1. Is this style of address appropriate for the letter.
A: Yes, a colon is appropriate for a formal letter.
B: No, a comma should be used instead.
C: No, sir and madam do not need to be capitalized.
D: No, a letter does not need an introduction.
2. Is this the best possible introductory sentence?
A: Yes, it indicates the main idea of the letter.
B: No, it doesn't make any sense.
C: No, it would be better to start by mentioning the tournament, since this is the real point of the letter.
D: No, it is not grammatically correct.
3. What is wrong with this sentence?
A: It is a sentence fragment.
B: It is a run-on sentence.
C: There are a number of misspellings in this sentence.
D: There is nothing wring with this sentence.
4. What other information should be included in this letter?
A: Mr. Sanchez' first name
B: the rules of chess
C: the name of the author.
D: the location of the tournament
5. How could this sentence be improved?
A: A semi-colon should be used rather than a comma.
B: It should end with three exclamation points.
C: It should be broken up into three separate sentences.
D: This sentence cannot be improved.
The following is an excerpt from a student essay. Read it and answer the questions that follow.
(1) Music is the one activity that I feel gives me the most freedom. (2)When I am playing the piano my thoughts race out in a million different directions. (3)My fingers are racing up and down the keyboard so fast that my eyes can barely keep up with them! (4)I have found that when I am feeling sad or angry playing the piano always makes me feel better. (5)In fact, as soon as I touch my fingers to the keys I can feel my spirits start to lift. (6)When I get together with my friends to play music, we always have a great time together.
6. Which part of sentence 1 is unnecessary?
A: I feel
B: the one
C: most
D: freedom.
7. What changes could be made to sentence 2?
A: a comma could be added after playing
B: a comma could be added after piano
C: a comma could be added after million
D: the author should say thousand rather than million
8. Is the exclamation point in sentence 3 appropriate?
A: Yes, if read out loud this sentence will probably be screamed.
B: Yes, it is acceptable to use an exclamation point when engaging in fanciful exaggeration.
C: No, this is a very serious sentence.
D: No, this sentence is meant to be taken literally.
9. Where should a comma be placed in sentence 4?
A: after found
B: after piano
C: after angry
D: after always
10. What is wrong with sentence 6?
A: It is a run-on sentence.
B: It doesn't really fit in with the rest of the paragraph.
C: It contains several misspellings.
D: It needs a comma after friends.
Answer Key
1. A. In an informal letter, a comma would be more appropriate.
2. C. The main point of the letter is to announce the upcoming tournament.
3. B. This sentence should be divided into at least two separate sentences.
4. D. It would be important to indicate where the tournament will be held.
5. A. A comma does not separate the clauses in the sentence enough.
6. A. It is clear that this is the way the author feels.
7. B. The sentence might read more smoothly if the introductory clause were separated with a comma.
8. B. An exclamation point would be appropriate for this sentence.
9. C. The only appropriate place for a comma would be after angry.
10. B. The rest of the paragraph describes how music affects the author as an individual.
For additional information, we recommend you check out these free FCAT resources: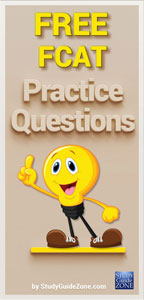 FCAT Study Guide
FCAT Math Practice
FCAT Reading Practice
FCAT Writing Practice
FCAT Science Practice
FCAT Practice Questions