Free FCAT Science Practice Test
1. Every insect has:
A: wings
B: 16 legs
C: an external skeleton
D: a nose
2. The part of an experiment in which a scientist predicts what will occur is called the
A: theory
B: hypothesis
C: observation
D: abstract
3. Put 35,000,000 in scientific notation.
A: 3.5 x 10-7
B: 35 x 108
C: 3.5 x 107
D: 35 x 106
4. Put 6 x 10-8 in standard notation.
A: 600,000,000
B: 60,000,000
C: 0.00000006
D: 0.0000006
5. Which of the following is responsible for the creation of fossil fuels?
A: oil derricks
B: the decomposition of animals and plants
C: supernovae
D: oil-burning stoves
6. Which of the following is the smallest unit of measure?
A: microliter
B: megaliter
C: deciliter
D: milliliter
7. Objects appear to be black when they:
A: reflect all the rays of the color spectrum
B: reflect some of the rays of the color spectrum
C: absorb all of the rays of the color spectrum
D: divert all of the rays of the color spectrum
8. Which of the following is an example of a chemical reaction?
A: water boiling
B: iron rusting
C: wax melting
D: water freezing
9. Which cell part is known as the 'powerhouse' of the cell?
A: mitochondria
B: nucleus
C: ribosomes
D: protoplasm
10. Why does the moon shine at night?
A: It absorbs the light of the sun.
B: It is made up of burning gas.
C: It reflects the light of the sun.
D: It reflects light from the Earth.
Answer Key
1. C. All insects have an external skeleton, or exoskeleton, and are divided into three parts: head, thorax, and abdomen.
2. B. A hypothesis is a proposed explanation for some observed phenomenon.
3. C. Move the decimal point to the left until the number is between 1 and 10.
4. C. Simply move the decimal point eight positions to the left.
5. B. The term 'fossil fuels' literally means fuels that are derived from the decomposition of carbon-based life forms.
6. A. A microliter is a millionth of a liter.
7. C. The tendency of black objects to absorb all the rays of the spectrum accounts in part for their tendency to heat up easily.
8. B. Rusting is also called oxidizing, and is the result of a change in the chemical composition of the iron.
9. A. The mitochondria are essential for cell metabolism.
10. C. The changes in the phase of the moon indicate the degree to which the Earth is blocking the sun's rays.
For additional information, we recommend you check out these free FCAT resources: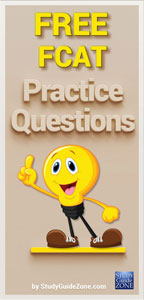 FCAT Study Guide
FCAT Math Practice
FCAT Reading Practice
FCAT Writing Practice
FCAT Science Practice
FCAT Practice Questions