Free FCAT Math Practice Test
1. If 4 is multiplied by a number less than -1, which of the following describes the result?
A: a number greater than 4
B: a number greater than -4
C: a number less than -4
D: a number greater than -3

2. If there are sixteen boys and fourteen girls at a school dance, how many different boy-girl dance combinations are there?
A: 224
B: 30
C: 244
D: 212
3. Allie has two proportional four-sided figures. One of the figures has a length of 9 inches and a width of 1.5 inches. If the width of the second figure is 4 inches, what is its length?
A: 20 inches
B: 24 inches
C: 9 inches
D: 16 inches
4. A cube has a volume of 125 cubic inches. What is the perimeter of one of the sides?
A: 25 inches
B: 16 inches
C: 20 inches
D: 15 inches
5. What is the slope of the equation 5x + 3y =10 ?
A: 5/3
B: 2
C: -3/10
D: -5/3
6. Debbie deposits $150 in a savings account with 2.5% monthly interest. How much money will be in the account in 6 months?
A: $155
B: $172.50
C: $22.50
D: $165
7. What is the midpoint between (3, 7) and (9, 13)?
A: (5,10)
B: (6,9)
C: (7,11)
D: (6, 10)
8. Darryl and Dwayne split a round pizza that has a radius of 7 inches. What is the approximate area of the portion of pizza received by each boy?
A: 77 square inches
B: 70 square inches
C: 77 inches
D: 70 inches
9. Sarah rides her bike 15 miles to work every day. If she rides at an average speed of 10 miles per hour, how much time does she spend riding to and from work every day?
A: 2 hours
B: 1 hour
C: 1.5 hours
D: 3 hours
10. Theo builds a tee-pee with a radius of 5 feet and a height of 20 feet. What is the approximate volume of Theo's tee-pee?
A: 555 cubic feet
B: 500 cubic feet
C: 475 cubic feet
D: 524 cubic feet
Answer Key
1. C. A positive number multiplied by a negative number will always have a negative result.
2. A. There are 14 potential partners for each of the 16 boys: 16 x 14 = 224.
3. B. The length is six times as great as the width in these proportional figures.
4. C. By finding the cube root of the volume, determine the length of each side (5). Then multiply this by four to find the perimeter of a square.
5. D. The equation for slope is y = mx + b, in which m is slope.
6. B. The equation for simple interest is I = prt, in which p is principle, r is rate, and t is time. The amount of interest earned over this period must be added to the principle.
7. D. The expression for finding the midpoint between two points is: [(x1 + x2)/2 , (y1 + y2)/2)]
8. A. The equation for finding the area of a circle is: A = πr2 . The area for the entire pizza should be divided by 2.
9. D. June will ride 30 miles in total. The equation for time used here is t = distance/rate.
10. D. The formula for the volume of a right circular cone is V =1/3(Ï€r2h)
For additional information, we recommend you check out these free FCAT resources: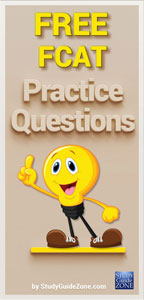 FCAT Study Guide
FCAT Math Practice
FCAT Reading Practice
FCAT Writing Practice
FCAT Science Practice
FCAT Practice Questions