Free CBEST Reading Practice Test Questions
Whether the task I have undertaken of writing a complete history of the Roman people from the very commencement of its existence will reward me for the labor spent on it, I neither know for certain, nor if I did know would I venture to say. For I see that this is an old-established and a common practice, each fresh writer being invariably persuaded that he will either attain greater certainty in the materials of his narrative, or surpass the rudeness of antiquity in the excellence of his style. However this may be, it will still be a great satisfaction to me to have taken my part, too, in investing, to the utmost of my abilities, the annals of the foremost nation in the world with a deeper interest; and if in such a crowd of writers my own reputation is thrown into the shade, I would console myself with the renown and greatness of those who eclipse my fame. The subject, moreover, is one that demands immense labor. It goes back beyond 700 years and, after starting from small and humble beginnings, has grown to such dimensions that it begins to be overburdened by its greatness. I have very little doubt, too, that for the majority of my readers the earliest times and those immediately succeeding, will possess little attraction; they will hurry on to these modern days in which the might of a long paramount nation is wasting by internal decay. I, on the other hand, shall look for a further reward of my labors in being able to close my eyes to the evils which our generation has witnessed for so many years; so long, at least, as I am devoting all my thoughts to retracing those pristine records, free from all the anxiety which can disturb the historian of his own times even if it cannot warp him from the truth.

1. From what genre is this passage taken?
A: autobiography
B: history
C: novel
D: editorial
2. What is the author's attitude towards literary fame?
A: vain
B: humble
C: indifferent
D: lethargic
3. According to the author, how do most writers feel about themselves?
A: Each writer feels that he has done a better job than all the others.
B: Each writer knows he is not as good as those who have come before.
C: Each writer suffers from low self-esteem.
D: Each writer is too anxious to write about contemporary issues.

4. What does the author mean by the phrase 'rudeness of antiquity'?
A: the lack of manners found in older civilizations
B: the stupidity of those authors who have come before
C: the roughness of certain Roman antiques
D: the poor hygiene of early Romans

5. How does the author feel about the size of the nation at present?
A: It is just the right size.
B: It is too small.
C: It is getting much smaller.
D: It is too large and has become corrupt.
6. According to the author, which is the 'foremost nation of the world'?
A: United States
B: Greece
C: Great Britain
D: Rome
7. Why is the author suspicious of those who write on contemporary matters?
A: they are always impartial
B: they are vulnerable to influence
C: they are bad writers
D: they ignore all the good stories
8. What is the most likely time period for this passage to have been written?
A: 1950 CE
B: 50 BCE
C: 1000 CE
D: 700 BCE
9. What does the author mean by the word 'warp' in the final sentence?
A: go really fast
B: lead astray
C: bludgeon
D: allow

10. From which section of a larger text does this passage probably come?
A: conclusion
B: table of contents
C: preface
D: middle
Answer Key
1. B. This passage appears to be taken from the beginning of a history of Rome.
2. B. The author knows he cannot depend on immediate recognition for his work.
3. A. Each generation of writers believes it has advantages over the previous generation.
4. B. According to the author, writers always believe that modern people are more intelligent and sophisticated than the people who came before.
5. D. The author mentions that the nation has become too large and is suffering from 'internal decay.'
6. D. At the time this was written, Rome was the dominant power in the region.
7. B. The author mentions the 'anxiety' of writing about people who are still alive and issues that are still contentious.
8. B. This passage was clearly written at the height of Roman dominance.
9. B. The word 'warp' can mean to divert from a proper course.
10. C. This passage appears to be an introduction to a history of Rome.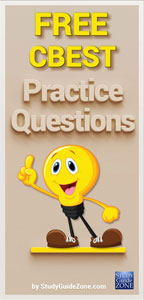 For additional information, we recommend you check out these free CBEST resources:
CBEST Study Guide
CBEST Math Practice Questions
CBEST Reading Practice Questions
CBEST Practice Questions