Free CBEST Math Practice Test Questions
1. Gerald received the following test scores in math class: 76, 86, 89, 81, and 99. What was Gerald's average test score, rounded to the nearest point?
A: 85
B: 88
C: 86
D: 87
2. Which of the following units would be most appropriate for measuring the length of a pen?
A: Miles
B: Meters
C: Micrometers
D: Centimeters

3. If Todd can type 60 words a minute, how long will it take him to type a 15,000 word document?
A: 2 hours and 45 minutes
B: 2 hours
C: 4 hours and 10 minutes
D: 4 hours and 30 minutes

4. If Edgar eats 8 2/3 doughnuts in a week and Ellen eats 4 ½ doughnuts in a week, how many more doughnuts will Edgar have eaten?
A: 3 1/5
B: 4 1/6
C: 4 1/2
D: 4

5. If Isaac scored 16 points in the first half of a basketball game and half as many in the second half, how many did he score in the game in all?
A: 16
B: 20
C: 22
D: 24
6. A shirt that was selling for $24 has had its price reduced by 15%. How much does it cost now?
A: $20.75
B: $20.40
C: $20
D: $21

7. If the value of x is between 0.00976 and 0.0706, which of the following numbers could be x?
A: .04018
B: 0.890
C: 0.0008
D: 0.8009
8. George buys 6 t-shirts for $5 each and 4 pairs of jeans for $8.50 each. He uses the following expression to calculate the total amount of money spent: 6 (5) + 4 (8.5). Which of the following expressions could George also have used?
A: 2 (5 + 8.5) + 4 (8.5)
B: 4 (5 + 8.5) + 2 (5)
C: (4 + 2) + (5 + 8.5)
D: 8.5 (2 + 4) + 5 (2 +4)
9. Read the information below, then solve the problem that follows.
Dave rides his bicycle 5 miles to work every day. He can ride at a speed of 10 miles per hour. In order to be on time to work, what time does Dave need to leave home? What piece of information do you need to solve this problem?
A: The model of Dave's bicycle
B: The time that Dave needs to be at work
C: The time that Dave comes home from work
D: The length of time it takes Dave to ride to work.
10. Don gets paid $9 an hour, but if he works more than 30 hours in a week his rate of pay is increased by ½. How much would Don get paid for a 38-hour work week?
A: $342
B: $390
C: $367
D: $378
Answer Key
1. C. Add all of the scores together and divide by the number of scores.
2. D. All of the other units are either much too big or much too small.
3. C. Divide the length of the document by the number of words per minute to find the number of minutes it will take. The number of minutes can then be divided by the number of minutes in an hour. 250 minutes is equivalent to 4 hours and 10 minutes.
4. B. Convert the fractions to the lowest common denominator, sixths, before you subtract.
5. D. Divide 16 by 2 and add 8 to the dividend.
6. B. Multiply the original price by 0.15, and then subtract this amount from the original price.
7. A. When solving this sort of problem, it may help to write the two given numbers so that one is under the other and the decimal points are aligned.
8. B. George bought four items at both $5 and $8.5, but he also bought two more items at $5.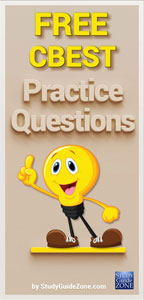 9. B. The amount of time it takes Dave to get to work can be determined from the information given, but this information is useless until you know what time Dave need to be at work.
10. D. The problem can be solved with the following expression: 30 (9) + 8 (9 x 1.5)
For additional information, we recommend you check out these free CBEST resources:
CBEST Study Guide
CBEST Math Practice Questions
CBEST Reading Practice Questions
CBEST Practice Questions