Free NCLEX PN Practice Test 3
1. The nurse is caring for a client with cirrhosis of the liver. The client has developed ascites and requires a paracentesis. Which of the following symptoms is associated with ascites and should be relieved by the paracentesis?
A. Pruritus.
B. Dyspnea.
C. Jaundice.
D. Peripheral neuropathy.
2. The nurse is doing a physical assessment and electrocardiogram on an elderly client. Which finding during the nurse's assessment of the cardiac system is of most concern and warrants prompt further investigation?
A. S4 heart sound.
B. Increased PR interval.
C. Orthostatic hypotension.
D. Irregularly irregular heart rate.

3. A client is admitted to the medical-surgical floor with a diagnosis of acute pancreatitis. His blood pressure is 136/76 mm Hg, pulse 96 beats/minute, respirations 22 breaths/minute, temperature 99°F (38.3°C), and he has been experiencing severe vomiting for 24 hours. His past medical history reveals hyperlipidemia and alcohol abuse. The physician prescribes a nasogastric (NG) tube for the client. Which of the following is the primary purpose for insertion of the NG tube?
A. Empty the stomach of fluids and gas to relieve vomiting.
B. Prevent spasms at the sphincter of Oddi.
C. Prevent air from forming in the small and large intestines.
D. Remove bile from the gallbladder.
4. The nurse is caring for a client who requires a nasogastric (NG) tube for feeding. What should the nurse do immediately after inserting an NG tube for enteral feedings?
A. Aspirate for gastric secretions with a syringe.
B. Begin feeding slowly to prevent cramping.
C. Get an X-ray of the tip of the tube within 24 hours.
D. Clamp off the tube until the feedings begin.
5. The nurse is caring for a client with a history of cardiac disease and type 2 diabetes. The nurse is closely monitoring the client's blood glucose level because of his other medication. Which other medication is the client most likely taking?
A. Procainamide (Procan®).
B. Carvedilol (Coreg®).
C. Amiodarone (Cordarone®).
D. Diltiazem (Cardizem®).
6. A client is experiencing an acute episode of ulcerative colitis. Which of the following is the most important nursing action for this client?
A. Replace lost fluid and sodium.
B. Monitor for increased serum glucose level from steroid therapy.
C. Restrict the dietary intake of foods high in potassium.
D. Note any change in the color and consistency of stools.
7. A client with a history of long-term use of non-steroidal anti-inflammatory drugs (NSAIDs) has dark, tarry and sometimes foul-smelling stools. The nurse knows that this may indicate bleeding in which part of the gastrointestinal tract?
A. Upper colon (ascending and transverse).
B. Lower colon (descending).
C. Stomach or proximal part of small intestine.
D. Distal part of small intestine.
8. A client admitted with peritonitis is under a nothing-by-mouth order. The client is complaining of dry mouth and thirst. Which of the following actions by the nurse is most appropriate?
A. Increase the I.V. infusion rate.
B. Use diversion activities.
C. Provide frequent mouth care.
D. Give ice chips every 15 minutes.
9. A client who is 24 hours post-partum is assessed by the nurse. Which client behavior warrants further investigation?
A. The client is quiet and spends time gazing at her infant in wonderment.
B. The client does not hold her child and allows the nurse to perform all of the infant care.
C. The client is nervous and voices concerns with her abilities to "handle everything."
D. The client frequently contacts the nursery to ask for assistance and supervision when performing infant care.
10. A client with a history of a seizure disorder is attempting to conceive a baby. The client asks the nurse for information concerning preconception care to increase her chances of having a healthy baby. What information should be provided to the client?
A. The client should reduce the amount of anticonvulsant medication being taken to promote her ability to conceive.
B. The client should increase intake of folic acid.
C. The client should discontinue anticonvulsant therapy until pregnancy is confirmed.
D. The client should increase the amount of exercise.
11. The nurse is caring for a client who is newly diagnosed with asthma. When teaching the client how to reduce exposure to allergens, which of the following actions should the nurse suggest?
A. Maintaining indoor humidity around 80%.
B. Working outdoors in the early morning.
C. Washing sheets and pillowcases in cold water.
D. Covering pillows and mattresses in plastic cases.
12. A client underwent a colostomy for a ruptured diverticulum. He did well throughout the surgery and returned to the medical-surgical floor in stable condition. The nurse assesses the client's colostomy stoma 2 days after surgery. Which assessment finding should the nurse report immediately to the physician?
A. Blanched stoma.
B. Edematous stoma.
C. Reddish-pink stoma.
D. Brownish-black stoma.
13. A 37-year-old forklift operator presents with shakiness, sweating, anxiety, and palpitations and tells the nurse he has type 1 diabetes mellitus. Which of the follow actions should the nurse do first?
A. Inject 1 mg of glucagon subcutaneously.
B. Administer 50 mL of 50% glucose I.V.
C. Give 4 to 6 oz (118 to 177 mL) of orange juice.
D. Give the client four to six glucose tablets.
14. A client with cirrhosis of the liver develops ascites. Which of the following orders would the nurse expect?
A. Restrict fluid to 1000 mL per day.
B. Ambulate 100 ft. three times per day.
C. High-sodium diet.
D. Maalox 30 ml P.O. BID.
15. A client who recently underwent cranial surgery develops syndrome of inappropriate antidiuretic hormone (SIADH). Which of the following symptoms should the nurse anticipate?
A. Edema and weight gain.
B. Excessive urinary output.
C. Fluid loss and dehydration.
D. Low urine specific gravity.
16. A client who underwent abdominal surgery now has a gaping open incision due to delayed wound healing. The nurse must irrigate the wound with a piston syringe and sterile normal saline and provide wound care. Which of the following procedures is correct?
A. Rapidly instill a stream of irrigating solution into the wound to flush out debris.
B. Apply a wet-to-dry dressing to the wound after the irrigation.
C. Moisten the area around the wound with normal saline solution after the irrigation.
D. Irrigate slowly and continuously until the solution becomes clear or all of the solution is used.
17. The nurse is doing teaching with the family of a client with liver failure. Which of the following foods should the nurse advise them to limit in the client's diet?
A. Meats and beans.
B. Butter and gravies.
C. Potatoes and pasta.
D. Cakes and pastries.
18. The nurse is evaluating a client's knowledge of miotic eye drop self-administration for the treatment of glaucoma. Which statement best demonstrates the client's understanding of miotic eye drop use?
A. "The drops should go directly in the middle of the eye so they'll go into the pupil."
B. "The eyedrops must be stored in the refrigerator so they don't grow germs."
C. "I need to use the drops daily for the rest of my life."
D. "As soon as I recover from this glaucoma, I can stop using the drops."
19. A client comes into the clinic during a spring break beach trip complaining of right ear pain. The nurse suspects acute otitis externa. Which other assessment findings by the nurse supports this diagnosis?
A. Cultures taken from the ear canal are positive for Pseudomonas aeruginosa.
B. The tympanic membrane has perforated.
C. The client is experiencing fever and chills.
D. The right external auditory canal is narrowed and erythematous.
20. A client returns from the operating room after extensive abdominal surgery. He has 1,000 mL of lactated Ringer's solution infusing via a central venous catheter. The physician orders the I.V. fluid to be infused at 125 mL/hour plus the total output of the previous hour. The drip factor of the tubing is 15 gtt/mL and the output for the previous hour was 75 mL via Foley catheter, 50 mL via nasogastric tube, and approximately 10 mL via Jackson Pratt tube Which of the following I.V. flow rates is needed to deliver the correct amount of fluid?
A. 100 gtt/minute.
B. 65 gtt/minute.
C. 45 gtt/minute.
D. 80 gtt/minute.
Answer Key
1. Correct answer: B
Ascites (fluid buildup in the abdomen) puts pressure on the diaphragm, resulting in difficulty breathing and dyspnea. Paracentesis (surgical puncture of the abdominal cavity to aspirate fluid) is done to remove fluid from the abdominal cavity and thus reduce pressure on the diaphragm in order to relieve the dyspnea. Pruritus, jaundice, and peripheral neuropathy are signs of cirrhosis that aren't relieved or treated by paracentesis.
2. Correct answer: D
An irregularly irregular heart rate is indicative of atrial fibrillation and should be investigated further. Older adults may have a prolonged systole, causing an S4 heart sound. Older adults also often have slowed conduction, causing an increased PR interval. As a person ages, it is normal for the baroreceptors in the body to decrease their response to changes in body position, so the client may experience orthostatic hypotension and dizziness when standing.
3. Correct answer: A
An NG tube is no longer routinely inserted to treat pancreatitis, but if the client has protracted vomiting, the NG tube is inserted to drain fluids and gas and relieve vomiting. An NG tube doesn't prevent spasms at the sphincter of Oddi (a valve in the duodenum that controls the flow of digestive enzymes) or prevent air from forming in the small and large intestine. The common bile duct connects to the pancreas and the gall bladder, and a T tube rather than an NG tube would be used to collect bile drainage from the common bile duct.
4. Correct answer: A
Before starting a feeding, it's essential to ensure that the tube is in the proper location. Aspirating for stomach contents confirms correct placement. While initial feedings should be given slowly, giving the feeding without confirming proper placement puts the client at risk for aspiration. Clamping the tube provides no information about tube placement. If an X-ray is ordered, it should be done immediately, not in 24 hours.
5. Correct answer: B
Blood glucose levels need to be monitored closely in type 2 diabetics when the client is taking -adrenergic blockers, such as carvedilol. -adrenergic blockers may mask the signs of hypoglycemia, such as tachycardia and sweating. The QRS duration should be monitored in clients taking procainamide. Amiodarone may cause pulmonary fibrosis, and pulmonary function should be closely monitored in clients taking that drug. Diltiazem may cause increased PR interval or bradycardia.
6. Correct answer: A
Diarrhea due to an acute episode of ulcerative colitis leads to fluid and electrolyte losses, so fluid and sodium replacement is necessary. There is no need to restrict foods high in potassium, but potassium may need to be replaced. If the client is taking steroid medications, the nurse should monitor his glucose levels, but this isn't the highest priority. Noting changes in stool consistency is important, but fluid replacement takes priority.
7. Correct answer: C
Melena is the passage of dark, tarry stools that contain a large amount of digested blood. It occurs with bleeding from the upper GI tract (stomach or proximal part of the small intestine). Passage of dark red blood from the rectum indicates lower GI (distal small intestine, colon, and rectum) bleeding. Bleeding in the lower colon or rectum would cause bright red blood in the stool.
8. Correct answer: C
Frequent mouth care, such as swabbing the mouth with moist sponge swabs and rinsing the mouth, helps relieve dry mouth and the sensation of thirst. Increasing the I.V. infusion rate isn't appropriate to relieve dry mouth and may cause fluid overload. Diversion activities aren't specific and are not likely to distract a person from feeling thirst. Because the client has a nothing-by-mouth order, she can't have ice chips, which are a form of liquid.
9. Correct answer: B
The client who does not interact with her child and allows the nurse to provide all care will require further observation to evaluate bonding. Mothers who spend time gazing at their babies are normal. It is not unusual for a new mother to have numerous questions and experience feelings of uncertainty, especially if this is her first child. This gives the nurse the opportunity for teaching.
10. Correct answer: B
Many anticonvulsants reduce absorption of folic acid. A reduction of folic acid is associated with neural tube defects, so the client should increase intake. Making changes in the prescribed dosages of any anticonvulsant is dangerous without close physician supervision; however, some anticonvulsant medications are teratogenic, so the prescribing physician should be consulted before the client becomes pregnant, as her medication may need to be changed. Increasing exercise is not a factor in the client's preconception care.
11. Correct answer: D
Because dust and dust mites found in pillows and mattresses can trigger acute asthma attacks, the nurse should teach the client to cover them with plastic cases. Maintaining indoor humidity between 40% and 50% helps reduce the client's exposure to mold and pollen. Allergen levels are highest outdoors in the early morning, so the client should avoid working outdoors during this time. Sheets and pillowcases should be washed in hot water to reduce the client's exposure to allergens.
12. Correct answer: D
A brownish-black stoma indicates a lack of blood flow to the stoma, and necrosis is likely. Two days postoperatively, the stoma should still be edematous and reddish-pink in color. A blanched or pale stoma indicates possible decreased blood flow and should be assessed regularly. Stomas should be assessed for color, size, characteristics (mucosa should be moist), shape, and protrusion (should be slightly above skin level).
13. Correct answer: C
Because the client is awake and complaining of symptoms, the nurse should first give him 15 grams of carbohydrate to treat hypoglycemia. This could be 4 to 6 oz of fruit juice, five to six hard candies such as Lifesavers, or 1 tablespoon of sugar. When a client has worsening symptoms of hypoglycemia or is unconscious, treatment includes 1 mg of glucagon subcutaneously or intramuscularly, or 50 mL of 50% glucose I.V. The nurse may also give two to three glucose tablets for a hypoglycemic reaction.
14. Correct answer: A
Fluid restriction is a primary treatment for ascites. Restricting fluids decreases the amount of fluid present in the body, thereby decreasing the fluid that accumulates in the peritoneal space. A high sodium diet would increase fluid retention. Physical activities are usually restricted until ascites is relieved. Loop diuretics (such as furosemide) are usually ordered, and Maalox® (a bismuth subsalicylate) may interfere with the action of the diuretics.
15. Correct answer: A
Syndrome of inappropriate antidiuretic hormone (SIADH) results in an abnormally high release of antidiuretic hormone, which causes water retention as serum sodium levels fall, leading to edema and weight gain. Because of fluid retention, urine output is low. Fluid is restricted to prevent fluid overload rather than replaced. As the urine becomes more concentrated, the specific gravity increases. Other symptoms include nausea, vomiting, seizures, altered mentation, and coma. SIADH is most common with diseases of the hypothalamus but can also occur with heart failure, Guillain-Barré syndrome, meningitis, encephalitis, head trauma, or brain tumors. It may also be triggered by medications.
16. Correct answer: D
To wash away tissue debris and drainage effectively, the nurse should slowly irrigate the wound until the solution becomes clear or all the solution is used. Irrigating solution should always be instilled slowly and gently, as rapid or forceful instillation can damage tissues. After the irrigation, the area around the wound should be dried, as moistening it promotes microorganism growth and skin irritation. When the area is dry, sterile dressing rather than a wet-to-dry dressing should be applied.
17. Correct answer: A
Meats and beans are high-protein foods and are restricted with liver failure. In liver failure, the liver is unable to metabolize protein adequately, causing protein by-products to build up in the body rather than be excreted. This causes problems such as hepatic encephalopathy (neurologic syndrome that develops as a result of rising blood ammonia levels). Although other nutrients, such as fat and carbohydrates, may be regulated, it's most important to limit protein in the diet of the client with liver failure.
18. Correct answer: C
Glaucoma is a chronic condition of the eye, so therapy for glaucoma must continue for life to prevent damage to the optic nerve and retinal cells. Miotic eye drops increase drainage of the aqueous humor by constricting the pupil and contracting the ciliary muscle. The client needs to use the eyedrops daily to control intraocular pressure. Eyedrops are best put in the lower part of the eyelid, instilled into the conjunctival sac as this prevents leakage or misapplication. Miotic eye drops do not require refrigeration.
19. Correct answer: D
Acute otitis externa is characterized by inflammation or infection of the external auditory canal. It has a variety of possible causes, including bacterial infection caused by water retention after swimming. Though Pseudomonas aeruginosa and Staphylococcus aureus are the most common pathogens, cultures are usually unnecessary unless the client is refractory to treatment. The client's tympanic membrane would remain intact. Fever and chills are unlikely findings with acute otitis externa.
20. Correct answer: B
First, the volume to be infused (in milliliters) is calculated:
75 mL + 50 mL + 10 mL = 135 mL total output for the previous hour.
135 mL + 125 mL ordered as a constant flow = 260 mL to be infused over the next hour
Next, the formula is applied:
Volume to be infused X drip factor/Total minutes to be infused = Drops per minute.
In this case, 260 mL (hourly volume) X 15 gtt/mL (drip factor) divided by 60 minutes = 65 gtt/minute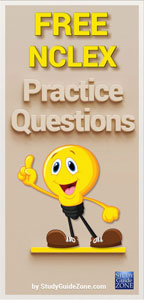 For additional information, we recommend you check out these free NCLEX PN test resources:
NCLEX PN Test Study Guide
NCLEX PN Practice Questions Set 1
NCLEX PN Practice Questions Set 2
NCLEX PN Practice Questions Set 3
NCLEX PN Practice Questions Set 4
NCLEX PN Practice Questions Set 5