GHSGT Test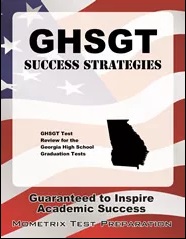 Ace the GHSGT test using our GHSGT exam study guide with practice questions.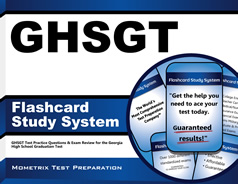 Quickly Solve Difficult GHSGT Test Questions with the GHSGT Flashcard Study System.
Every student in Georgia must pass the Georgia High School Graduation Test (GHSGT) in order to receive a diploma. The GHSGT is actually a battery of five different tests in writing, English, math, social studies, and science. It's given for the first time in the 11th grade, but if students fail it or any part of it, they will have several opportunities to retake it before the end of their senior year. On the writing portion, the student will write an essay on an assigned topic, which will be graded on the basis of four skills-organizing thoughts and complete treatment of the topic with good arguments, writing with proper vocabulary and good style, correct grammar, and correct sentence structure. The English test consists of three main parts-literature-which includes reading comprehension and familiarity with literature; critical thinking-logic, drawing inferences, fact vs. opinion, etc.; writing-which covers grammar. The science test covers three areas-research skills, physical science, and biology. On the math test, you'll answer questions covering basic math, data analysis, measurement, geometry, and algebra. The social studies test covers world history, US history, civics, and geography.
Except for the essay portion, which is graded differently, a score of 500 is the minimum passing score on all the tests, which are multiple choice. Test results are sent to parents a few weeks after the test is taken. Given the importance of a high school diploma in today's workforce, it's vitally important that you pass the GHSGT to make the most of your future opportunities. With good school habits, and good test preparation, everyone should be able to pass the GHSGT.
GHSGT Test Resources
GHSGT Skill Building Exercises
English
GHSGT Study Tip of the Day - Signup Below:
We have partnered with TestPrepReview.com to offer you Free Daily GHSGT Video Lessons. Delivered to your email, completely free...just enter your email address below:
Comments: