FCAT Test
Every Florida high school student will have to meet the Sunshine State Standards in certain academic subjects in order to receive a diploma. The easiest way for students to accomplish this is by passing the Florida Comprehensive Assessment Test (FCAT). This is a series of tests that's given in the 10th and 11th grades to every student in Florida. It consists of four tests-reading, writing, math, and science. The science portion is taken in the 11th grade, the other three sections are taken in the 10th grade. The tests are given in February and March every year.

The test format of the FCAT test is different from many standardized tests. It does contain many multiple choice questions, but also questions that require short written answers, and others that require longer written answers, in order to demonstrate that students can solve problems through independent thinking. The math section covers basic math, measurement, geometry, algebra, and data analysis. You're allowed to use a calculator, but special ones will be provided when you take the test; you may not bring your own from home. Each test takes between 120-160 minutes to complete. Although the FCAT test is only given in English, students whose first language isn't English have access to various aids to help them take the test.
As far as scores, to receive a diploma, students much achieve a 300 on both the reading and the math tests. The formula for determining what it takes to get a 300 is rather complicated, but to make it easier to understand, it breaks down like this. On the reading test, this translates to between 31 and 37 out of a possible 56. For math, you'll need between 16-24 out of a possible 60. After testing, students scores are sent to their parents or guardian after a couple weeks. FCAT test is a challenging test, and it's an important step to a high school diploma. And there's no reason why you can't pass the FCAT test with some study and preparation.
Click here to download StudyGuideZone.com's free FCAT Study Guide
Free FCAT Practice Test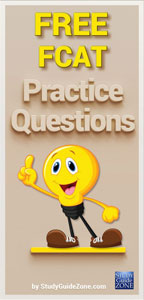 FCAT Math Practice Test
FCAT Reading Practice Test
FCAT Writing Practice Test
FCAT Science Practice Test
Skill Building Exercises
English
Basic Grammar
Reading Comprehension
Math
Algebra 1 Practice Questions
Geometry
Measurements